New blocks at Kudankulam NPP get green light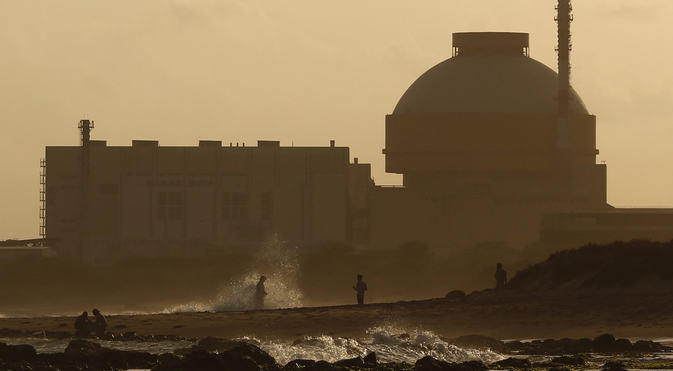 Russia and India hope to finalise a deal for Kudankulam 3 and 4. Source: Reuters
The green signal to go ahead with building the third and fourth units of the Kudankulam has been given by the India's Atomic Energy Regulatory Board.
India's Atomic Energy Regulatory Board (AERB) has approved the start of work on construction of the third and fourth units of the Kudankulam Nuclear Power Plant, with Russian participation, said R.S. Sundar, head of the KNPP, reported RIA Novosti.
"The Atomic Energy Regulatory Board (AERB) has given its go-ahead for the start of excavation work at the site, for the eventual construction of blocks 3 and 4 of the Kudankulam NPP," Sundar said in an interview with TASS. "We plan to start the work in a few weeks, and then, during the year, we will pour concrete into the pits. If we maintain the current pace of construction work, these new blocks should be placed into operation in 2020-2021."
The head of construction at the Kudankulam NPP also said, "the first reactor of this station, after the successful completion of scheduled maintenance work, reached a critical level on January 21, and in the next two days will be re-connected to the network." Sundar added: "Once connected, the reactor's power output will be increased in stages, until it achieves the maximum level of generation, while observing all the norms and procedures."
The first block of the Kudankulam NPP, with a capacity of 1000 MW, was connected to India's national electricity grid in 2013. It was shut for its first scheduled maintenance in June 2015. It had operated for 9,200 hours and generated 6.8 billion kilowatt hours of electricity.
"The second block is now at an advanced stage of commissioning, and is waiting for the AERB's permission to load the enriched uranium fuel," said Sundar, noting that the first start up is scheduled for the middle of this year.
Total investments at this stage have amounted to 170 billion rupees ($2.74 billion dollars). "The construction of the two subsequent blocks is estimated to cost 390 billion rupees ($6.29 billion dollars)," Sundar said. According to his calculations, "realization of the project, from zero cycle to running at design capacity, will require 69 months (almost six years)."
The Kudankulam NPP is being built with Russian technical assistance, in accordance with the inter-governmental agreement signed in 1988. In the spring of 2014, Russia and India signed a general framework agreement for construction of the second stage (the third and fourth blocks) of the nuclear power plant.
The "road map" for cooperation in nuclear energy between India and Russia envisages the construction of 15 nuclear power blocks in India, including at the Kudankulam site.
At the moment, Russia is the only country actually cooperating with India in the nuclear energy sphere, and building a nuclear power plant in there. The first power block of the Kudankulam NPP is among the most powerful in India, and meets the latest safety requirements.
All rights reserved by Rossiyskaya Gazeta.