Modi's Moscow visit moves Russia ties forward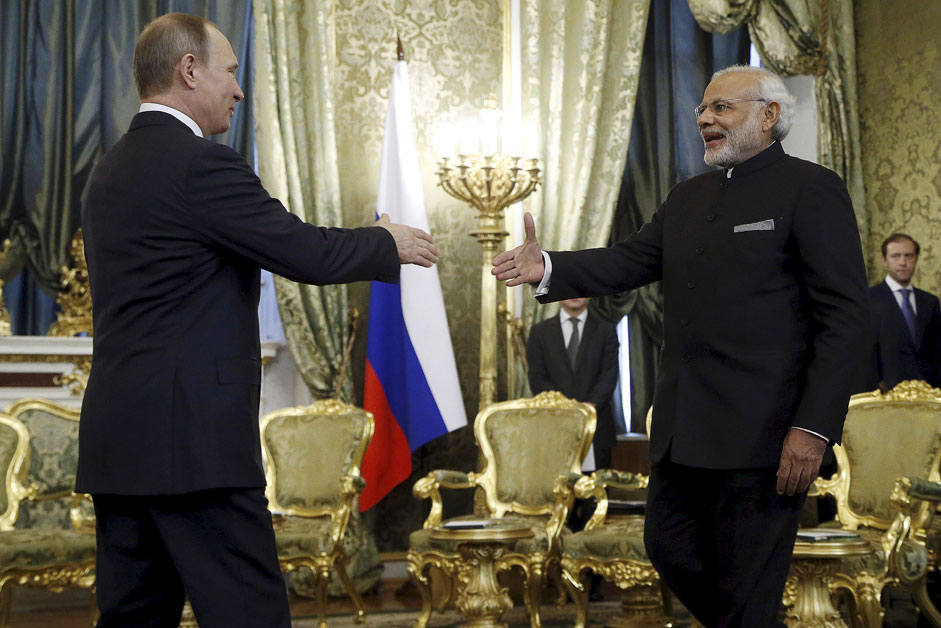 Vladimir Putin met Narendra Modi in Moscow in December, 2015.
Reuters
Indian Prime Minister Narendra Modi's visit to Moscow, for the annual India-Russia summit in late December, has raised levels of trust between the leadership of the two countries and fast-forwarded a variety of deals, particularly those related to defence, sources told RIR.
With a slew of defence contracts, with countries like Russia and France in particular, taking exceptionally long to get finalised, Indian Prime Minister Narendra Modi called senior officials in the Defence ministry in December last year to ask why projects were getting so delayed. The officials said they were handicapped because they were unsure and inexperienced in their dealings with foreigners, and required a lot of monitoring.
Once Modi returned from his official visit to Moscow between December 23 and 25 and after his meetings and detailed discussions with Russian President Vladimir Putin, Indian Foreign Secretary Subrahmanyam Jaishankar took over a key post in the Defence Ministry for the Ministry of External Affairs (MEA), to ensure smooth coordination and to ensure swift follow through for defence agreements.
A diplomat from the MEA has assumed charge as Joint Secretary (Planning and International Cooperation) in the Ministry to Defence (MOD) a key position to ensure smoother and faster coordination and swifter follow through of international agreements, primarily those related to defence and energy purchases and collaborations. This, sources said, was a direct outcome of the Indian Prime Minister's complaint that defence agreements were not being followed through properly.
Another key take-away from the meeting between Modi and Putin, particularly after the one-on-one meeting they had at the private dinner for the Indian Prime Minister hosted by the Russian President at his dacha, was that the two leaders established a really good rapport with and trust in each other. According to sources, "they got on really well during the visit and developed the kind of relationship that was missing in their earlier bilateral encounters". They had met on several occasions, but "the Russian President had always appeared pre-occupied and distracted," a source said. "But this time, they were on the same page, and talked for hours, understanding each other's vision."
That is among the reasons the joint statement issued on December 24, 2015, after the summit meeting, was called 'Shared Trust, New Horizons', moving forward from the more general 'Druzhba Dosti' (friendship) issued after the 2014 Summit.
According to sources, since the visit and the MEA assuming the key position, the follow through on agreements has been progressing with greater speed and efficiency. That's why the PAK FA talks went on simultaneously with the discussions on purchase of the 'Rafale' (when French President Francois Hollande visited India as Chief Guest for the Indian Republic Day celebrations on January 26). Discussions and financial details of the joint India-Russia FGFA were also sorted through and approved by the Indian Defence Acquisitions Council, even as the French President was concluding his visit.
Russia has made a new offer on the delivery of Sukhoi T-50 (PAK FA) fighter jets to India under the joint fifth-generation fighter aircraft (FGFA) initiative. Under the new offer, India will have to pay $3.7 billion, instead of $6 billion, for the technological know-how and three prototypes of PAK FA fighters, television and print media channels reported.
India and Russia signed an inter-governmental agreement to co-develop and co-produce the FGFA in 2007. This was followed by a $295 million preliminary design contract in December 2010. The project is modelled on the successful 'Brahmos' missile project, and involves Russia's Sukhoi Design Bureau and the Hindustan Aeronautics Limited (HAL).
Also, last week, the Indian Union Cabinet of ministers gave assent to an agreement signed between India and Russia for joint implementation of competitive research projects in areas of basic and exploratory sciences. The agreement, which was signed in May 2015, is valid for six years and could be extended through mutual consent between the Department of Science and Technology (DST) and the Russian Science Federation (RSF). It provides for competitive research grants to Indians and Russians for joint projects in areas like mathematics, computer and systems science, physics and space science, chemistry and material science, biology and life science, basic research for medicine, agricultural science, earth science and engineering science.

"Decision to identify research projects for funding would be taken jointly by DST and RSF. The results of this cooperation will lead to generation of new knowledge, joint scientific publications, manpower training and IP generation through collaboration," an official statement said after the Indian Cabinet meeting.
All rights reserved by Rossiyskaya Gazeta.