Tatas to make spares for Sukhoi Superjet 100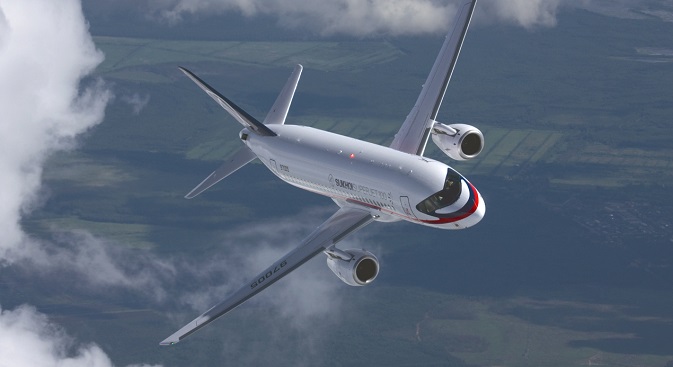 Sukhoi Superjet 100. Source: Sukhoi
The Sukhoi aircraft company could soon sign an agreement with Tata Advanced Systems to manufacture spares for a passenger aircraft, an executive with Sukhoi told the Economic Times newspaper.
The Sukhoi Civil Aircraft Company is likely to sign an agreement with Indian company Tata Advanced Systems (part of the Tata Group), for the manufacture of spare parts for the passenger aircraft Sukhoi Superjet 100 (SSJ-100), Yevgeny Andrachnikov, Senior Vice President of Sukhoi, said in an interview with daily The Economic Times.
"We are planning to sign an agreement this year," he said. This document will, inter alia, provide for the production of spare parts by Tata Advanced Systems."
The Sukhoi company is also holding talks with Indian carriers, to supply these new aircraft to them. "We expect to deliver about 50 SSJ-100 jets to India in five years," said Andrachnikov.
The SSJ-100 is 100-seat jet airliner designed, developed and manufactured by Sukhoi Civil Aircraft CJSC (part of the United Aircraft Corporation), with the participation of the Italian Alenia Aermacchi Company (part of the Finmeccanica Group).
The SSJ-100 flew for the first time in May 2008, and the first serially produced aircraft was put into operation in 2011.
Tata Advanced Systems is fast emerging as a key Defence and Aerospace player in India with established capabilities and demonstrated deliveries in the following areas: Missile Systems and sub-systems Radar Systems and sub-systems Command & Control Systems Aerospace & Aero-Structures.
First published by TASS.
All rights reserved by Rossiyskaya Gazeta.