Agreement likely in autumn for new blocks of Kudankulam NPP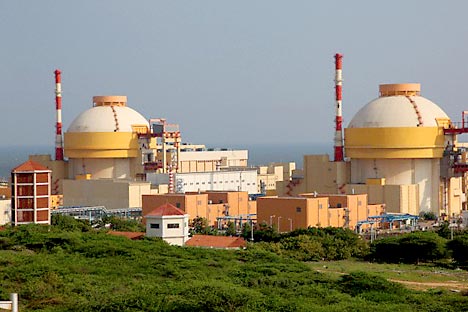 The Kudankulam plant. Source: Corbis/Foto S.A.
India and Russia are likely to sign an agreement in autumn this year for construction of the next (fifth and sixth) blocks of the Kudankulam Nuclear Power Plant.
Russia and India could sign a general framework agreement for the construction of the fifth and sixth power blocks of the Kudankulam Nuclear Power Plant (KNPP) in autumn this year, Valery Limarenko, President of ASE Group of Companies (Atomstroyexport) said during an interview with the corporate newspaper Rosatom Country. The power plant would be constructed with the participation of Rosatom.
Earlier, they had said the agreement could be signed as early as the first quarter of this year.
"In November 2015, the Indian Atomic Energy Corporation made a decision, in principle, that power block Nos. 5 and 6 of the Kudankulam Nuclear Power Plant would be based on VVER-1000 project, just like the first four blocks. In early April this year, we gave the customer an updated quotation for the supply of fuel and services, taking into account localized production of equipment for the fifth and sixth blocks. In the first ten days of May, we sent to the customer a complete technical and commercial proposal. I hope that this autumn, we will be able to sign an agreement on the project," said Limarenko.
With the help of Russia, India has already built two power blocks of the Kudankulam NPP using VVER-1000 reactors, with a total installed electrical capacity of 2,000 MW. The commissioning of the first power block station took place in July of 2013. In October the same year, it was connected to the network.
In the spring of 2014, Russia and India signed a general framework agreement for the construction of the second phase (third and fourth blocks) of the Nuclear Power Plant, and in December, all the documents that allowed the start of its construction.
The basis of the construction of the Kudankulam Nuclear Power Plant is the project NPP-92. This fully meets all requirements of modern regulatory and technical standards of the Russian Federation, of the IAEA, and has been certified for compliance with the European Club of Operating Organizations (EUR).
First published in Russian by RIA Novosti.
All rights reserved by Rossiyskaya Gazeta.