INNOPROM: Maharashtra signs agreement with Sverdlovsk Oblast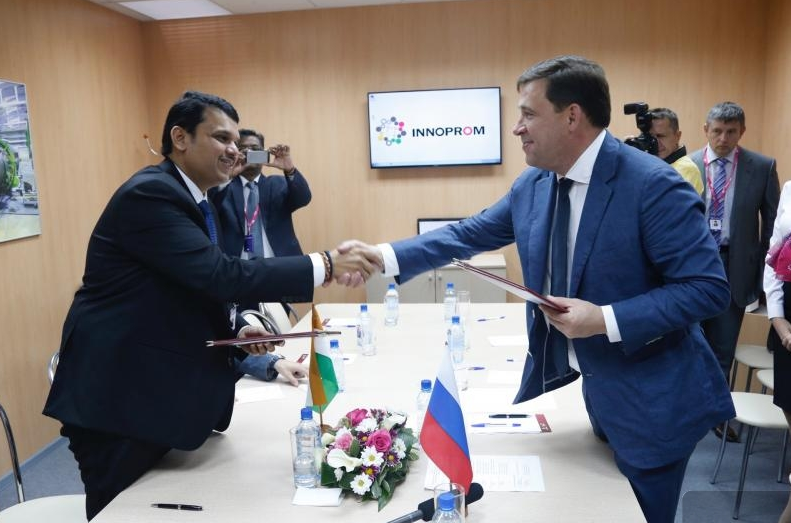 Devendra Fadnavis, Chief Minister of India's Maharashtra State and Yevgeny Kuyvashev, Governor of Sverdlovsk Oblast.
midural.ru
Heads of the Indian state of Maharashtra and Sverdlovsk Oblast signed a Memorandum of Cooperation at the ongoing INNOPROM to promote wide-ranging joint cooperation in spheres ranging from mining to medicine and trade and humanitarian issues.
Devendra Fadnavis, Chief Minister of India's Maharashtra State signed a memorandum of cooperation with Yevgeny Kuyvashev, Governor of Sverdlovsk Oblast on Monday at the INNOPROM International Exhibition. The document envisages joint work between the two regions in the trade, economic, scientific-technical and humanitarian sectors.
"For us, this represents a very important stage in the development of cooperation with the Republic of India, a sign of mutual trust and support for bilateral initiatives," said Kuyvashev.
Sverdlovsk Oblast is particularly keen to offer its cooperation in the scientific and technological sphere at the research institute, which has international business experience in the design of mining, processing, metallurgical, and chemical specialties, Kuyvashev said.
Good prospects are also opening up with cooperation in the field of medicine. A biomedical cluster comprising of research institutes and manufacturing enterprises is already operational in Sverdlovsk Oblast.
"The range of medical equipment produced in the Sverdlovsk Oblast, is very wide – from instruments to advanced haemodialysis systems. Our companies are ready to supply products to meet the needs of India and to enter into negotiations about the localization of production in the state of Maharashtra," said Kuyvashev. "The Sverdlovsk Oblast is also ready for the organization of exports of engineering goods, in particular, advanced traffic engineering products, including commuter trains and subway cars," he said.
"The signing of a memorandum of cooperation – this really is a historical document. Russia and India are united by long-standing good relations, and we consider Russia as our great friend," said Fadnavis. "Now we need to develop cooperation not only at the state level, but also regionally. We are specially interested in cooperation in the mining industry. I believe that with Russian support, we will uncover the full potential of our state in this direction. We need to create a working group that will review cooperation between the research institutes of the regions – in specific detail, and implement practical applications," said Fadnavis.
Russia's largest industrial trade fair INNOPROM is currently being held in the city of Ekaterinburg. Nirmala Sitharaman, India's Minister of State for Commerce and Industry is leading a large Indian delegation comprising chief ministers of three states, representatives of 110 companies and senior government officials. India is the partner country at this year's INNOPROM.
All rights reserved by Rossiyskaya Gazeta.