Student exchange could weave closer Indian, Russian design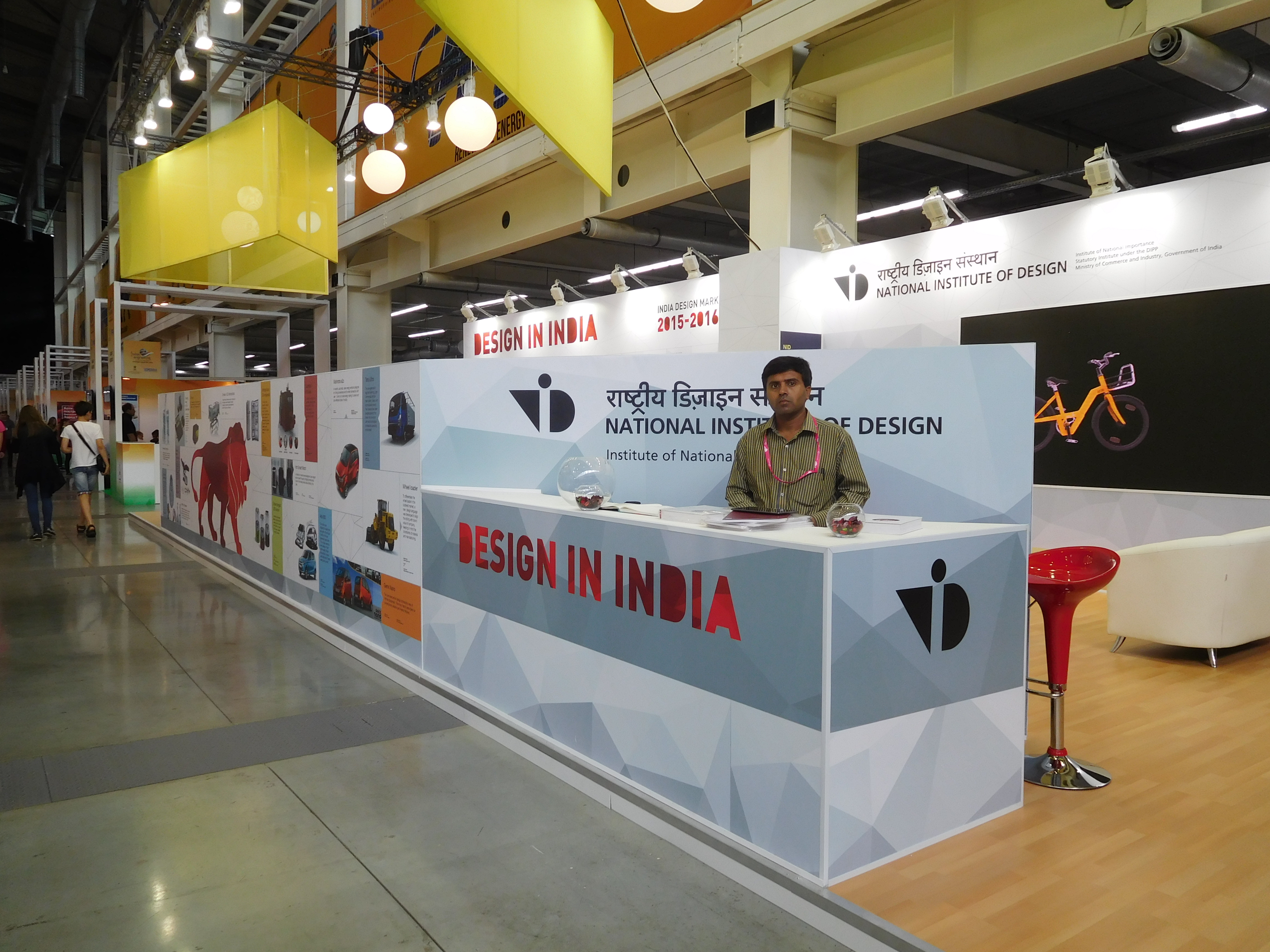 The National Institute of Design represented India at INNOPROM trade fair.
Natalya Shvabauer
With Industrial Design being the theme of the final day at INNOPROM-2016, packed audiences listened with interest to how design can chart courses for the future.
Industrial design was the theme for the last day of INNOPROM. This specialized forum was held July 12-14 as a part of the trade fair. The audience listened with fascination to representatives of leading design schools in this field: Chao Zhao, Ph.D., Professor, Dean of the Industrial Design Department, Director of the Healthcare Design Innovation Lab at the Academy of Art and Design, Tsinghua University (Beijing, China), Horge Pérez, Designer, Director of the I+ED Lab (Innovations and Education), IED Barcelona, Istituto Europeo di Design (Barcelona, Spain), Rama Gheerawo, Director of Helen Hamlin Center for Design, Royal College of Art (London, Great Britain) and Emmanuel Calderon, Course Leader of Master in Product Design Program at Domus Academy, Founder and Creative Director of Architectural Body Research and Design Laboratory (Milan, Italy).
Pradyumna Vyas, Industrial Designer, Director of the National Institute of Design (NID), Member of the India Design Council (Ahmedabad, India), represented India. The hall was packed. In terms of attendance, the industrial design segment could be compared only to that of the INNOPROM Plenary meeting, attended by the Ministers of Industry of Russia and India.
After his lecture, Vyas shared his impressions about the exhibition with RIR.
Pradyumna Vyas. Source: Natalya Shvabauer
"This is my first visit to Russia, and I'm really impressed with how much attention is paid to the design industry. The scope of production in Russia is very well positioned. I feel that this trip is a good learning experience for me, and for other professionals who came here. INNOPROM has provided us with a platform to understand how the Russian design industry is organized. I think that my presentation and other speakers' presentations will help the young audience get answers to questions about what is happening in this field in India, as well as the BRICS countries, which include India and Russia," said Vyas.
RIR: How would you characterize the Indian approach to industrial design?
Pradyumna Vyas: You know, India is a very diverse country. What we have now is the 21st century mixed with the Stone Age. On the one hand, we launch a rocket into space, on the other hand, there are still some places where we go on horse and cattle-back. The same diversity is observed in the culture of more than 25 national languages and thousands of artisans who carve wood, stone and weave fabric. These traditions are several thousand years old. And we have decided, why not use ancient technology, but based on new developments in science? Our students learn traditional knowledge from the custodians, craft and creative work together to create products with them.
Basically, they are working with their hands: 50 percent of the time. The audience is in the studios, 50 per cent are in the community, trying to figure out what people want, what they are investing in the concept of "user-friendly" and "beautiful." No textbooks or examinations, the main principle is practical learning.
We try to be closer to nature, and use an interdisciplinary approach to learning: designers in transport study together with those who are specialized in textile design, furniture, and so on.
RIR: Do you already have joint projects with Russian companies?
PV: we don't have any projects in design yet, but visitors have shown interest in our stand at the exhibition, so I hope that INNOPROM will become the starting point for joint projects in the future. I think we can think about organizing student exchange programmes between the two countries. This is how I see opportunities for cooperation between India and Russia after this visit.
All rights reserved by Rossiyskaya Gazeta.