Key part of India's nuke programme is cooperation with Russia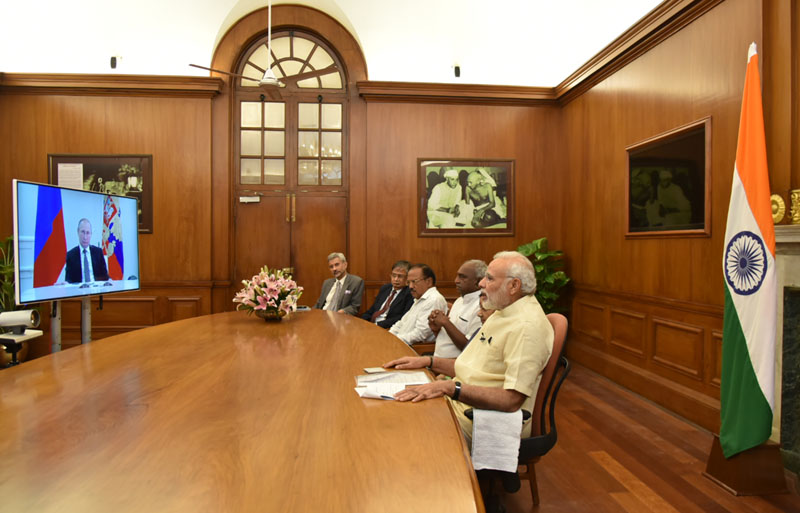 Video-conference between Russian President Vladimir Putin and Indian Prime Minister Narendra Modi and J.Jayalalitha, Chief Minister of Tamil Nadu state.
Press photo
The commissioning of the first nuclear power plant (NPP) at Kudankulam, in South India, built with Russia's participation is an historic event. It indicates that the work of the power generating unit meets all specified parameters and opens up new possibilities for construction of most modern nuclear power plants units in India based on the Russian technologies
The first power unit of the Kudankulam NPP was formally transferred on Wednesday by video-conference between Russian President Vladimir Putin and Indian Prime Minister Narendra Modi and J.Jayalalitha, Chief Minister of Tamil Nadu state, where Kudankulam is located.
"Of course, this event has a historic meaning." Alexander Uvarov, chief editor of the portal AtomInfo said. "Kudankulam NPP is the most powerful nuclear power plant in India's atomic power engineering. It is good that it is built with the participation of Russian specialists."
Malur Ramaswamy Srinivasan, member of the Indian Atomic Energy Commission said in an interview with TASS that cooperation between Moscow and New Delhi with peaceful use of nuclear energy has long been an important part of India's national nuclear programme.
"Russian-Indian cooperation in the field of nuclear energy is an important part of our nuclear programme. At the Kudankulam NPP we intend to build at least four reactors, in addition to the two already completed ones. This station will significantly improve the energy supply of the states of Tamil Nadu, Kerala, Karnataka and the Union Territory of Pondicherry," said Srinivasan, commenting on the transfer ceremony of the Kudankulam NPP to the Indian nation.
"Kudankulam NPP is the largest element of Indian power system. Each reactor has its power of 1000 MW. Other Indian stations have less power generation capacity," said Srinavasan.
Nuclear power is crucial for India's development as the country needs to increase electricity production for the needs of agriculture, industry and other sectors of the economy, as well as for domestic consumption.
"The use of nuclear energy and renewable energy sources are also important for India's plans to reduce its carbon dioxide emissions We plan to reduce the use of hydrocarbons," said an agency source.
Russia was our first partner
Ramamurthy Rajaraman, a well-known authority on atomic energy and Professor at the Jawaharlal Nehru University, said in an interview with TASS that Russia was the first country which agreed to help India in developing a peaceful nuclear programme, at a time when India had sanctions imposed on it. From the mid-1970s, most countries refused to supply nuclear materials and technologies to India in response to its development of nuclear weapons. The Nuclear Suppliers Group lifted sanctions against New Delhi in 2008.
"Russians are our old friends and have always assisted the Indian nuclear programme. They began to build the Kudankulam nuclear power reactors before the sanctions were lifted. Now the first and second power units of the nuclear power plant have begun to produce energy This is a great contribution to the development of nuclear energy in India," Rajaraman said.
He added that the two governments have agreed on construction of the third and fourth units. There are also preliminary agreements for 12 power plants to be built in future. "All this will greatly help India in increasing the share of nuclear power from 2% to 8-10% in total electricity generation," planned by 2030, he said.
New Delhi attaches great importance to the localization of production of nuclear reactor components in India, within the framework of the 'Make in India' programme announced by Prime Minister Modi. India expects Russia to participate in these kinds of projects.
In accordance with the intergovernmental agreement of 1988 and the 1998 supplement thereto, Russia is building the Kudankulam NPP in Tamil Nadu state. The construction work on the project is being executed by the Nuclear Power Corporation of India Ltd. (NPCIL).
The first block of the station with a VVER-1000 reactor with a capacity of 1000MW corresponds to the most modern safety requirements. It was incorporated into India's national power grid system in 2013. In late 2014, the unit was handed over to India to operate, after all the installed unit performance indicators were confirmed. The second reactor of the Kudankulam NPP was launched on 10 July this year. Block No.2 is expected to be connected to the power grid soon.
Russia and India signed a general framework agreement in 2014 on construction of the second stage (the third and fourth blocks) of the nuclear power plant. Also, in December 2014, Moscow and New Delhi signed a document on the strategic vision of the serial construction of reactors based on Russian technology in India.
All rights reserved by Rossiyskaya Gazeta.