Russia suggests single foreign terrorists database for BRICS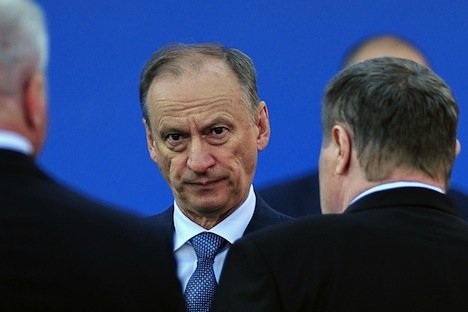 Russia's National Security Advisor Nikolai Patrushev has suggested the creation of a common BRICS database on foreign terrorists to strengthen security among group members. He was speaking in New Delhi at a meeting of high representatives on security from BRICS.
Nikolai Patrushev, Secretary to the Russian Security Council and National Security Advisor to the Russian President suggested that the BRICS countries create a common database for foreign terrorists and intensify the exchange of information about their movements.
Patrushev outlined this initiative when he spoke at a meeting of BRICS (Brazil, Russia, India, China, South Africa) High Representatives on security issues, which was held in New Delhi on Thursday. Patrushev said international terrorism remains a major threat to BRICS.
"It is important to strengthen cooperation to prevent and combat the activities of foreign terrorists, both in the areas of armed conflict, and after their return to their homeland. It is necessary to intensify the exchange of information regarding terrorist movements and their participation in the radicalization of political and social sentiment in our countries," the National Security Council press service quoted Patrushev as saying at the meeting.
Patrushev proposed the creation of a unified database for the five countries, containing information about foreign terrorists. He also proposed development of additional mechanisms for exchanging information on terrorist movements and a simplified procedure for their extradition.
President Vladimir Putin had said in June that a data bank would be created in Russia to keep track of the people involved in terrorist and extremist activities. The database would be created based on a system of biometric and operational-search details.
First published in Russian by Vzglyad.
All rights reserved by Rossiyskaya Gazeta.