An Indian consul to be appointed in Astrakhan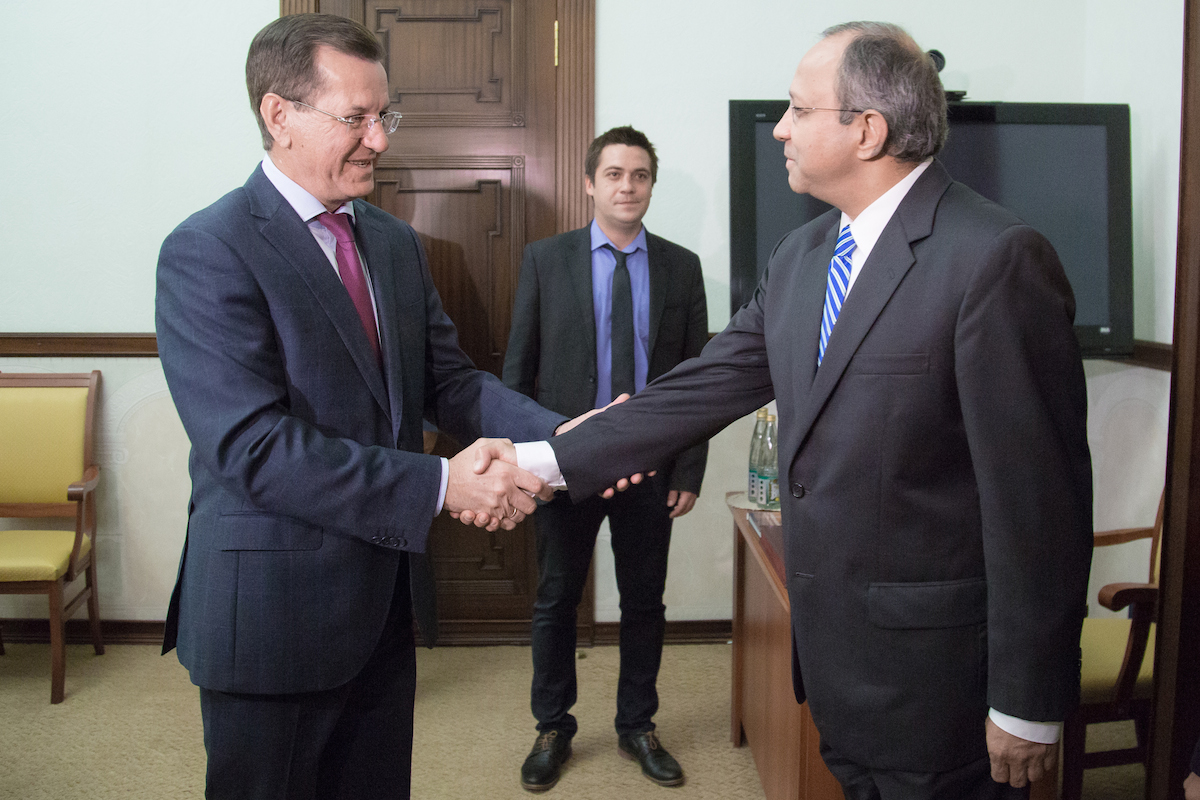 Alexander Zhilkin (L) and Pankaj Saran.
jilkin.ru
While visiting Astrakhan, the Indian Ambassador to Russia Pankaj Saran discussed the 'North-South' corridor and spoke of the possibility of opening an Indian Consulate there.
Pankaj Saran, Ambassador of India to Russia, discussed the development of the international "North-South" transport corridor and the strengthening of India's cultural linkages with Astrakhan, during his meeting with Alexander Zhilkin, the Governor of Astrakhan Region.
"India is clearly a strategic partner, both for the country as a whole, and for our small, but quite interesting region", said Zhilkin, on the official website of the governor of Astrakhan.
The mutual cooperation between Astrakhan and India has been growing for a long time, in particular through the state of Gujarat. And, Astrakhan's governor noted, he is tied by his friendly relations with the Indian Prime Minister Narendra Modi.
The main topic of conversation for the Indian Ambassador, who was visiting Astrakhan for the first time, and the governor was development of the "North-South" transport corridor. "We need to initiate the creation of a certain union of Iranian, Indian and Russian operators in order to start an active transfer of containers", suggested Zhilkin.
"If you look at the map of Astrakhan, it is understandable why Indian traders arrived here a century ago", said Saran. "They thought Astrakhan was an ideal natural way for their goods to arrive here and in Europe. And we need to transform this natural corridor into a modern trade and transportation route. We have conducted talks about it for a long time, but right now the Indian government is seriously preparing to move in this direction," he said.
The diplomat said India and Iran have already agreed to develop the key Iranian port of Chabahar. A large delegation from Russia recently went to India to discuss joint development of the "North-South" corridor. "Soon you will see more activity on the Indian side on this corridor," said the Ambassador.
Zhilkin urged Indian businesses to consider the possibility of opening wholesale and logistics centres and warehouses in the Astrakhan region. "These distribution centres will be able to work for Russia, Kazakhstan, Belarus and other countries", he said.
Also, Indian entrepreneurs can develop production in the Astrakhan special economic zone "Lotus".
"First of all, we are interested in the distribution of pharmaceutical factories", said the governor.
Zhilkin also said he supported the Indian Embassy's initiative to appoint an Honorary Consul of India in the Astrakhan office. The Astrakhan region has already sent a candidate to be appointed for the role.
All rights reserved by Rossiyskaya Gazeta.