FTA to increase Russia, India trade to $30 billion: Trade Rep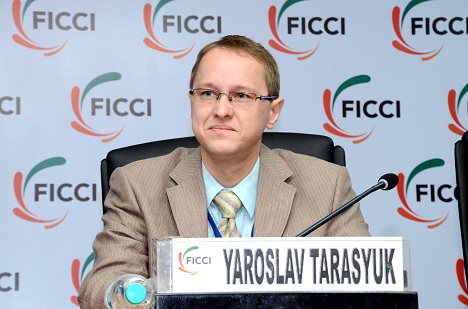 Yaroslav Tarasyuk. Source: Courtesy Trade Mission of Russian Federation in India
Russia's Trade Representative to India has said a Free Trade Agreement (FTA) between India and the Eurasian Economic Union (EAEU) would help to enhance bilateral trade to 30 billion dollars, by bringing costs and taxes down.
An agreement on a free trade zone between the Eurasian Economic Union (EAEU) and India will help to realize plans to increase trade turnover between Russia and India to $30 billion by the year 2025, TASS was told by Yaroslav Tarasyuk, Russia's trade representative in India.
"This has been a long-awaited decision. Such an agreement will greatly assist the implementation of the plan, approved by leaders of Russia and India, to increase the annual trade turnover between our countries from the approximately $10 billion today, to $30 billion by 2025," said Tarasyuk.
At their meeting in Saint Petersburg, held earlier this week, the presidents of Kazakhstan, Kyrgyzstan and Armenia approved the decision to start negotiations on concluding a Free Trade Zone agreement between the EAEU and India, as well as with Iran, Egypt and Singapore.
"Such an agreement is of interest to both Russia and India. Suffice it to say that today, the customs duties on the delivery to India of machinery and equipment from Russia, is about 30%. This agreement will make the products from the Russian Federation more competitive in the Indian market," said Tarasyuk.
First published in Russian by TASS.
All rights reserved by Rossiyskaya Gazeta.