India, Brazil or Vietnam may buy Mistral helicopter carriers built for Russia - experts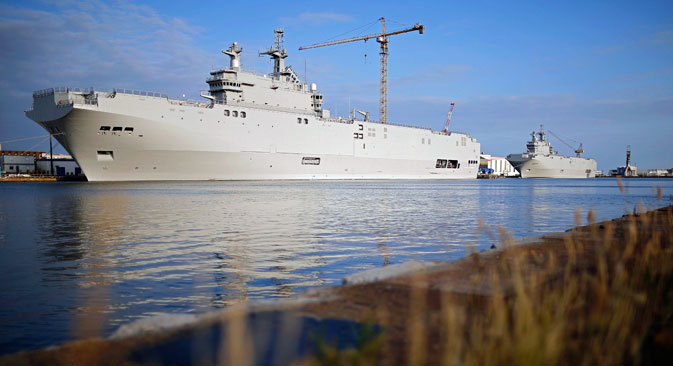 Two Mistral-class helicopter carriers Sevastopol (L) and Vladivostok.
Reuters
India has expressed its desire to buy one ship and build three more ships of this type at its shipyards.
India, Brazil and Vietnam are the potential buyers of Mistral-class amphibious assault ships, which France has refused to deliver to Russia, Head of the Center for Analysis of Strategies and Technologies Ruslan Pukhov told TASS on Thursday.
Russian President Vladimir Putin and his French counterpart Francois Hollande on Wednesday achieved agreement on terminating the contract for the delivery of two helicopter carriers of the Mistral class, concluded in the summer of 2011.
As the Kremlin said, the two leaders agreed that Russia would get a compensation for the money paid under the contract, and France would return Russian equipment and materials. After that France will be free to use the ships at its sole discretion.
French Defense Minister Jean-Yves Le Drian has said some countries have already displayed their interest in Mistrals.
"Ships are normally built to order. That is why, this will be a unique case and we'll all see how this soap opera will end," the expert said.
"It is logical to presume that the French will offer these ships to the countries, which planned to have this type of vessels under their naval program, or sell these ships at a reduced price to the countries traditionally buying used French hardware," Pukhov said.
India may be among the potential buyers, Pukhov said.
"The first country is India, which has expressed its desire to buy one ship and build three more ships of this type at its shipyards, and, as far as I know, the French would want us to assist them in this," the expert said.
The Mistral helicopter carriers may also be of interest to Vietnam where "economic growth is observed," Pukhov said.
"Brazil is the third country. They [Brazilians] hypothetically could consider the purchase of such a ship on condition the French give a good price," the expert said.
The Mistral amphibious assault ships may also be given to the French Navy, which already has three helicopter carriers of this class, Pukhov said.
"The French Navy does not have sufficient money for this. The Navy commander has already made a statement that the Navy no longer needs Mistrals. But if the French fail to sell them, it is quite possible that they will be able to force their Navy to buy these ships," the expert said.
First published by TASS.
All rights reserved by Rossiyskaya Gazeta.