Feared Russian ground weapons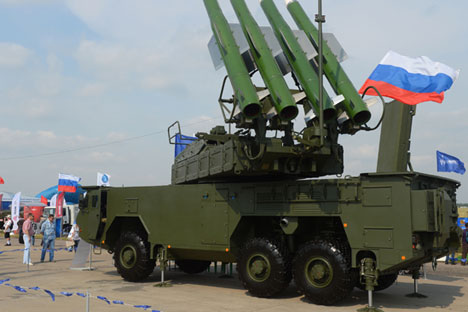 A BUK-M2E surface-to-air missile system on display during the International Aerospace Salon (MAKS 2015) in Zhukovsky near Moscow.
RIA Novosti/Mikhail Voskresenskiy
Russia celebrates Land Forces Day on October 1. This branch of the Russian Armed Forces is the largest and most versatile. Land Forces repel enemy aggression on the ground, and protect Russian territorial integrity and national interests. RIR showcases 5 ground weapons from army air defence to artillery, which should caution potential enemies.
SAM 'Buk-M3': fire and forget
The air defence system 'Buk-M3' is being tested and will become operational in 2016. It can destroy tactical and strategic aircraft, helicopters, cruise missiles and UAVs at heights from 15 meters to 35 kilometres, at distances up to 40 kms. The missiles are equipped with a radio guidance system and active radar. 'Buk-M3' uses a completely new anti-aircraft missile interceptor 9M317M which acts on a "fire and forget" basis.
SAM Tor-M2: shield and destroy
Tactical air defense systems Tor-M2U. Source: PhotoXpress
Among the most effective short-range air defence missile systems today is the SAM system of the 'Tor-M2' family. It can protect an extended cavalcade of weaponry located at a distance of 8 to 10 kms. It has a high firing rate of 2.5 seconds and it strikes anti-radar missiles flying at very low altitudes - less than 5 metres from the ground. The system is equipped with a radar and electronics allowing it to detect and process up to 144 targets, to display information about 20 of the most dangerous and to simultaneously destroy four of them. The 'Tor-M2''s low weight, 15 tons, allows it to be transported on the external sling of the helicopter for delivery to remote areas and places difficult to access, including roofs of buildings.
BMPT-72: Terminator on tracks
BMPT-72 "Terminator 2". Source: Vladislav Belogrud /TASS
Tank support combat vehicle 'Terminator 2' was built in 2013 to protect tanks in battle. Being heavily armed, it has massive fire-power to quell the enemy. It has two twin 30-mm guns, Kalashnikov machine guns and four anti-tank guided missiles 'Ataka,' with a laser guidance system. The impact area is up to 6 kms. It is highly effective for combat in urban environments, where tanks can become a target for grenades. It is built on the chassis of the T-90, not the T-72.
MANPADS 'Verba': terror of UAVs
Portable anti-aircraft missile system 'Verba'. Source: Vitaly Kuzmin / Wikipedia.org
The portable anti-aircraft missile system 'Verba' was built between 2011 and 2013, becoming operational in 2014. The system's electronics allow it to identify friend or foe in attack. What makes it superior to its Western counterparts 'Stinger', 'Starstreak' and its predecessor, the 'Igla,' is the ability to track and hit the low-radiation missiles and UAVs. This is possible because of the 9M336 missile with innovative tri-band infrared homing. The MANPADS' developers managed to increase the homing sensitivity several times over, making it more immune to interference. The new system reduces tenfold the time required to attack a target. Earlier, the 'Igla' needed three to five minutes.
MLRS 'Tornado': smart artillery
Multiple launch rocket system "Tornado-G". Source: Dmitry Rogulin/TASS
The 'Tornado-G' is the second tier unit which provides fire support to infantry units. The MLRS 'Tornado' was first tested by Russian troops in 2011, and proved superior to its precursors, 'Grad' and 'Smerch. Unlike its precursors, 'Tornado-G' is equipped with a satellite guidance system. Now each missile is equipped with microchips that control the flight. Today, the 'Tornado's' maximum shooting range is 90 kilometres.
The 'Tornado' can be swiftly moved, before the first of its shot missiles hits the ground. When the last missile explodes, destroying the target, the system itself could have been moved several kilometres away from the site.
All rights reserved by Rossiyskaya Gazeta.