Russian defence cooperation with Iran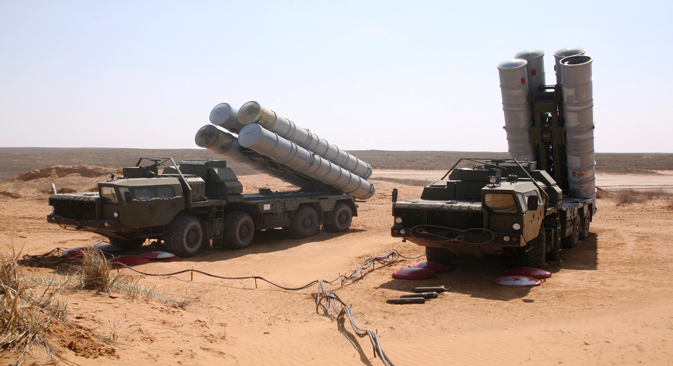 O S-300 é uma família de sistemas de mísseis antiaéreos criada ainda durante a era soviética e aperfeiçoado pela Rússia Foto: ITAR-TASS
"Russia is counting on multibillion-dollar contracts with Iran," Vladimir Kozhin, presidential aide on military-technical cooperation (MTC) issues, told journalists on December 7. Iran, lacking modern weaponry, is a welcome and promising customer for Russia. Analysts have been making optimistic forecasts but warn that future MTC between Moscow and Tehran will take a while.
Full-fledged defence relations between Russia and Iran will be possible only after five years, when the sanctions are finally lifted. Iran is already buying some military products not covered by the embargo, with the approval of the UN. Russia today is supplying Iran with electronic warfare systems for aircraft and air defence, entire air defence systems, anti-tank guided missiles, while carrying out modernization work on old Soviet equipment still in service with the Iranian military forces. During the International Aviation and Space Show (MAKS), Russia and Iran signed a major agreement for Tehran to acquire aviation equipment worth $21 billion. According to analysts, the potential for cooperation between Moscow and Tehran is much greater than this.
Total rearmament
Outdated military equipment and weapons from the Cold War era is primarily being used and serviced by the Iranian armed forces. Hence, according to analysts, Iran is interested in a whole range of modern weapons and equipment, which it can buy from Russia.
"Iran needs to carry out a full modernization of its military equipment, since the country cannot independently establish modern production facilities. Even India, which is much more advanced in this regard, cannot do without such Russian cooperation," Alexander Khramchikhin, deputy director of the Institute Political and Military Analysis, said in an interview with RIR.
At the end of the 1980s, the USSR and Iran signed four major agreements in the MTC sphere, which turned Iran into one of the main buyers of Russian weapons. Iran then got Soviet fighters, bombers and air defence systems, all still in service in the country's armed forces.
Tehran recently announced the creation of a new squadron of its own "modern fighter jets: the Saegheh". However, according to the experts, these are, in reality, a modification of the long-obsolete Iranian F-5 Tiger.
The same is true for the country's navy and missile weapons systems. Iran's fleet of surface warships is also out of date. These are old-models, acquired under by the Shah in the 1960s – 1970s, from the U.S and Great Britain, which Iran is also trying to produce on its own.
The situation in the army is also forcing Tehran to think about modernization of weapons and equipment. Of the approximately 5,000 armoured vehicles (including tanks, self-propelled artillery, infantry transport vehicles, and mechanized infantry combat vehicles) the greatest part consists of old foreign –made units from the 1950s and 60s. Starting in the early 1990s, Iran began the production of its own Zulfikar tanks, but this has not solved the problem of the country falling behind in armoured vehicle technologies.
The current state of its military forces does not meet Iran's foreign policy ambitions, and prevents Tehran from strengthening its military and political influence in West Asia. Five years from now Iran, in its intensified struggle with Saudi Arabia, will not be able to cope on its own, and will seek ways to circumvent sanctions.
Cooperation on the Indian scheme
According to Konstantin Bogdanov, military analyst at Lenta.ru, significant groundwork in the "defence industry" sector has already been laid, and if the sanctions are removed, Iran will no longer operate on the model of the Persian Gulf monarchies, purchasing modern weapons abroad. More likely, it will pursue military-technical cooperation with Russia, and occupy an intermediate position between Algeria and India, increasing the localization of production facilities and licensed assembly of equipment.
Yulia Sveshnikova, specialist on Iran at the National Research University's Higher School of Economics is more cautious in her forecasts for future MTC between Russia and Iran. She warns against undue optimism, as there is still a lack of trust in relations between Moscow and Tehran, dating back to when Russia failed to make the promised delivery of S-300 anti-aircraft missile systems. It is likely to take time before relations can recover.
"Taking into account its past experience with Russia, Iran expects to see the real fulfilment of contract obligations, before it can have its confidence restored in such an important area for Tehran. This will become the real litmus test of the willingness of both parties to further develop their military-technical cooperation," she believes.
All rights reserved by Rossiyskaya Gazeta.