Russia may equip Vikramaditya with air defence systems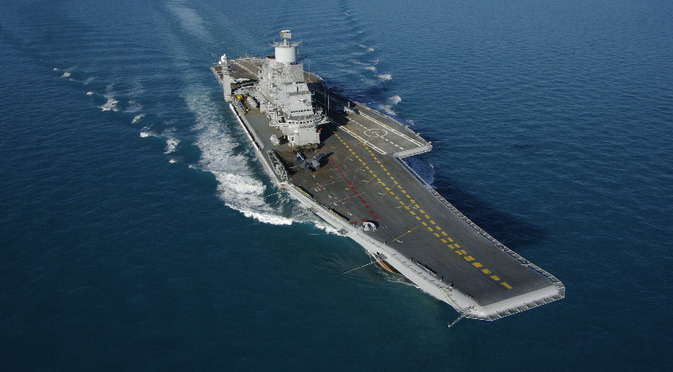 The aircraft carrier Vikramaditya on trials in the White Sea has met its manoeuvrability and speed specification, achieving a speed of 29.3 knots. Source: Oleg Perov / Sevmash press office
There is reserved space for Russian air defence systems.
Russia may install its air defence systems on the Indian Vikramaditya aircraft carrier, Nevskoye Planning and Design Bureau General Director Sergei Vlasov said Wednesday.
In November 2013, the refurbished Vikramaditya, formerly known as the Admiral Gorshkov, was commissioned by India for a record-breaking $2.35 billion after almost a decade of negotiations with Russia since the initial $947 million deal for the purchase of the ship was signed in 2004.
"At that time, the Indians refused to install Russian air defence systems on the Vikramaditya, but we have reserved space there for our air defence systems… This is allowed under our contract," Vlasov told RIA Novosti.
Along with the aircraft carrier, India also bought 12 single-seat MiG-29Ks and four two-seat MiG-29KUBs for $526 million.
In 2015, representatives of the Russian Sevmash shipbuilding company and the Indian Navy signed a contract for technical assistance in the maintenance of the aircraft carrier during the period not covered by warranty.
First published by Sputnik.
All rights reserved by Rossiyskaya Gazeta.