Lynx armoured cars keep coming from Italy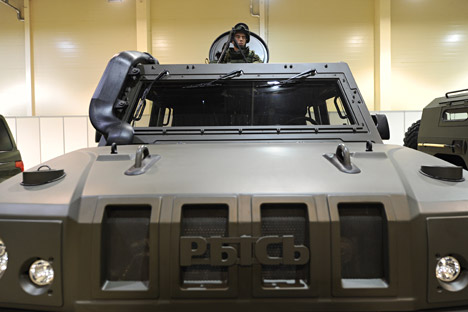 A serviceman in a light multirole armoured vehicle Lynx.
Sergey Pivovarov/RIA Novosti
Russian operations in Syria are being used to successfully showcase its defence industry. The clear demonstration of arms capabilities in combat conditions is attracting buyers. Photo and video reports of everyday life for the Russian contingent in Syria are the best "advertisement" for the Italian-made Iveco LMV (Light Multirole Vehicle). Why is Russia providing this service to the Italian defence industry, and will bilateral Italian-Russian military cooperation continue?
Large numbers of photographs on the Internet show Russian soldiers in Syria posing next to an Iveco LMV. The Italian armoured car can be seen on the runway at Khmeimim Air Base, among military convoys on Syria's roads, and even as part of the escort for Russia's S-400 anti-aircraft weapon systems. Soldiers from the Syrian armed forces also seem to want their pictures clicked before them.
The adventures of the Italian in Russia
The Iveco LMV, and the Lince ("Lynx") name, has gained a mixed reputation in Russia. It is closely associated in the public mind with unpopular former Defence Minister Anatoly Serdyukov who, after being fired, was implicated in a case of corruption in his department. The military disliked him for his ill-thought-out radical reforms and "Westernization" in procuring military equipment.
It is to him that the Russian army is obliged for its Israeli drones and Italian armoured cars, as well as for the infamous contracts to buy 'Mistral' helicopter carriers from France. The Italians, though, as has recently been shown, turned out to be more consistent in their foreign policy than the French. The Iveco supply contract, which initially appeared controversial, ultimately outlived all the other procurement initiatives that Serdyukov made.
Lynx fighting for Russia
Of the 1,175 "lynxes" due to be delivered under contract between 2011 and 2012, Russia received only 358. Of these, just 10 were imported from Italy; the rest were assembled in Russia.
Click to enlarge the infographics
This cutback was a result of inconsistency in decisions by the Russian Defence Ministry, and of scandals in the Ministry associated with Serdyukov's dismissal in 2012. The Ministry approved the purchase of the Lynxes in 2010 but, subsequently, significant shortcomings were found with them during testing.
As a result, shortly after the appointment of Russia's current Defence Minister Sergey Shoygu, the decision to buy the Lynx was cancelled, and it was announced that its purchase would be suspended until testing was completed. Those tests went on until December 2014, and showed that the vehicle failed to meet not only Defence Ministry requirements, but even relevant technical specification requirements set by Iveco. A month before the test results were disclosed, the Defence Ministry said it would no longer buy the Italian LMVs.
The story continues
Despite all this, the vehicles continue to be supplied to Russia. They are being bought by a company called Garnizon, previously known as Oboronservis, which changed its name after the corruption scandal associated with the dismissal of Serdyukov.
According to the company's annual report for 2015, 81 Lynx assembly kits were imported into Russia in 2014, and another 94 were to be delivered in 2015.
In 2015, according to tender documents published on electronic platforms, Russia's forces would receive 356 of the LMVs between mid-2015 and mid-2016.
All the assembled vehicles go to one of the Defence Ministry's reserve pools, from where, it appears, some 'Lynxes' have ended up in Syria. In that country, their unsuitability for washed-out or snow-covered roads is less of a factor, but their advantages, like the great protection for the crew against roadside land mines, are very much in demand.
All rights reserved by Rossiyskaya Gazeta.