Getting Rafale jets will not affect Indian cooperation with Russia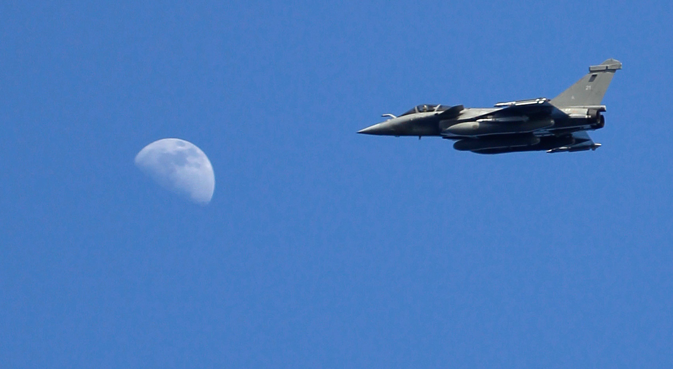 India is continuing its final negotiations for acquiring 126 French Rafale fighters in a deal that would cost around $22 billion. Source: AP
India and France have signed an agreement for Delhi to get French Rafale fighter jets, although issues of money remain to be settled. Speaking on Radio Sputnik, Nadezhda Uzunova, said this transaction would not affect defence cooperation between Moscow and Delhi.
Coinciding with the visit of French President Francois Hollande to India, New Delhi and Paris have signed an agreement (again) for the purchase of French Rafale fighter aircraft for the Indian Air Force. TV channels, including the official DD News, showed the live telecast of the agreements being signed. The signing ceremony was held on January 25 at the Hyderabad House, the official palace in New Delhi where the Indian Prime Minister meets with foreign dignitaries, after talks between Indian Prime Minister Narendra Modi and President Hollande.
"The decision on the financial aspects of the purchase of the 36 fighter jets will be made soon," Modi state in a statement to the media after the talks.
Indian authorities are, nevertheless, not slowing down their defence cooperation with Russia, particularly in the military aviation sector. India and Russia have agreed to continue their joint work on building a fifth generation fighter jet; a two-seater Prospective Airborne Complex of Frontline Aviation (PAK FA). In fact, on Monday January 25, officials of both countries reached agreement to reduce the cost of the joint project by 40%: down to $4 billion for each side.
Nadezhda Uzunova, a researcher from the Centre for Euro-Atlantic and Defence Studies at the Russian Institute for Strategic Studies, said competition between Russia and France in the global arms market has been around for a long time.
"In fact, this competition between Russia and France in the arms market is nothing new. We should note that the situation in the region is rather difficult, and India is rapidly arming itself. Apparently, the Indians have simply decided to work with different suppliers. On the other hand, France is now experiencing economic problems, and the arms trade is a very important source of revenues, so the French are very actively offering their weapons everywhere and to everyone. I believe that it is quite possible that they were willing to make major concessions, especially after the incident with the Mistral ships. They want to show their customers that they are reliable suppliers," Uzunova said on Radio Sputnik.
She however believes that, in spite of a signed contract with France, India will not curtail its cooperation with Russia.
"I believe that neither India, nor any other country for that matter, intends to curtail cooperation with Russia. It is simply that at this time, there seems to be a trend to buy from different manufacturers in different countries. That is, diversification. Cooperation will continue, but the relations will be more flexible," said Uzunova.
First published in Russian by RIA Novosti.
All rights reserved by Rossiyskaya Gazeta.