Russian Helicopters supplies India with contracted Mi-17V-5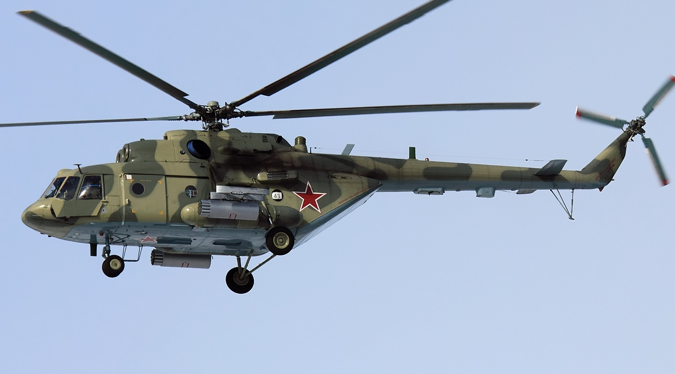 With the delivery of a final batch of Mi-17V-5 helicopters to India, Russian Helicopters has completed a contract to supply 151 such aircraft to the Indian Air Force and other Indian government wings.
The Russian Helicopters Holding (a Rostec company) has delivered the final batch of Mi-17V-5 military transport helicopters to India, completing the major contract to supply 151 aircraft, a company statement said Tuesday.
Rosoboronexport signed a contract with India in 2008 for delivery of 80 Mi-17V-5 helicopters and related equipment, which was completed between 2011 and 2013. During that period, additional agreements were signed to supply Mi-17V-5 aircraft for the Indian Air Force, Ministry of Internal Affairs and the President's Secretariat; a total of 71 vehicles.
"The holding has transferred the final batch of helicopters to the Indian side under a previously signed contract. From Rosoboronexport, India has received 151 Mi-17V-5 military transport helicopters, produced by the Kazan Helicopter Plant (KHP)," said the press release.
The Indian Air Force also has plans to order another 48 Mi-17V-5. The new helicopters are destined "for operations in various terrains, both in the desert and in the mountains."
"India is a key market for Russian Helicopters, and the largest operator of Russian helicopters in Southeast Asia. Today, more than 400 vehicles are operating in the country, and they have proven their worth. We manufacture high-tech multi-purpose helicopters, which are able to solve challenges anywhere in the world," said Alexander Mikheyev, general director of Russian Helicopters.
The Mi-17V-5 helicopters that were supplied to India, are among the most technically advanced helicopters in the Mi-8/17 family, making use of the best engineering discoveries of previous generations, said the press service. Each Indian Mi-17V-5 helicopter is equipped with a KNEI-8 navigation and electronic display complex. In this system, numerous indicators from a number of helicopter information systems have been replaced by just four multifunctional indicators, which has made the dashboard smaller and simplified the work of the crew. This system also speeds up pre-flight checks of the helicopter, because information from all sensors is displayed on the monitor screen. The helicopters supplied to India are equipped with modern, powerful engines, which significantly expands the possibility for the transport of heavy and bulky cargoes, especially in the conditions of the Indian highlands.
First published in Russian by RIA Novosti.
All rights reserved by Rossiyskaya Gazeta.