T-90 tanks Indian Army's main force in land exercises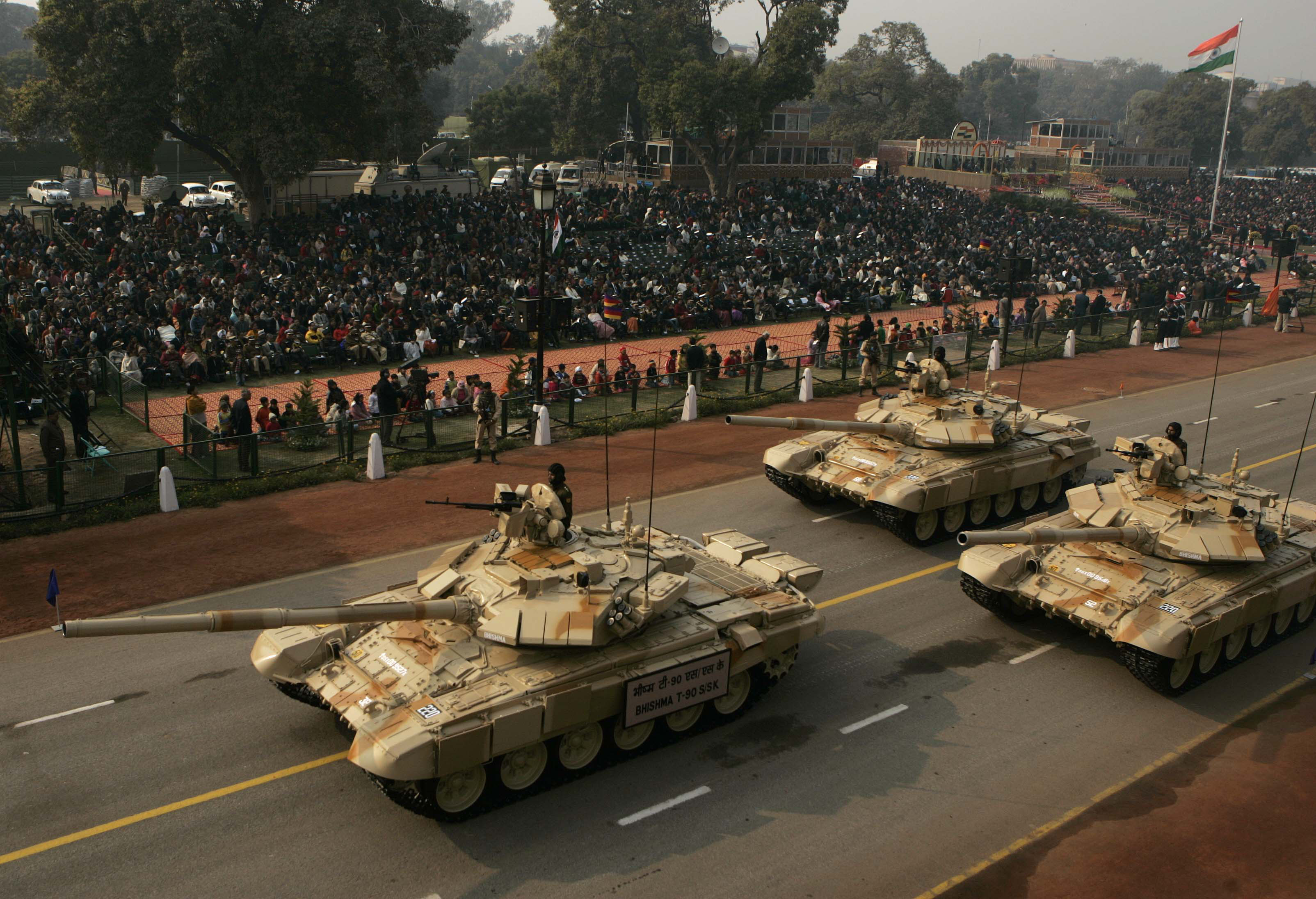 The T-90 are the Indian Army's main "attraction".
AP
In the advanced, combined armed forces exercises, called 'Shatrujeet,' which the Indian Army is currently carrying out in the Rajasthan deserts, the T-90 tanks have emerged as the mainstay of offensive combat exercises.
T-90 tanks have become the mainstay for land exercises in the Indian Army's 'Shatrujeet' exercises taking place in Rajasthan state, in the country's north-west, India's defence ministry spokesman Manish Ojha said.
"The most large–scale land exercises, 'Shatrujeet', which are currently taking place in the desert at the Mahajan site, involve the use of the most advanced technology, efficiently interacting with each other", he said, but the T-90 are the Indian Army's main "attraction".
According to Ojha, more than 30,000 soldiers are working on exercises aimed at striking deep into enemy territory with lightning speed, if necessary, with coordination between land and air forces. Military manoeuvres are aimed at testing the integration, in the vast theatre of combat activity, of the latest technologies, platforms and weapons systems, which have now become available to the Indian Army.
"The exercises are focused on achieving the perfect coordination between all the subdivisions in the scenarios where the enemy could be using nuclear, biological and chemical weapons," said Ojha. "We are working through a swift disarming strike with all the power of multi-dimensional modern weapons available to the Indian armed forces." The spokesman for the Indian defence ministry also said, "in recent decades, there has been a paradigm shift in India's offensive doctrine, and such exercises are regularly held in the army to enhance troops' preparedness and training to use weapons for offensive purposes."
The exercises will continue until 23 April. The formations engaged in the 'Shatrujeet' exercises have been training over the past previous months.
General Dalbir Singh Suhag, Chief of Staff of the Indian Army Land Forces, will hold a general review of the troops on April 22, and will assess their performance in the exercises.
First published by TASS.
All rights reserved by Rossiyskaya Gazeta.