India will finalise S-400 'Triumf' purchase 'soon'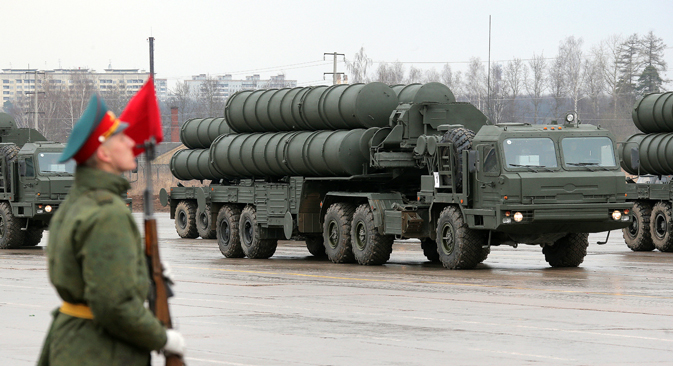 S-400. Source: Vitaliy Belousov / RIA Novosti
India's Defence Minister Manohar Parrikar has confirmed in Parliament that India would purchase the S-400 anti-ballistic missile system. There has been a great deal of speculation about whether India would finally acquire the system but that has been put to rest.
There was some disappointment and a lot of speculation when Indian Prime Minister Narendra Modi's visit to Moscow last December, for the annual bilateral summit with Russian President Vladimir Putin, did not yield a confirmation for acquisition of the S-400 'Triumf' missile defence system by India. This was despite clearance by the Defence Acquisition Council (DAC) for the purchase just days before the Prime Minister's visit.
India's DAC had, in its meeting held on 17th December, 2015, given approval for purchase of the S-400 LRSAM system (Triumf Missile System), along with associated equipment and missiles from Russia. In a written reply to a Member of Parliament on May 6, Indian Defence Minister Manohar Parrikar confirmed that the DAC had approved the purchase of the system. The order was likely to be for five units of the defensive anti-aircraft weapons system developed by Russia's Almaz-Antey Central Design Bureau.
Bureaucratic processes
The 'nod' from the DAC means there is an "in principle" approval for the purchase of a particular weapon system for the Indian armed forces. This is normally done after a thorough technical evaluation ("tech eval") of both the machinery to be bought and the country from which it will be acquired. Details are then worked out between officials of the concerned countries, and the process can take years.
An official source told RIR that the details for purchase of the S-400were being worked out and talks on the pricing details would begin "soon, in a matter of months," preparatory to the drafting of an actual contract for the purchase. While the cost of the deal has not been finalised, the purchase of this sophisticated anti-ballistic missile system is likely to cost around six billion dollars, media reports estimate.
Explaining the bureaucratic processes involved in finalising a major defence deal, the source said negotiations for the 'Triumf' were on and would reach a conclusive phase in a matter of "months, not years," likely before the next Summit level meeting, (due in New Delhi around the year-end) and price negotiations would begin. Discussions to buy the 'Rafale' multi-role combat aircraft, for example, are at the pricing level now and a contract is likely to emerge soon.
A report in the Russian news agency TASS during the Defexpo 2016 (held in Goa at the end of March) quoted the FSMTC deputy director Vladimir Drozhzhov as saying on the sidelines of the Defexpo, "The Federal Service has prepared a draft intergovernmental agreement on the supply of the S-400 systems to India and passed it to our partners, so we are awaiting a response."
When signed, this deal is set to become the biggest defence deal between India and Russia since 2001, when India decided to buy 140 Sukhoi Su-30MKI fighter jets.
The S-400 Triumph is Russia's latest long-range anti-aircraft missile system, and is able to hit multiple-range air targets, including fighter jets, bombers, drones, ballistic and cruise missiles at ranges of about 400 kilometres. The S-400's digital target acquisition system and radar allow detecting and hitting several different targets at once, according to rt.com.
The China factor
"We think this is a very good air defence system and we are keen to have it," the Indian government source told RIR, dismissing suggestions that India would not want to buy the S-400 because China has already bought the system. "We require it for our defensive purposes. If someone else has it, that is no problem. We have never been an offensive country."
There were some suggestions among Defence circles that Russia did not want to finalise the deal because of its commitments to China.
A report in the India Defence News (IDN), a defence news portal run by former senior armed forces officers said; "PM Narendra Modi's Christmas trip to Moscow has not been able to bring home the expected crown jewels from Russia as Moscow did not yield to give S400 missile defence system and Akula class nuclear submarines although other goodies was agreed upon for sale like nuclear reactors and Hydrocarbons… It may however be well assumed that price is not the factor as purchase of equivalent equipment from the West would be much costlier with far more stringent conditionalities, although not necessarily more effective… But after EU and US applied sanctions on Russia after the annexation of Crimea, Russia's economy started tottering, and it was left with only one powerful ally in international politics namely China."
The Indian government source dismissed the IDN report as "completely senseless and untrue," going on to say that "people can write what they want, but the reality is that details of this (S-400) deal are being worked out and it will happen soon."
The Indian company Reliance Defence has stated that it would work with the Russian manufacturer of the S-400 "on the entire range of air defence missile and radar systems" that India needs. This would help fulfil the Indian PM's 'Make in India' aspect of most defence and infrastructure deals.
Maj Gen (retd) Dipankar Banerjee, a defence analyst at Delhi-based think tank Forum for Strategic Initiatives, was quoted in the website 'Firstport' as saying that India was "vulnerable to Pakistan and China both in terms of missile attacks and air strikes," and the S-400 systems were "very desirable" despite a heavy price tag.
All rights reserved by Rossiyskaya Gazeta.