Indian Minister praises Su-30MKI fighter after his flight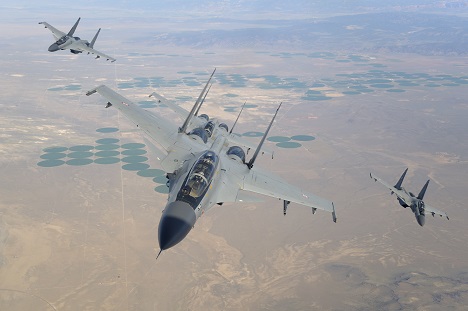 Indian Su-30MKI. Source: Irkut Corporation
Minister of State in the Indian Home Ministry, Kiren Rijiju, took a ride on Wednesday as a passenger in the Russian-made Su-30MKI fighter jet belonging to the Indian Air Force. He described the ride as a "thrill" and was all praise for the aircraft and its pilots.
Kiren Rijiju, Indian State Minister of Home Affairs, joined an elite club of people to take a ride as the second pilot of a Russian-made Su-30MKI, serving in the Air Force of India. After his flight on Wednesday, Rijiju praised the flight characteristics of the aircraft and the courage of Indian pilots.
"After today's flight aboard the frontline Su-30MKI fighter jet, I became a member of the elite club of the lucky ones who have experienced this thrill," he told reporters. I would also like to salute our brave pilots who fly these airplanes, capable of climbing to a height of over 17,000 metres and travelling at speeds of up to 2,100 km/h."
Rijiju became the fourth high-ranking official in the history of India to get an opportunity to personally experience the flight capabilities of the Russian-made fighter jet, which constitutes the combat foundation of the Indian Air Force. Earlier VIPs who have occupied the Su-30MKI's copilot's seat have been former Indian Presidents A.P.J. Abdul Kalam and Pratibha Patil, as well as former defence minister George Fernandes.
The test flight Rijiju took from the Halwara Air Force Station in Punjab, in northwest India, took 30 minutes. He flew over the northern state of Jammu and Kashmir with the experienced fighter pilot from the IAF who demonstrated the aircraft's capabilities, taking it through several aerobatic manoeuvres.
Air Chief Marshal Arup Raha, chief of the Indian Air Force, initiated this unusual event; with active participation of 44-year-old Rijiju, who had undergone the necessary medical checks and instructions the day before..
"Our main goal is to familiarize the government of the country with the capacities and technologies of the Indian Air Force," Raha said. A day earlier, the IAF Chief Commander also took a test flight in a light multirole Indian-made fighter jet, the Light Combat Aircraft (LCA), the first squadron of which will be inducted into service in July this year.
The Indian Air Force currently operates more than 900 Russian-made military aircraft, including the MiG-21 and MiG-29, Su-30MKI, military transport aircraft IL-76, among many other models.
First published in Russian by TASS.
All rights reserved by Rossiyskaya Gazeta.