Rostec talking with India to maintain Mi-17 and Mi-26 copters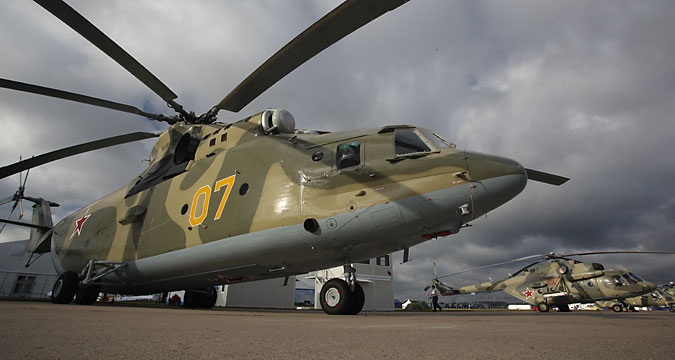 Troop-carrying helicopter Mi-26.
Marina Lystseva/TASS
Discussions are on between Rostec and India to finalise a contract for renovation and servicing of Mi-17 and Mi-26 helicopters.
Russian Helicopters (part of the Rostec state corporation) is holding discussions with Indian partners to finalise contracts for renovation of three Mi-26 and five Mi-17 helicopters, Igor Chechikov, deputy general director of the holding, told TASS.
"We are at the stage of discussing a contract for the repair of five (expandable to six) helicopters being used by the border guard troops of India. These are Mi-17 helicopters. I would also like to mention that Russian Helicopters is discussing a contract for the repair of three Mi-26 helicopters in the Indian Air Force. The corresponding tender we have already won," Chechikov told the news agency.
The "results of the talks," he said, would be the signing of a contract through Rosoboronexport for the overhaul of Mi-17 helicopters serving in the Indian Air Force.
Chechikov had earlier told TASS that Russian Helicopters was soon planning to sign, with the Indian Ministry of Defence, a long-term contract for after-sales service of Mi-8/17 helicopters. This, he said, would be a "fundamentally new format".
India is one of the largest buyers of Russian helicopters. A total of 151 military transport Mi-17V-5 helicopters have been delivered to the country and, quite recently, plans to order 48 more of these aircraft for the Indian Air Force were announced. Also, late last year, an agreement was signed for joint production of Ka-226 light helicopters. The agreement states that 60 ready-built aircraft would be delivered to India from Russia, while an additional 140 would be manufactured in Indian production facilities.
Creating a network of regional partnership centres
Chechikov also said that Russian Helicopters is holding discussions with foreign companies to create a network of regional partnership centres, for the maintenance of equipment.
"Currently, around 40 companies worldwide are involved in the maintenance of our helicopters. Sometimes their activities are not entirely in accordance with the requirements that we have set, and so, we are currently negotiating with our partners to establish regional partnership centres," said Chechikov.
The company adopted a "Strategy for the development of after-sales service until 2030" in April, the spokesperson said. "One of the directions will be the development of service infrastructure abroad," he added.
Russian Helicopters has had the right to engage in independent foreign economic activities since October 2014, in the sphere of the maintenance, repair, and modernization of helicopters, including combat aircraft. The company recently announced plans to open a network of service centres across the world, in Asia, North Africa, and Latin America.
Russian Helicopters also arranges for the repair of aircraft in various countries, like Egypt.
First published by TASS.
All rights reserved by Rossiyskaya Gazeta.