Hypersonic BrahMos prototype likely in 2024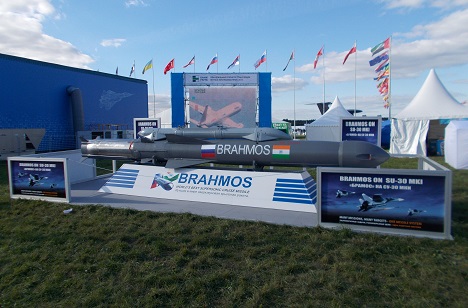 The BrahMos missile is one of the testimonies of burgeoning partnership between India and Russia. Source: Boris Egorov / RIR
A prototype of the hypersonic version of the joint Indo-Russian BrahMos missile is likely to be ready around 2024, a spokesman for BrahMos Aerospace told TASS.
Work to develop a hypersonic version of the joint Russian-Indian BrahMos missile will begin around the year 2022, and a prototype is likely to be ready in 2024, TASS learned from Praveen Pathak, marketing director of the BrahMos Aerospace company.
"This will be a completely different missile, with a flight speed of about Mach 6," Pathak told TASS at the KADEX-2016 Exhibition. Over the next three to four years, the company is planning to "speed up" the current supersonic version to Mach 4, he said.
Pathak said the preliminary design is now being developed. In Russia and India, they are simultaneously considering different options for the shape of the future missile. This stage, according to the BrahMos Aerospace representative, will require "at least five or six years" to complete, and then, roughly in 2022, the development work will begin, and two years hence – the first "iron" sample should appear.
The future missile should be similar to the current BrahMos, Pathak said, in terms of weight and size characteristics, so that it can be used on the same platforms and with the same launchers.
"Experts have not yet worked out what the final cost of the project will be, this can only be determined after the completion of the preliminary design and the shape of the missile is selected," said the representative of BrahMos Aerospace. The final price tag, Pathak said, will depend on the materials that are chosen for this missile.
Previously, the company had announced that the hypersonic version of BrahMos could be designed in 5-10 years, and that its speed would exceed Mach 7.
First published in Russian by TASS.
All rights reserved by Rossiyskaya Gazeta.