Syrian campaign boosts Russian aircraft sales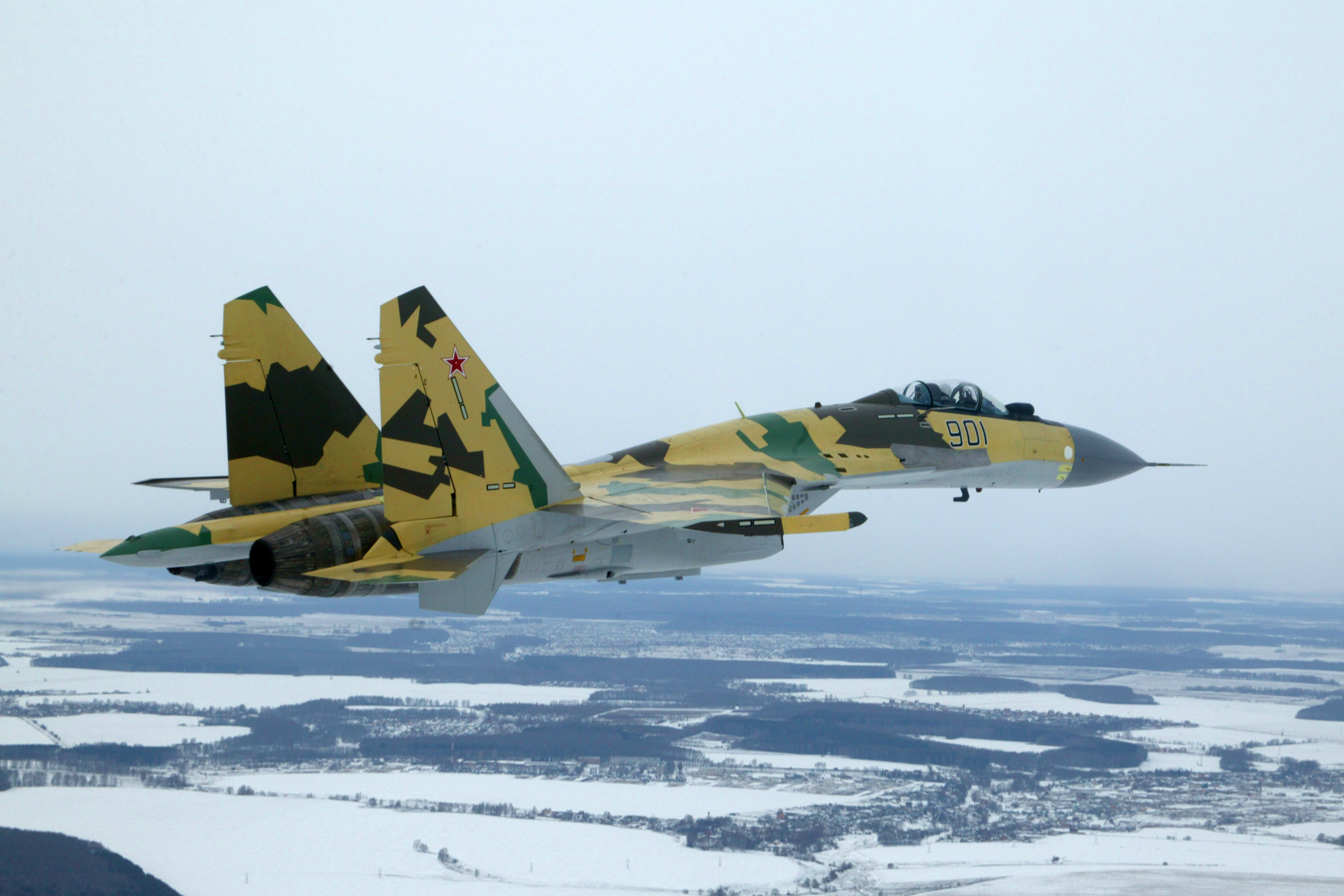 Russian arms exports exceeded expectations in 2015 because of the increased interest in West Asia and the rest of the Asian continent.
The Russian Aerospace Defence forces' operations in Syria, between September 2015 and March 2016, have perhaps been the most profitable demonstration by the country's armed forces in Russia's post-Soviet history. After the operation ended in March 2016, Russian President Vladimir Putin said exports of Russian defence equipment exceeded expectations.
Despite the secretive nature of the military industry complex, figures that have been disclosed indicate that the potential profit to the Russian budget, from weapons sales to foreign markets, will easily cover costs of the military operations.
Russia spent $500 million on its operations in Syria, while the export of military goods from Russia amounted to $15.2 billion at the end of 2015.
According to Russia's state-run arms export agency, Rosoboronexport, sales of Russian aircraft account for almost half (47 percent) of the country's military exports. The effective use of Russian Su-34 and Su-24M bombers, the newer Su-30CM and Su-35s fighter jets, as well as Mi-24N and Ka-52 helicopters have spurred interest not only from the major arms importing countries with whom Russia has traded with before, but also from new buyers in West Asia.
New talks and buyers
A source in Russia's defence establishment told RIR that all new negotiations on equipment used in the Syrian campaign are classified as "top secret" and cannot be disclosed.
"From leaked information, we can talk about the beginning of negotiations with Algeria and Egypt on the supply of 4++ generation Su-35 fighters," the source told RIR. However, the price and quantity of the aircraft have not been disclosed since it is not known whether the negotiators will come to a mutually beneficial agreement.
"The contracts that Russia concluded as of December 2015 were negotiated before the operation in Syria," said Viktor Litovkin, military analyst with TASS, to RIR. "These agreements spell out not only the delivery of the aircraft, but also their components."
Litovkin said negotiations are underway on how equipment maintenance will be handled, either in Russia or by building plants in the buyer's country. The negotiators are also discussing whether the training of pilots and technicians to work on the aircraft should be done at Russian schools, he added.
The largest of these contracts is a Russia-China deal worth around $2 billion. In November 2015, the Chinese signed a contract for purchase of 24 Su-35 multifunctional fighters, becoming the first foreign customer to purchase these Russian aircraft. Also, before the end of 2016, Moscow will supply the remaining batch of six MiG-29K naval fighters to India, two MiG-29s to Egypt and a batch of Su-30MKAs to Algeria.
Southeast Asia is also interested. In April 2016, the Royal Thai Armed Forces signed a contract for purchase of a second batch of Russian helicopters, including two Mi-17V-5s.
Also, in early April, a high-ranking delegation from Jakarta visited Moscow. Talks were held about Moscow supplying 10 Su-35C planes to the Indonesian armed forces.
"You always have to keep in mind that by buying weapons, the country buys not only the hardware, but also some political dividends," said Vadim Kozyulin, a professor at the Academy of Military Sciences. Some buyers, therefore, never turn to Moscow no matter how interested they are in Russian weapons because they need the support, for example, of the U.S. in one issue or another, Kozyulin said.
Opaque pricing
After the ruble dropped 50 percent in value against the dollar and the euro in 2014, the Russian national currency continues to remain weak, giving Russian exporters a strong competitive advantage in world markets. However, dumping of weapons is not being considered.
Konstantin Makiyenko, deputy director at the Centre for the Analysis of Strategies and Technologies, said Rosoboronexport will not reduce the dollar price of military equipment.
"This is a very special commodity," Makiyenko said. "Its price is minimally affected by economic factors and much more by political and military ones." However, he added that due to foreign currency exchange rates, the profitability of domestic enterprises for Russia's budget has increased dramatically.
All rights reserved by Rossiyskaya Gazeta.