New nuclear-powered destroyer for Russia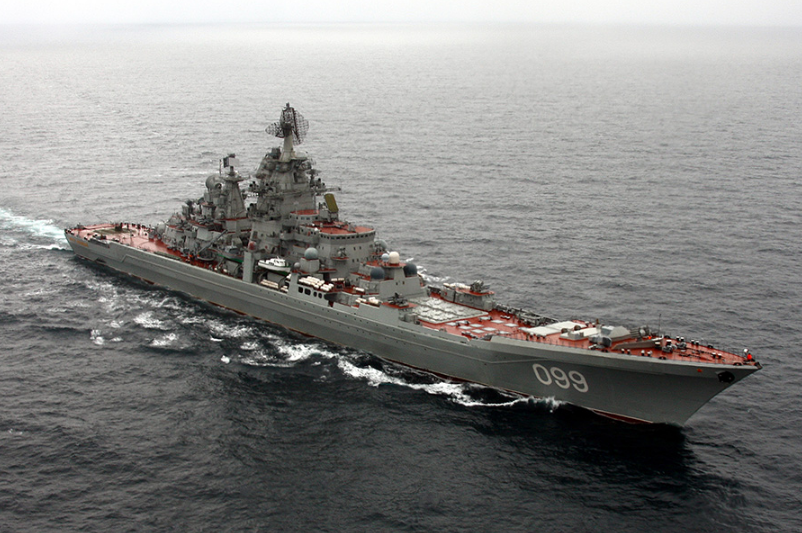 Russia is building eight new ships to replace the nuclear-powered cruisers of the Pyotr Velikiy type.
Russia has started work on building a nuclear destroyer of the Project 23560 'Leader'. The lead ship should be built within the arms programme for the period 2020-2025.
The new model, according to its specifications, is comparable to the largest nuclear-powered missile cruiser of the Russian Navy, the Project 1144 'Orlan', of the 'Pyotr Velikiy' ('Peter the Great') class- the only ship of this class in the ranks of the Russian Navy.
The displacement of the new destroyer, 200 metres long and 20 metres wide, will be around 17,500 tons. It will be able to reach speeds of up to 30 knots (1 nautical mile = 1,862 metres – Editor's note) and go on missions for up to 90 days without entering a port.
According to an RIR source in the defence establishment, the decision to design and build a nuclear-powered destroyer was made because of the break in military cooperation with Ukraine.
"Previously, these types of ships were equipped with gas turbine power plants, which were manufactured in Ukraine. Today, instead of starting 'production from scratch', we decided to use the serially produced domestic nuclear power plant, which is now installed on icebreakers," the source told RIR.
Admiral Igor Kasatonov, former Deputy Commander of the Navy, told RIR that the last time Moscow sought to build such ships was in 1989.
"New geopolitical interests have appeared for the country, and the need to have a presence in remote parts of the planet. The Leader will allow the Navy to address challenges anywhere on the world's oceans," he said.
The new model, he said, combines the features of three types of ships – destroyers, large anti-submarine ships and missile cruisers of the Project 1144 'Orlan'.
Characteristics:
Crew - 300 people;
Length - 200 metres;
Width - 20 metres;
Displacement - 17.5 tons;
Maximum speed – 30 knots;
Armaments (projected!):
4 'Kalibr' launchers with 'Kalibr-NK' and 'Oniks' missiles, with a range of more than 300 km;
S-500 'Prometheus' anti-aircraft missile systems with 2 launchers;
2 launchers of the 'Poliment-Redoute' system;
A-192 artillery units, 130 mm caliber;
2 'Pantsir'-M anti-aircraft missile and gun systems, made for ship defence;
There will be the possibility of stationing two multipurpose helicopters on board;
(Final set of weapons could change during the execution of the technical work on the project).
All rights reserved by Rossiyskaya Gazeta.