Russia to continue MTA work after India withdraws from project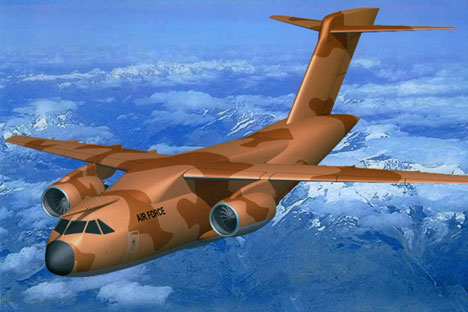 The multi-purpose military transport aircraft (MTA). Source: Press Photo/UAC-TA
Work is continuing at the Ilyushin Aviation Complex on development of a medium, multi-purpose military transport aircraft, even though India has withdrawn from the project.
Work at the 'Ilyushin Aviation Complex', to develop the multi-purpose military transport aircraft (MTA) will continue despite India's withdrawal from the project, said an official company representative to RIA Novosti on Wednesday, at the 'Army-2016' forum.
'Ilyushin' representatives have, however, expressed hope that India would return to the project at the development stage.
The intergovernmental agreement on joint development and construction of the MTA was signed in 2007; production of the aircraft was planned to be expanded in both Russia and India. In late 2015, however, it became known that New Delhi was withdrawing from the project.
"Today the Aerospace Forces of the RF are experiencing an acute need for such machines (medium military transport aircraft). The An-12 is almost gone, and chasing IL-76 to transport 20 tons is unprofitable Therefore, we are proactively continuing work on the development of the promising medium-sized military transport aircraft on the base of MTA (IL-214)," said the source.
The source noted that 'Ilyushin' is preparing for blasting of the airplane model in the wind tunnel of the Zhukovsky Central hydrodynamic Institute, both with models of PS-90A engines and advanced PD-14.
"We have currently started flight tests for the Ukrainian An-178 aircraft, whose features are similar to our Il-214, and we are still considering the question of beginning work on the plane. I am confident that when we get to the development stage, our Indian partners will again join us," said the Ilyushin representative.
MTA is classified as a medium military transport aircraft, which provides a wide range of options for transportation of cargoes weighing up to 20 tons for distances of more than 2,000 kilometres of unpaved and artificial runways.
First published in Russian by RIA Novosti.
All rights reserved by Rossiyskaya Gazeta.