Russia, India mull enhanced use of national currencies, to spur trade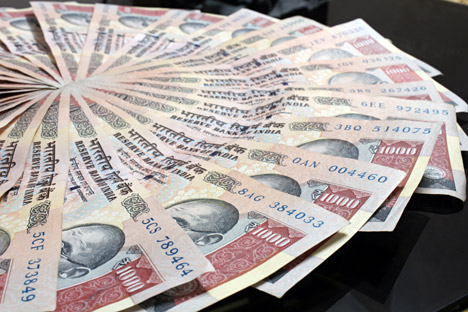 Raising the volume of settlements in national currencies are expected to greatly benefit bilateral trade. Source: Alamy / Legion Media
Senior representatives from the Russian Central Bank and the Reserve Bank of India, along with those from major commercial banks and export promotion organizations of both countries met in St. Petersburg to discuss how to raise the volume of mutual settlements in their respective national currencies.
Financial regulators in Russia and India discussed the next steps that need to be taken when it comes to making settlements in national currencies between the two countries, as well as solving the problems of interaction between commercial banks, the Central Bank of the Russian Federation said on its website.
This statement by the Russian Central Bank came after a meeting of the Russian-Indian Subgroup on Banking and Financial Issues, held between July 4 and 6, 2016 in St. Petersburg.
Raising the volume of settlements in national currencies are expected to greatly benefit bilateral trade.
Senior representatives from the Central Bank of Russia, the Reserve Bank of India, major Russian and Indian commercial banks, as well as representatives of institutions that support exports attended the crucial meeting.
"The parties discussed the problems and prospects of interbank cooperation, and the possibilities of expanding the use of national currencies in mutual settlements," said the statement.
Russian and Indian representatives also agreed to expand the agenda for the Subgroups to include issues of Russian-Indian cooperation in the field of insurance.
First published in Russian by RIA Novosti.
All rights reserved by Rossiyskaya Gazeta.