Mastering the art of 'iceberg management'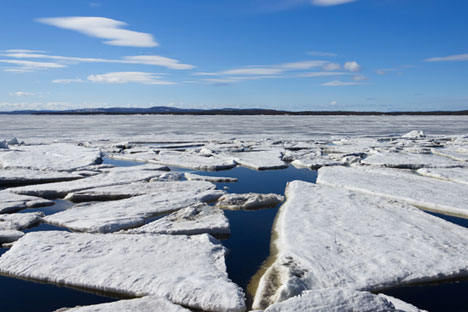 Every year, thousands of ice floes break off from the ice caps of the archipelagos of Spitzbergen, Franz Joseph Land, and Novaya Zemlya. Source: Shutter Stock/Legion Media
New technologies are being developed by the scientists at the Arctic and Antarctic Research Institute in St Petersburg which are designed to help protect Russian oil rigs in polar conditions.
Russian scientists are developing new technologies of 'iceberg management' which will make it possible to forecast the movement of ice floes in the Arctic several days in advance of the actual movement. Consequently, when moving ice floes present a danger, scientists will be able to divert them away from oil rigs.
The new technologies will be tested as early as 2016 in the Spitzbergen archipelago and in the Barents and Kara seas, areas where Russian companies are involved in exploring and developing oil and gas fields.
Ice drifts pose danger to Arctic oil rigs
Dealing with the consequences of an oil spill, even in warm waters such as the Gulf of Mexico, is fraught with enormous difficulties and has devastating consequences. In Arctic conditions, such a spill would be even more difficult to clean up.
One of the main dangers in northern climates is the threat from ice, such as ice fields, icebergs and their fragments. Every year, thousands of ice floes break off from the ice caps of the archipelagos of Spitzbergen, Franz Joseph Land, and Novaya Zemlya. An iceberg can weigh several million tons, and a collision would easily destroy an oil rig.
The movement of icebergs can be forecasted and managed with the use of modern technologies developed especially for Arctic conditions, and which are already available in Canada. In Russia, however, such technologies are currently under development by a group of scientists from the St. Petersburg-based Arctic and Antarctic Research Institute (AANII).
"Our task is to notify icebreakers operating on the continental shelf of an approaching iceberg,'' said the head of the project, AANII deputy director, Alexander Danilov. "This threat is priority No. 1 for high-latitude oil and gas fields in the Barents and Kara seas."
How to prevent a disaster?
It is necessary to predict iceberg movement several days in advance. According to scientists, the main challenge is to spot an ice flow with the use of satellites, UAVs, or aviation and to calculate its trajectory on the basis of an algorithm that, in addition to the parameters of the iceberg, takes into account atmosphere dynamics, and water and ice dynamics.
As soon as it becomes clear that an iceberg is coming dangerously close to an oil rig, icebreakers are directed to the scene. With the help of special nets and cables, they will pull the iceberg to a safe distance so that it does not re-enter the area. Scientists are now developing a system that consists of hardware and software.
"The system will be easy to operate,'' said Danilov. "One will not have to travel to the Arctic, and everything will be done from a single center in Moscow, or in any other city. Then, information can be transmitted to the scene very quickly. The development of tools like these will allow our country to become self-sufficient in addressing tasks in the Arctic."
According to Danilov, Russian scientists already gained substantial experience in iceberg management in the summer of 2014 during drilling exploration in the Kara Sea when an oilfield called Pobeda (Russian for "victory") was discovered.
As part of this project, the scientists are also developing monitoring instruments to forecast climate change, land and water pollution, as well as dangerous geo-dynamic phenomena typical of the Arctic continental shelf and coast.
First published in Russian in S&T RF
All rights reserved by Rossiyskaya Gazeta.