New bio-markers for mental ailment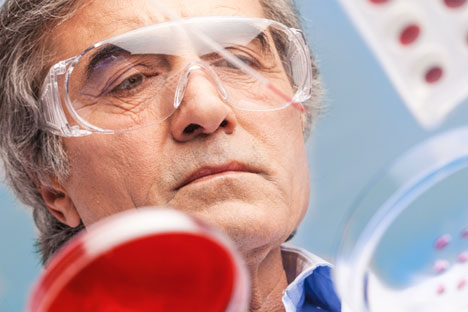 Scientists from the Institute of Chemical Biology and Basic Medicine in Novosibirsk decided to search for reliable biomarkers that would help to identify the disease and diagnose the patient by blood analysis. Source: Shutterstock / Legion Media
A change in blood protein levels could indicate the presence of a mental illness, Siberian scientists have found.
Around 60 million people worldwide suffer from bipolar disorder (BPD), according to figures with the World Health Organization. An affliction characterized by severe and sudden mood swings and energy levels in the body, BPD impacts the ability to function properly and, in severe cases, can even lead to suicide.
Scientists at the Institute of Chemical Biology and Basic Medicine in Novosibirsk decided to look for reliable biomarkers which would help identify the disease and accurately diagnose a patient through blood analysis. They found that psychological disorders are linked to problems in the thyroid gland and a hormonal imbalance.
Thyroid and psychological illness
For their study, the scientists selected 10 people with a confirmed bipolar disorder diagnosis, while another 10 people acted as the control group. "We analyzed serum samples from their blood using the proteomic approach, studying the system of all the proteins," said Irina Alexeeva, a researcher at the Novosibirsk institute. "We divided the entire protein mixture according to molecular mass and obtained a protein chart."
The scientists then split the proteins into fragments and analyzed them. "It turned out that trans-thyretin, the protein that transfers the thyroid gland hormone from the blood to the brain, is linked to neuropsychological disease,'' said Alexeeva.
Patients with bipolar or schizophrenic disorders often manifest a reduced functioning of the thyroid gland, and people suffering from such a thyroid dysfunction tend to show symptoms similar to those of a psychological disorder.
A laborious method
According to psychiatrist Lyudmila Kalashnikova, who analyzed the study's results, bipolar disorder is one of the most debilitating diseases.
"Often doctors consider the disease a manifestation of seasonal depression, and thus, diagnose it incorrectly,"' said Kalashnikova. "If the disease could be identified on the basis of a blood analysis, this would be more effective. Scientists should analyze a larger number of patients, which would increase the reliability of their studies."
The method used in Novosibirsk is laborious and expensive. Scientists admit that it would thus be difficult to incorporate into standard medical practice. However, they intend to find a simpler and cheaper diagnostic method. According to Alexeeva, the team plans to confirm the clinical effectiveness of the biomarkers they have identified.
All rights reserved by Rossiyskaya Gazeta.