Baikal-T1 microprocessor to debut globally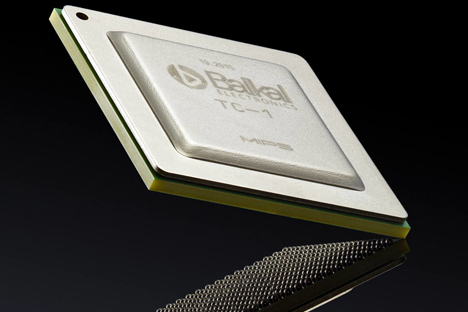 The Baikal T-1 is the first Russian-made chip for commercial use.
Press photo
The first indigenous Russian microprocessor, the Baikal-T1, goes into mass production in early 2016. More than 20 foreign companies have placed orders for it and, by 2020, sales of around 5 million chips are forecast. The Russian government wants the country to reduce dependence on foreign-made chips, but use of Russian-made chips is not yet mandatory.
Baikal Electronics (BE), a Russian company, aims to begin production of the first commercial batch of its Baikal-T1 dual-core microprocessors shortly. Around 100,000 chips will come off the production line in early 2016. According to BE, more than 100 companies are among the first customers, of which around 20 are outside Russia. These include Lanner, the Taiwanese manufacturer of embedded computers. By 2020, BE plans to sell at least 5 million chips at home and abroad.
The Baikal T-1 is the first Russian-made chip manufactured for commercial use, and will cost around $60. Until recently, Russian companies made microprocessors mainly for the country's defence industry.
According to BE representative Andrey Malafeev, the price of $60 per chip is the market price for a complete system with an interface that performs all the functions of a computer.
Competitors to Baikal T-1 include American companies Broadcom and Freescale, said Valery Shunkov, head of the Fifth Generation Microelectronics Experimental Design Bureau. They make chips specifically designed for routers, routing gateways, digital TV set-top boxes, and home appliances. They cost in the range of $50 to $70.
Gleb Mishin, general director of Lenovo in Russia, CIS and Eastern Europe, said it makes sense to make equipment based on BE microprocessors if the government requires the use of a Russian-made microprocessor. However, at the moment, there is no such obligation.
BE plans to release four types of microprocessors, one of which has been designed for personal computers. According to Mishin, Lenovo devices can be adapted to utilize them, but the company will do this only if the price is competitive, or if there will be sufficient demand from Russian state-owned companies.
First published in Russian in RBC Daily.
All rights reserved by Rossiyskaya Gazeta.