Russian scientists working on 'eternal' vaccine, for animals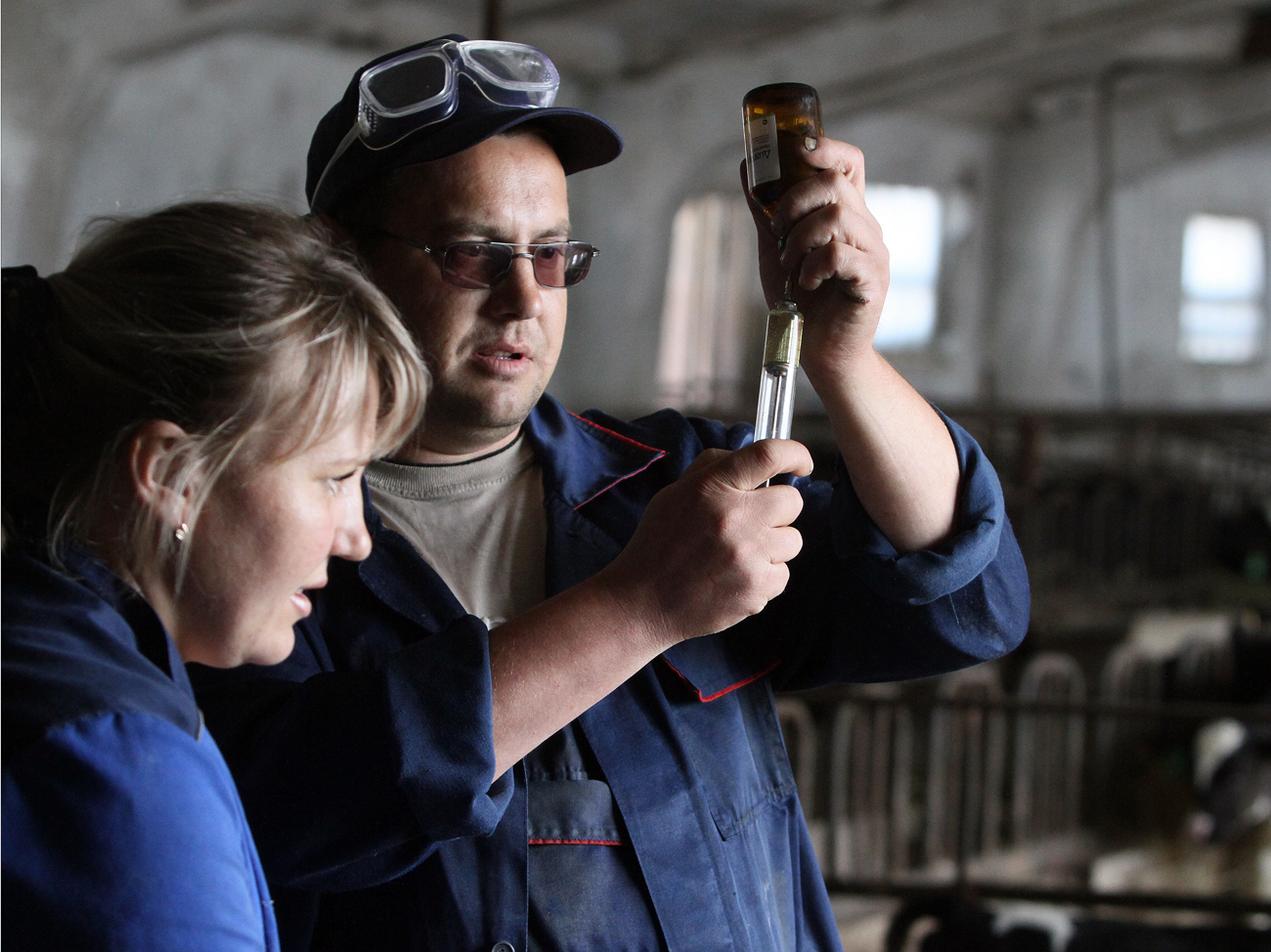 Vaccinated animals could further "infect" the rest of the herd.
Alexey Malgavko / RIA Novosti
A group of Russian scientists is part of an international project working to create a veterinary vaccine that would be contagious and spread the good effects, with "eternal" efficacy.
The scientific team of the All-Russia Research Institute of Veterinary Virology and Microbiology (VNIIVViM) is taking part in an international project to create an 'eternal' vaccine. The idea is that vaccinated animals could further "infect" the rest of the herd. If successful, this method would dramatically increase the efficacy of vaccinations, but it is unlikely that such vaccines would appear soon.
The scientists at VNIIVViM plan to develop 'eternal' vaccines for ruminant animals like cows, sheep and goats. Living, but weakened, relatively safe and well-studied viruses circulating within only one type of animal, becomes a vector (carrier) of a vaccine – inserting into it genetic elements that stimulate the synthesis of proteins responsible for protection against various diseases. These genes are known for a variety of viruses. They are compact, easily cloned and inserted into the vectors.
Denis Kolbasov, Director of VNIIVViM, believes that this development will completely change the structure of the entire biotechnology industry.
"Thanks to a one time vaccination, many viruses will simply disappear, significantly reducing the demand for a number of vaccines that are now being used each year and applied many times," said Kolbasov.
VNIIVViM, is currently using a modified ORF virus in creating vaccines for animals. It is used for the immunization of sheep against infectious diseases.
The idea to create such vaccines was born in the United States. Since 2014, scientists at VNIIVViM have been collaborating with colleagues from a number of American universities in Illinois, Nebraska and Connecticut. The Russian team is primarily conducting experiments on animals, as these are easier to organize in Russia than, for example, in the United States. This project is being financed by the Gates Foundation – of Bill and Melinda Gates. The research is being funded within the framework of the fight against poverty in Africa, where it is difficult to adhere to required temperatures while transporting drugs. As a result, the cost of the delivering the vaccination significantly exceeds the cost of acquiring it.
"Imagine you are vaccinated at the clinic and, when you come home, your family becomes automatically vaccinated through airborne droplets," said Alexander Malogolovkin, developer of the 'eternal' vaccine. "Unfortunately, people will not like this. However, in agriculture, such experiments are possible."
Sophia Safaryan, Research Engineer at the International Scientific Laboratory, ITMO University, believes that this research is important, but it does raise many questions.
"Often, when faced with global challenges, we strive to create something eternal and universal, but this is not always a good thing. In the case of viruses, it may turn out ineffective," said Safaryan. "Viruses are very volatile, and the vaccine must adjust itself to these changes at the appropriate pace. What will happen to this 'eternal' vaccine over time? Will these experiments lead to the emergence of more aggressive forms of pathogens? Before we talk about the universality of a technology, scientists need to think carefully about the choice of the object, and explore all the possible positive and negative effects – and only after that, move in the direction of actually using it."
Kolbasov noted that for now, this is exploratory research, and practical results are still far off.
"We have created a good safe recombinant vaccine, which is not yet well transmittable from animal to animal," explained Kolbasov. "It was discovered that the virus, which we used as the vector, is transferred by contact only at certain stages of the infection, namely during the first 10 days. When an animal becomes ill with it, it ceases to be a source of the vaccine. Perhaps we will need to change the virus carrier or the application scheme – to bring the conditions of the laboratory animals to the natural setting."
Alexander Shleykin, Head of the Chemistry and Molecular Biology Department, ITMO University, said that the actual use of the 'eternal' vaccines is still very far away.
"It depends on what resources will be involved and how much money is invested. Under optimal circumstances, I think it will take at least 10 years for realizing such a possibility," concluded Shleykin. "Based on the available information, the establishment of an 'eternal' vaccine is not yet sufficiently elaborated or justified. Traditionally, we have had problems with this, because Russian scientific organizations have very few high-level managers who can develop and lead such projects – as this involves huge administrative and technical work."
First published in Russian by Izvestia.
All rights reserved by Rossiyskaya Gazeta.