Russian mindset is somewhere between Asian and European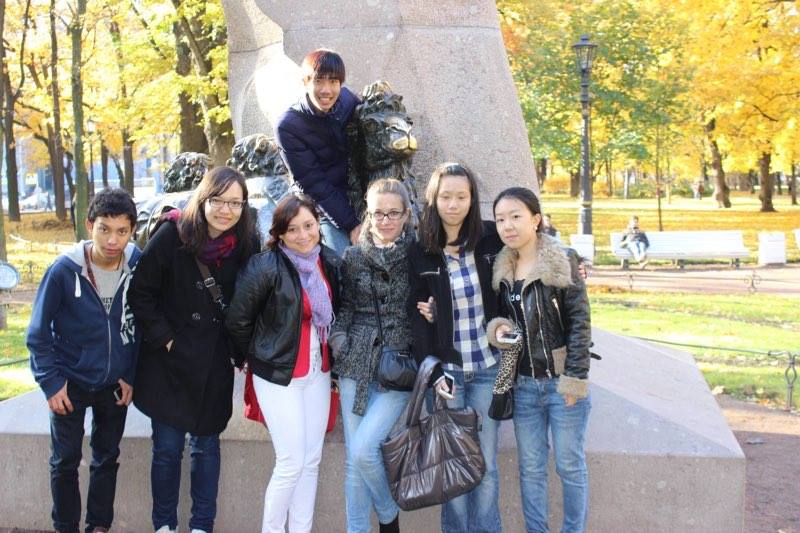 "Russians are very different. Many tourists say that Russians are gloomy, but I do not think so."
Personal archive.
A Thai student at the St. Petersburg State University talks to RBTH about the food, life and culture of the famed city, and what he misses about Thailand.
Chidpong Poonpeng (Of) is a student at the St. Petersburg State University's Faculty of Journalism. He came to Russia to study its history and culture, and has been in the country for the last two and a half years.
He likes the cool weather and climate in St. Petersburg, and feels there more comfortable than in Moscow. He shares his impressions of life in Russia.
Favorite places in St. Petersburg
"Thais are not too keen on museums. But of course I would advise my friends to go to the Hermitage and Peterhof.
I really like metro stations in St. Petersburg. For example, Admiralteiskaya is very interesting. It is the deepest station, I like the long escalator, and mosaics on the wall are very beautiful.
I also often walk through the streets, but I don't remember their names.
I like walking in residential areas at the ends of metro lines, such as the Komendantsky Prospekt Metro. It is not like in the center and is not for tourists. I think this is real life. It doesn't look like Thailand at all. There are a lot of tall buildings, while we have mostly simple, small houses. Most people live in apartments here."
People
"Sometimes I think that the nature and the thinking of Russian people is somewhere between Asia and Europe, just like the geographical position of their country. Russians are very different. Many tourists say that Russians are gloomy, but I do not think so. I have many Russian friends and they often help me, especially to say something in Russian, since I have problems with the Russian language.
I like the Russian language, I think it sounds like murmuring music. There is a lot of "rrrr" in speech, it reminds me of a fast current."
Food
"The Russian dish I like most is pilaf, I'd love to go to an Uzbek restaurant, but so far I have no time. Sometimes I eat borshch and cutlets in the dining hall of our faculty. During the Maslenitsa celebrations, our teacher made pancakes with banana, I also tried them with sour cream and jam, very delicious!
My other favorite Russian item is vodka. They make very good vodka in Russia, it is better and cheaper than in Thailand. Russian Standard, Zelyonaya Marka, Tsarskaya, Stolichnya – they are all good!"
Other cities
"Last year, I went to Pskov to visit friends who study there. We were in the Pskov State University. It was beautiful, but not very big. It is a light-toned building, with columns and a monument to Vladimir Lenin at the entrance. And if you go through the park, you can find a monument to [another Soviet leader] Sergei Kirov.
Russians remember their history, including famous revolutionaries. We also walked around and took pictures on the main street of Pskov. But the most beautiful and interesting in this city is, of course, the Pskov Kremlin. I think that every tourist should visit this city, it is very clean, and the people are very kind there. They always helped us when we did not know where to go. I will certainly go to Pskov again some time."
Differences with life in Thailand
"In Russia, it is very difficult to get food! I always want to eat, and in Thailand, you can buy food in every corner. And here I have to take it with me. I usually carry dried fruit and nuts. And pepper! When I eat in the dining hall, I always pepper my dishes.
But there are very cheap berries here. I love strawberries. You can buy them in almost any supermarket for little money.
Another unusual thing for me in Russia is transport. We don't have trolleybuses and trams in Thailand. Although the metro is similar to the BTS in structure, it is completely different. It is beautifully designed, and the stations, architecture, statues and images are exciting to see."
All rights reserved by Rossiyskaya Gazeta.