5 unique skills (hacking included) to learn at the Moscow State University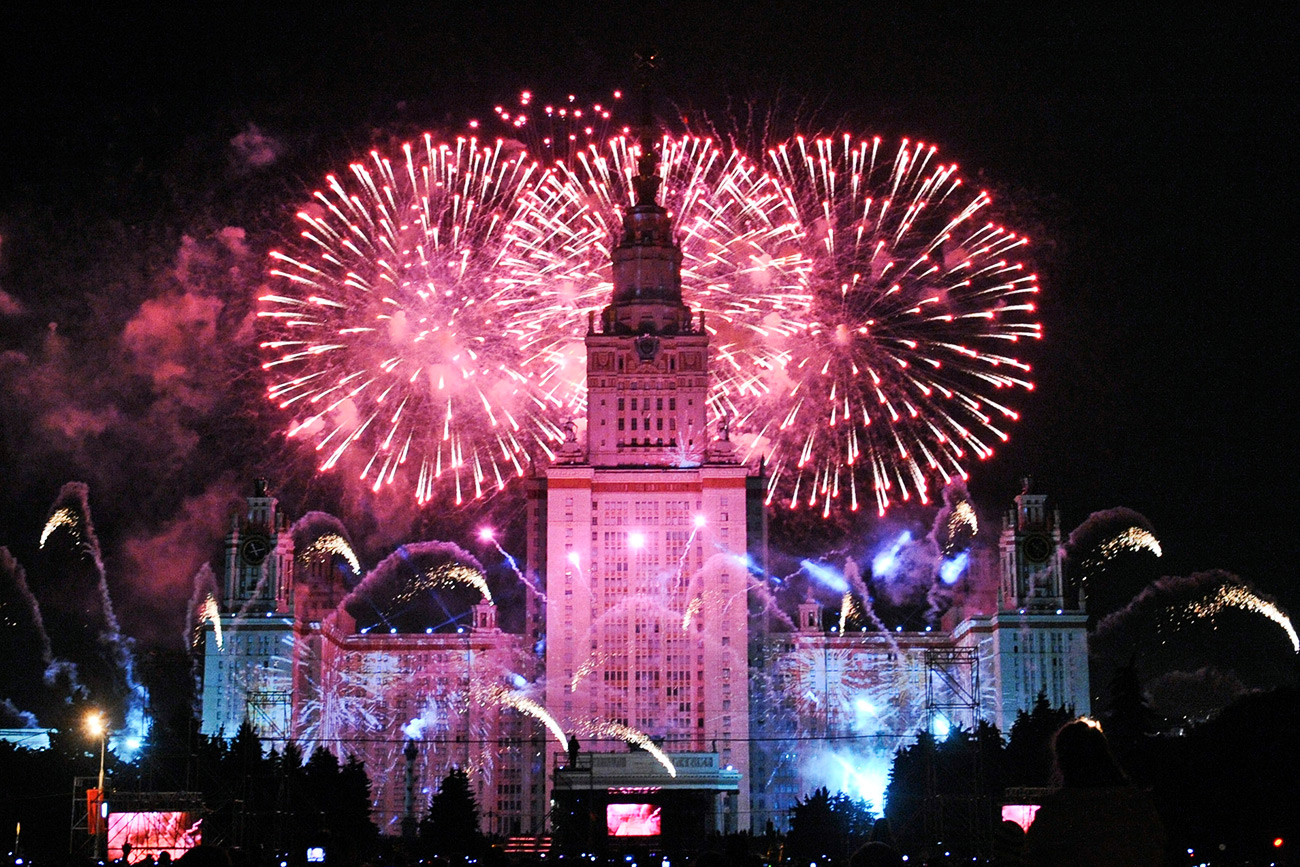 Fireworks explode above the main building of the Moscow State University.
Reuters
Although applying for a course at the Moscow State University might seem like a daunting task, the university offers students a number of unique opportunities, from learning cyber hacking to travelling around Russia for free.
Lomonosov Moscow State University (MSU) was listed as one of the top 100 universities in the QS World University Rankings, which were released on June 8. It climbed up from 108th place in 2016 to 95th rank this year, becoming the only Russian university in the global top 100.
Founded in 1755, MSU is the oldest and one of the largest universities in the country. It offers a variety of educational programs and has one of the most beautiful campuses. It's also one of the most sought after universities among the youth of Russia. The university has a challenging admission procedure.
What can prospective students learn there and what opportunities does the university offer them? Here's a bird's eye view.
Hacking like a pro
Whether Russian hackers are involved in U.S. domestic politics or not, one cannot deny that their cyber prowess is known around the world. Do you want to see whether you can also become a master of the cyberspace?
One way to test yourself is to apply to MSU's Faculty of Computational Mathematics and Cybernetics. In March 2017 the MSU 'Bushwhackers' student team won the world's largest and longest-running educational hacking competition – the UC Santa Barbara iCTF Competition. A month later it also won a cyber security competition in Russia's Yekaterinburg, defeating international teams from Austria, Germany, Italy, and Switzerland. Who knows? Maybe one day you can also compete!
Launching a satellite
The Russian space industry's achievements are known around the world. Would you like to become a part of this dynamic industry? Did you know that MSU is the only university in the world that can produce and launch its own satellites?
This year MSU opens a new faculty for space research that will teach everything related to space – from black holes to human behavior in zero gravity. The new faculty will offer masters degrees and prepare specialists for MSU's satellite program. In 2018 the university also plans to launch an undergraduate program.
Last year the latest satellite produced by the university made it to orbit, and now students and academic staff are assessing the information that the satellite receives. Don't miss a chance to apply and get an opportunity to get work with the university's partner organizations, including the Roscosmos State Corporation.
Exploring the unknown
Interested in gaining a world-class education in nuclear energy and physics? Look no further and apply to MSU's Faculty of Physics, which has produced eight Nobel Prize winners and more than 25,000 physicists.
The specialists in this demanding field of science have no difficulties in finding a job in Russia or another country. There are opportunities in many areas, including academics, healthcare, economics, ecology, and nuclear energy.
Building upon the experience and achievements of Russia's most prominent physicists, you can explore gravitation waves, nanophysics, bioengineering, and theoretical physics. One of the most recent achievements of MSU physicists was the development of new metamaterial that allows for ultrafast information transfer on a nano-scale.
Mastering a rare language
One of the few things that surely make an ordinary resume stand out is the knowledge of a rare language. Swahili or Thai may not be very widespread but can help land you an international job or travel opportunities. Chinese, Japanese, Hindi are less rare but no less useful in attracting the attention of potential employers interested in specialists with exceptional skills.
MSU's Institute of Asian and African Studies (IAAS) is one of the best places to learn these languages. Many Russian politicians, journalists, diplomats and even Vladimir Putin's press secretary studied there.
If you are a citizen of China, India or any other Asian or African country, you can also apply for an IAAS special program for learning Russian through your native language. MSU accepts applications for groups of 8 or more people from universities or organizations. The program can be tailor-made for the needs and requirements of a group.
Discovering Russian nature and wildlife
Interested in travelling around Russia? Study biology or geology at MSU! Students and academic staff often go on trips and expeditions examining the natural heritage of the vast Russian landmass.
Here you will not only get an opportunity to see the rarest animals in Russia and learn everything about them, but also contribute to environmental work.
If you chose geology, you may also get a chance to participate and analyze newly discovered fossils as well as learn how to find natural minerals deposits or carry out seismic explorations.
If using any of Russia Beyond's content, partly or in full, always provide an active hyperlink to the original material.