ABC books in Russia: From the Middle Ages to Tolstoy and Soviet propaganda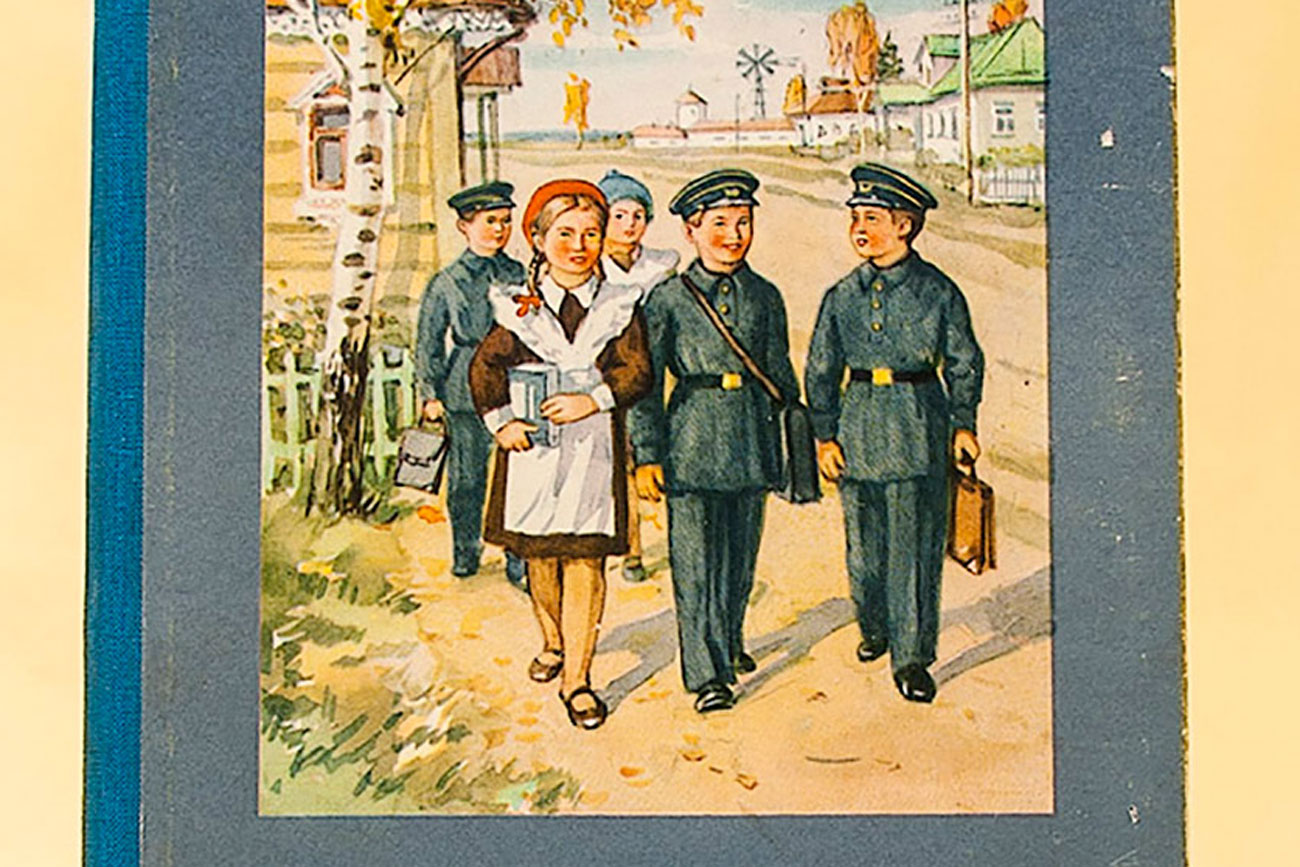 Alexandra Voskresenskaya's ABC.
"UChPedgIz" publishing house
Russian textbooks overcame religious influence, several different teaching methods, and Soviet propaganda. We collected the brightest examples from recent history - there's even one written by Leo Tolstoy himself.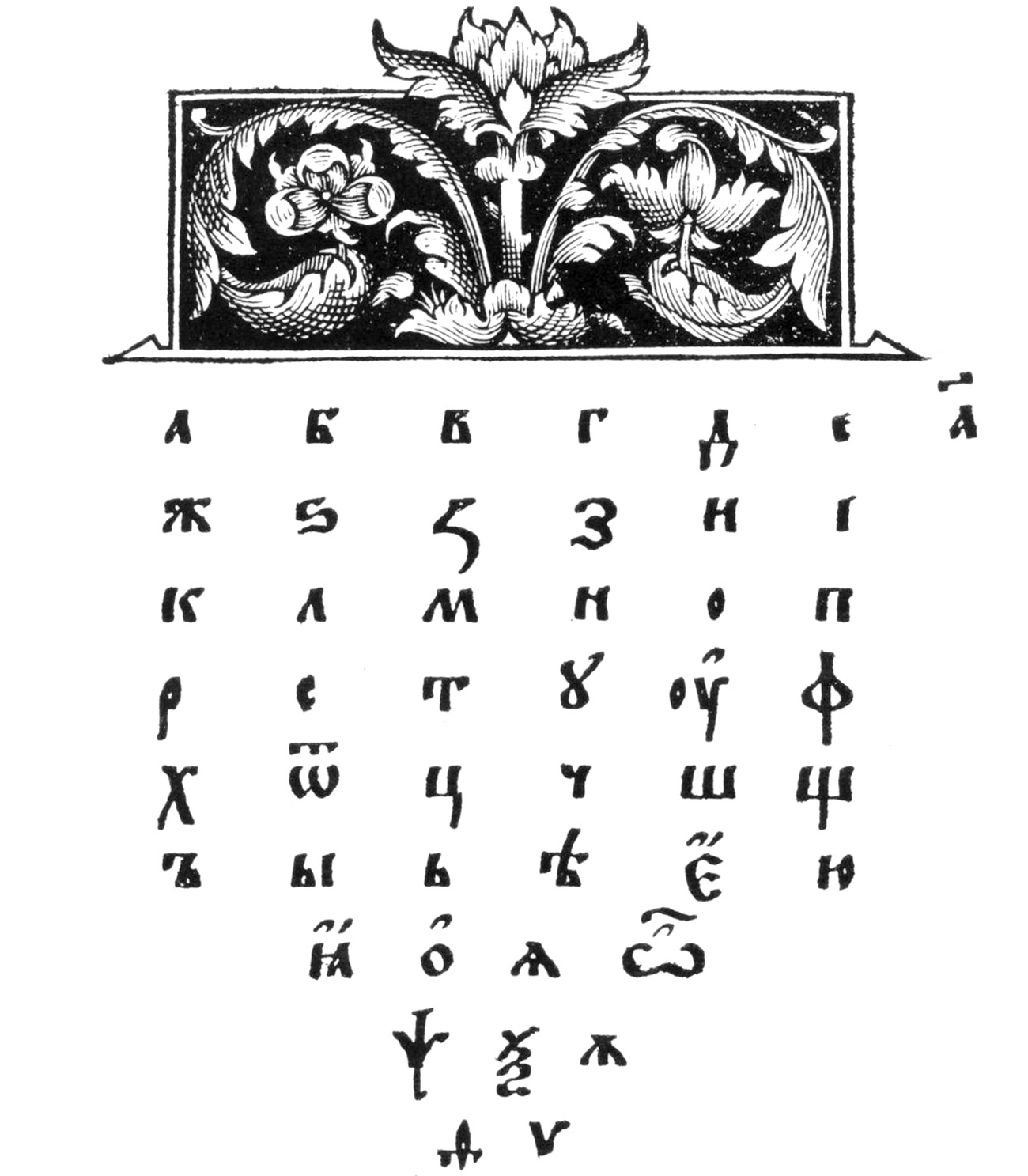 Azbuka by Ivan Fyodorov / RARUS'S GALLERY
The first ever Slavic ABC appeared in the 16th century and was written by Russian Gutenberg Ivan Fyodorov. The main goal of the pioneer book printer was to publish religious books including the Bible, Gospel, and Psalter, but he also published an alphabet book in 1574 and even made a revised edition later.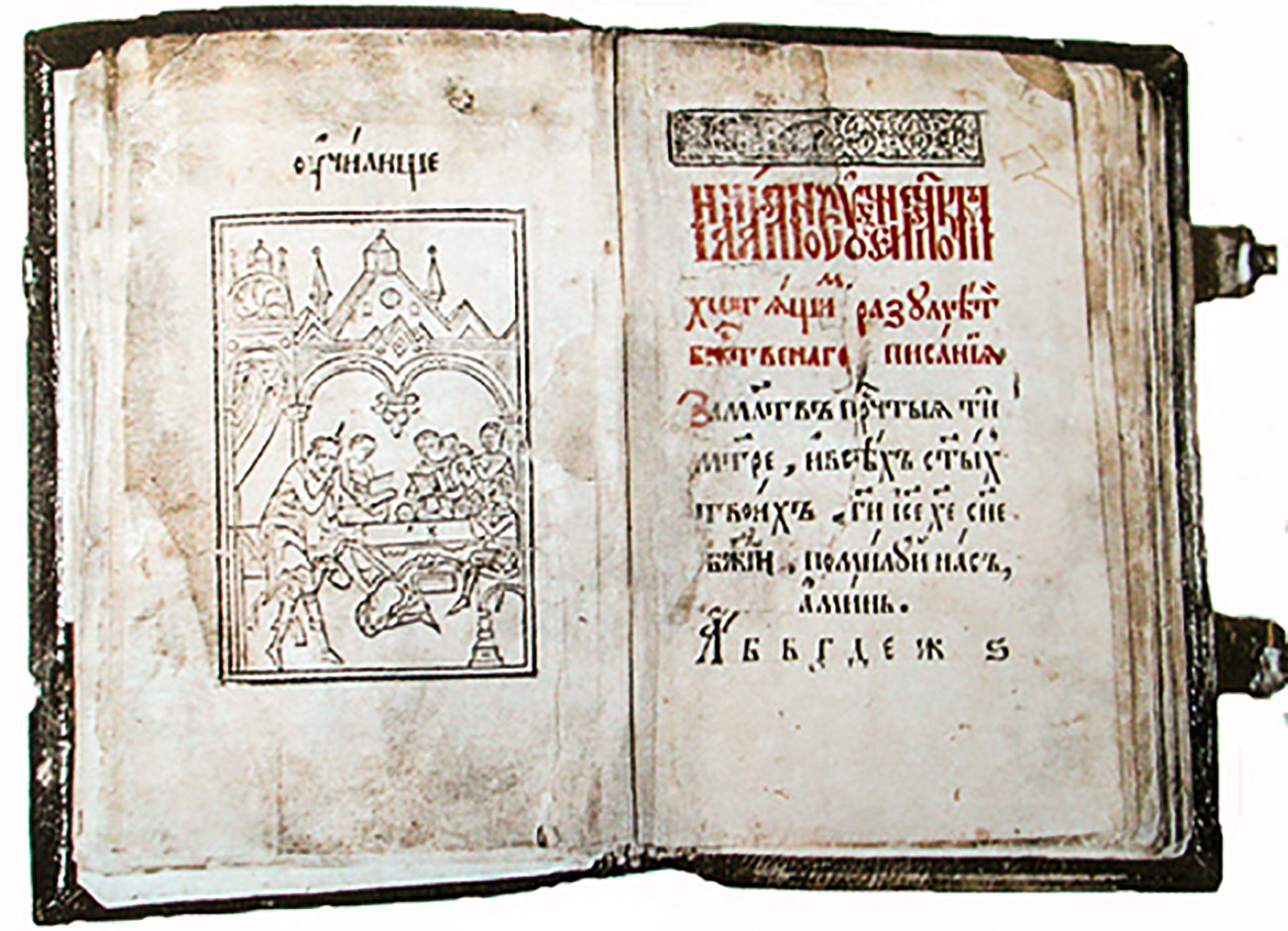 ABC by Vasily Burtsov, 2nd edition,1637 / www.edu.ru
During the 17th century there was also several attempts to invent new ABC books, using a letter method to learn reading, while since the 19th century the contemporary, more progressive phonemics method was used, when words were learned not from the letters they consist of but from sounds. Following Ivan Fyodorov's traditions Vasily Burtsov was one of the first to add illustrations in an ABC book.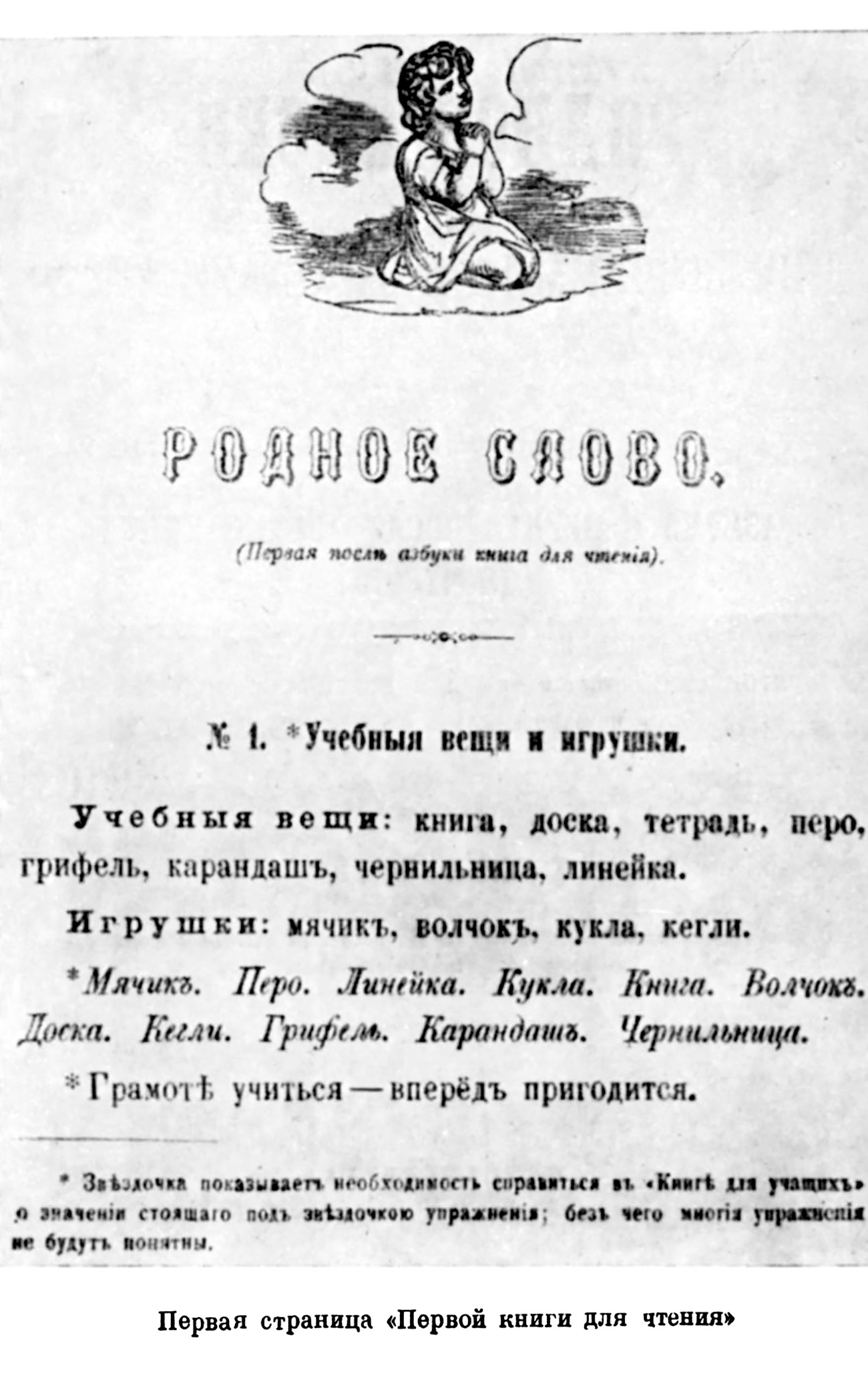 Konstantin Ushinsky's 'Native word' / Archive Photo
In 1864 Konstantin Ushinsky made a revolution in alphabet learning and issued the first mass textbook for children to learn reading, using the methods of both phonemic and an explanatory dictionary. As a pioneer of pedagogy he also added a guide for teachers on how to use his book. This book with several new editions was used until 1917. It's still available online.

Leo Tolstoy's ABC / Archive Photo
Leo Tolstoy was an incessant learner and tried to learn something new everyday. He was a famous educator as well as writer, and believed that educating children was vital. So Tolstoy wrote his own ABC, which taught reading, writing, counting, and had notes for teachers about how to use the "Azbuka." The first edition of the book was slammed by critics so Tolstoy reworked it and the new version was recommended by the state for all schools. In Tolstoy's estate Yasnaya Polyana he arranged a school for peasant kids, where he and his elder children taught using the book he wrote.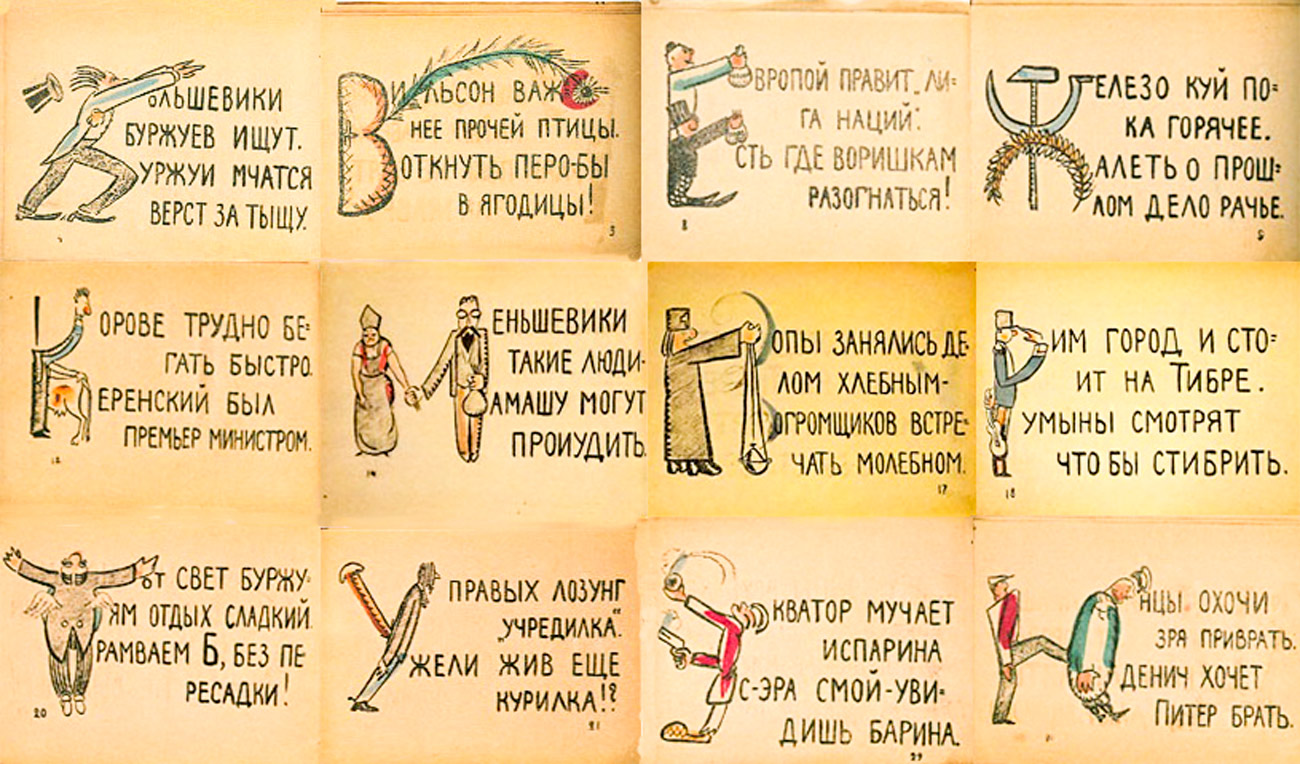 Mayakovsky's 'Soviet ABC' / Archive Photo
With the Russian Revolution of 1917, a new regime came to power and the alphabet also changed, with some letters deleted. Revolutionary poet Vladimir Mayakovsky authored one of the first ABC books issued with the new rules in 1919. It was a satiric alphabet in verse (B for bolshevik) with caricature images of each letters. The main audience of the book was workers and Red Army soldiers.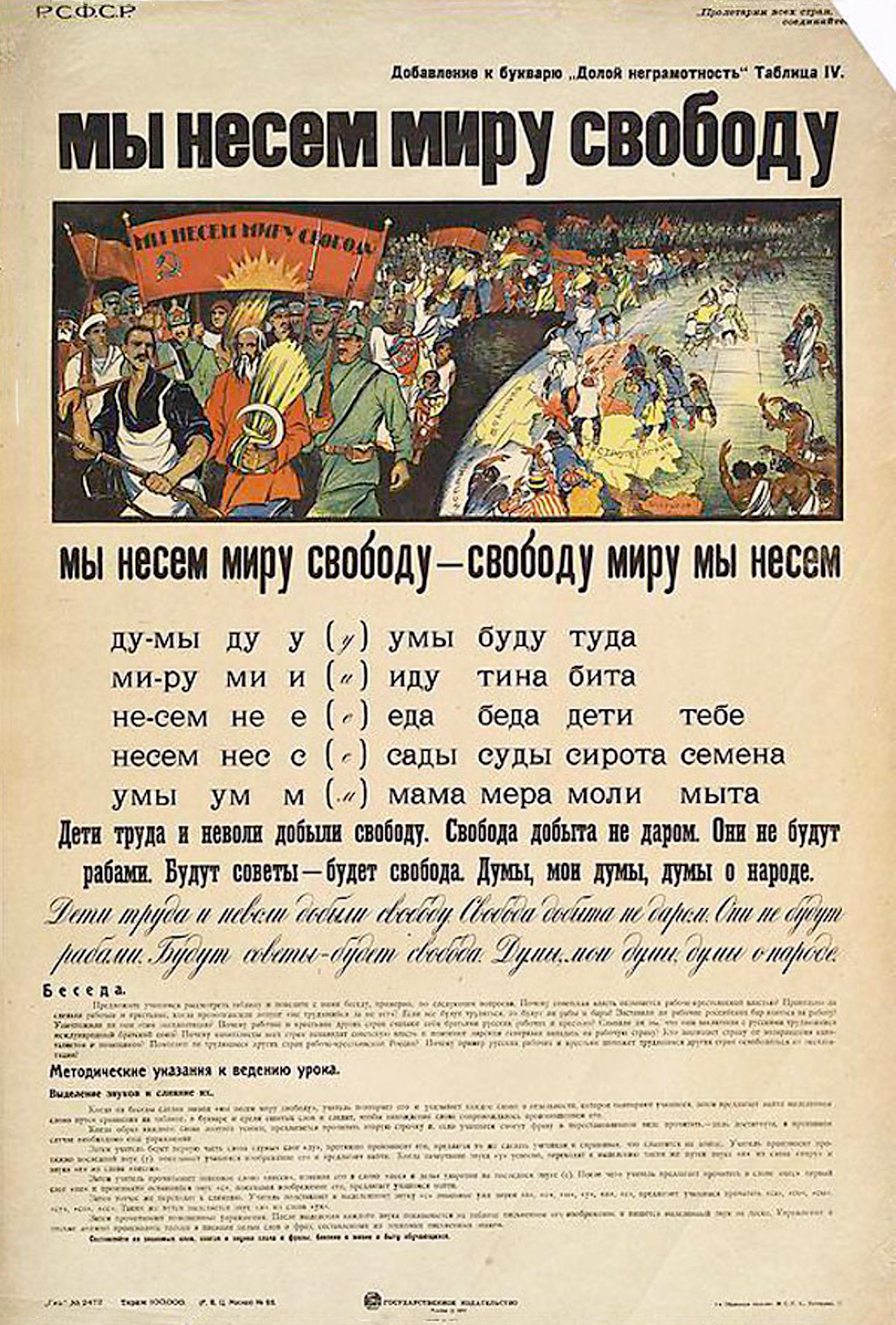 'Down With Illiteracy' by Dora Elkina / Archive Photo
Until the Russian Revolution of 1917 there was no compulsory education. Of course many enlightened and middle class people made their kids study, either at schools or with private governors, there were also schools for peasant kids. But a massive campaign to eradicate illiteracy both for children and adults kicked off only in the Soviet Union. The ABC book "Down With Illiteracy" by Dora Elkina in 1919 explained letters through Soviet ideology: "We are not slaves" or "freedom to all the nation." It was illustrated with scenes of proletarian everyday life and work.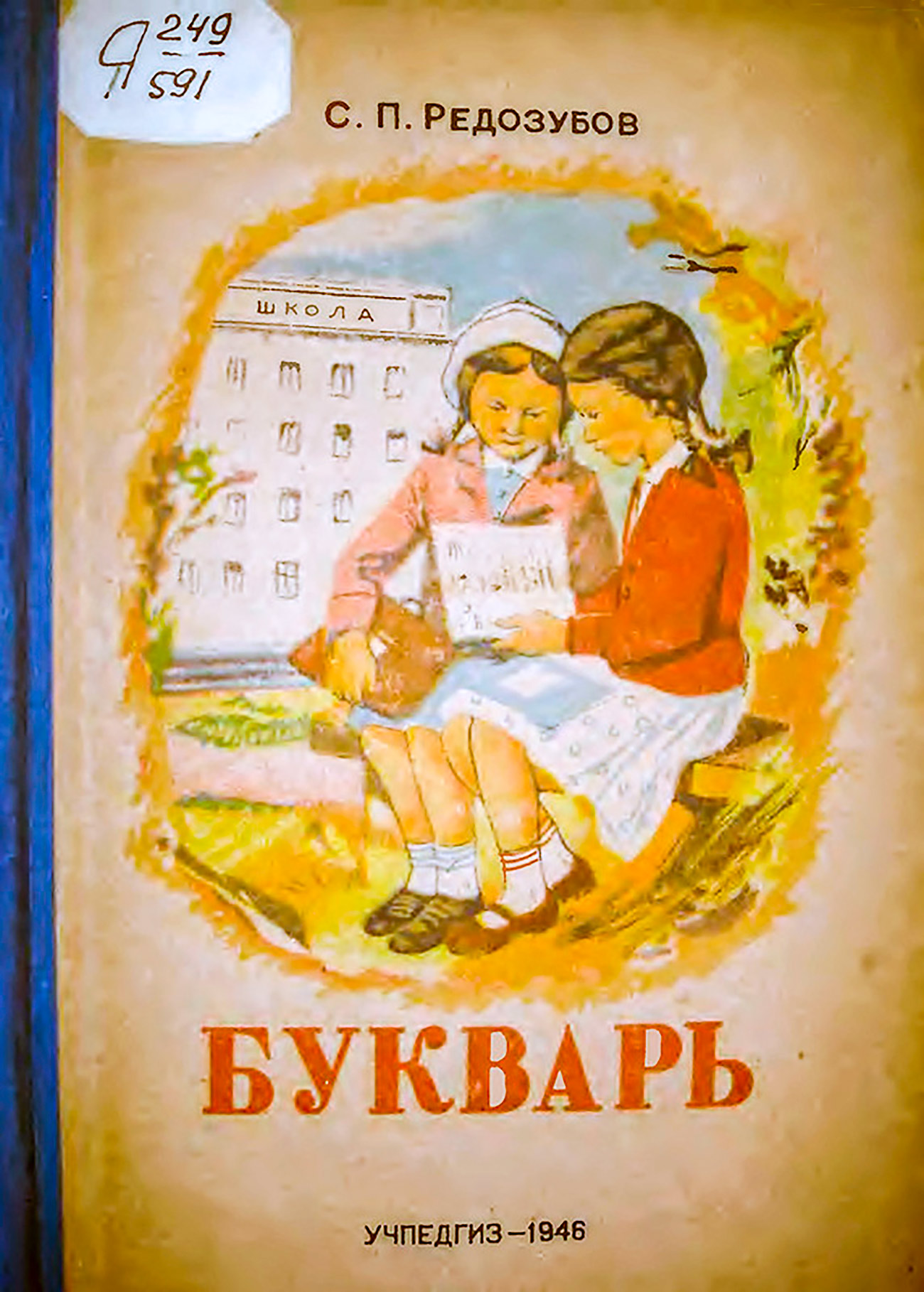 Sergei Redozubov's ABC / Archive Photo
One of the most widespread ABC was a book by Sergei Redozubov for city schools (rural schools often used different books). It was a more complicated book, with poems and easy interpretation of Russian tales. Issued in 1945, after the end of WWII it contained scenes from a peaceful life and didn't push propaganda like the early Soviet books. Redozubov also created a Braille writing system ABC for blind kids.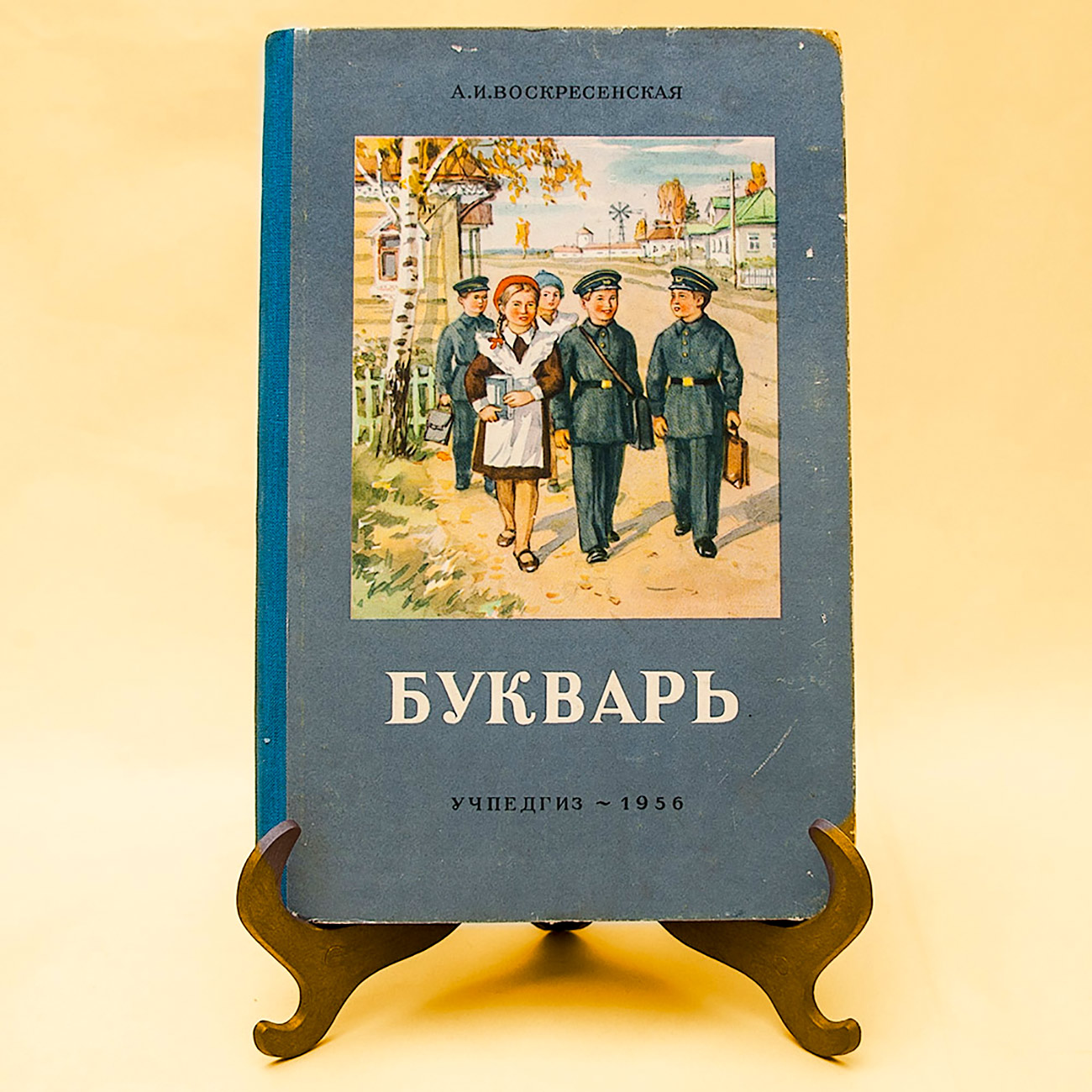 Alexandra Voskresenskaya's ABC / "UChPedgIz" publishing house
As we've mentioned before, rural schools used other books – one of the most popular was an ABC by Alexandra Voskresenskaya. It explained village life to kids, like types of vegetables and animals.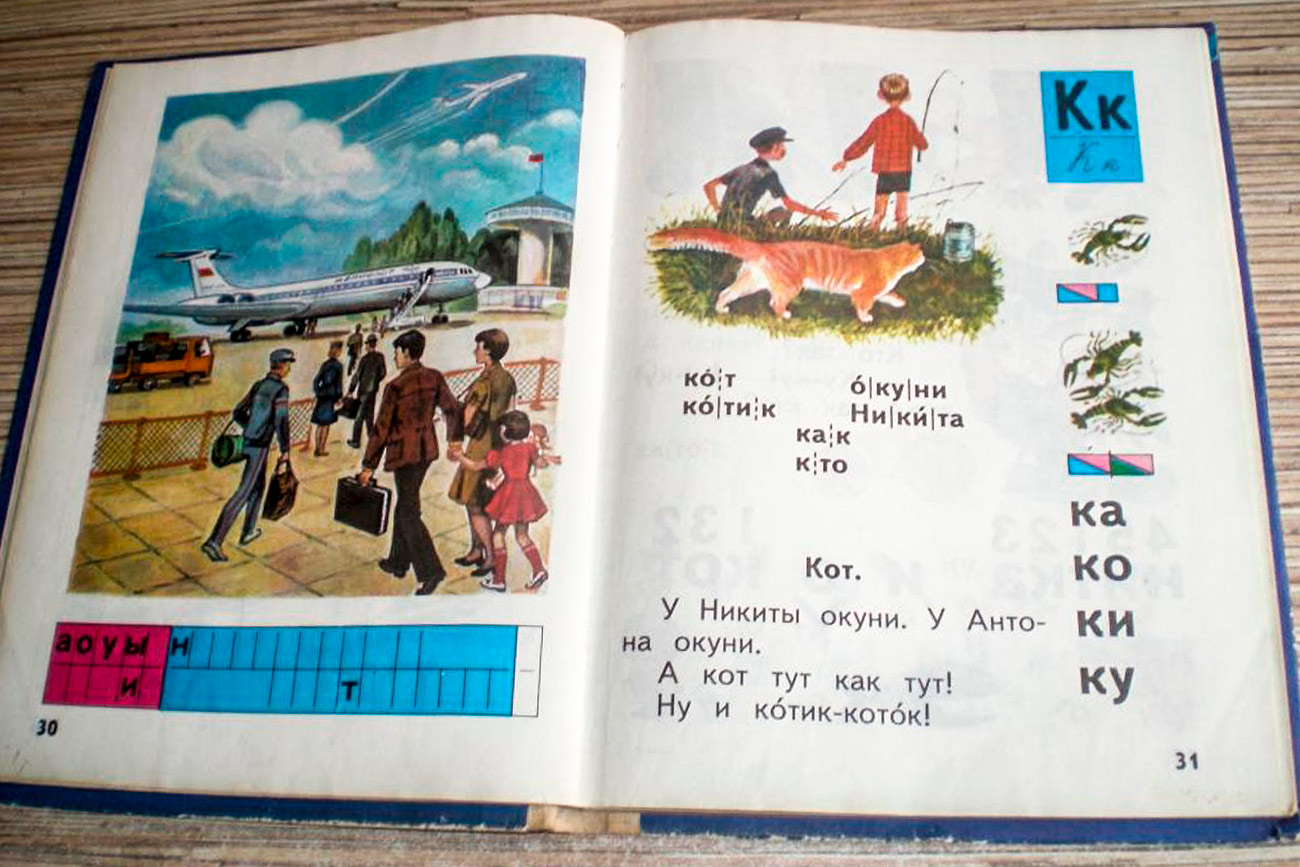 Vseslav Goretsky's ABC / Prosveshchenie publishing house
One of the most popular books in the late Soviet Union was an ABC by Vseslav Goretsky first issued in 1971. His ABC and other learning and note books for kids are still widely printed. The book contains funny rebus and riddles, poems by great authors such as Pushkin, Chukovsky, and Mayakovsky and is illustrated with children's favorite cartoon characters.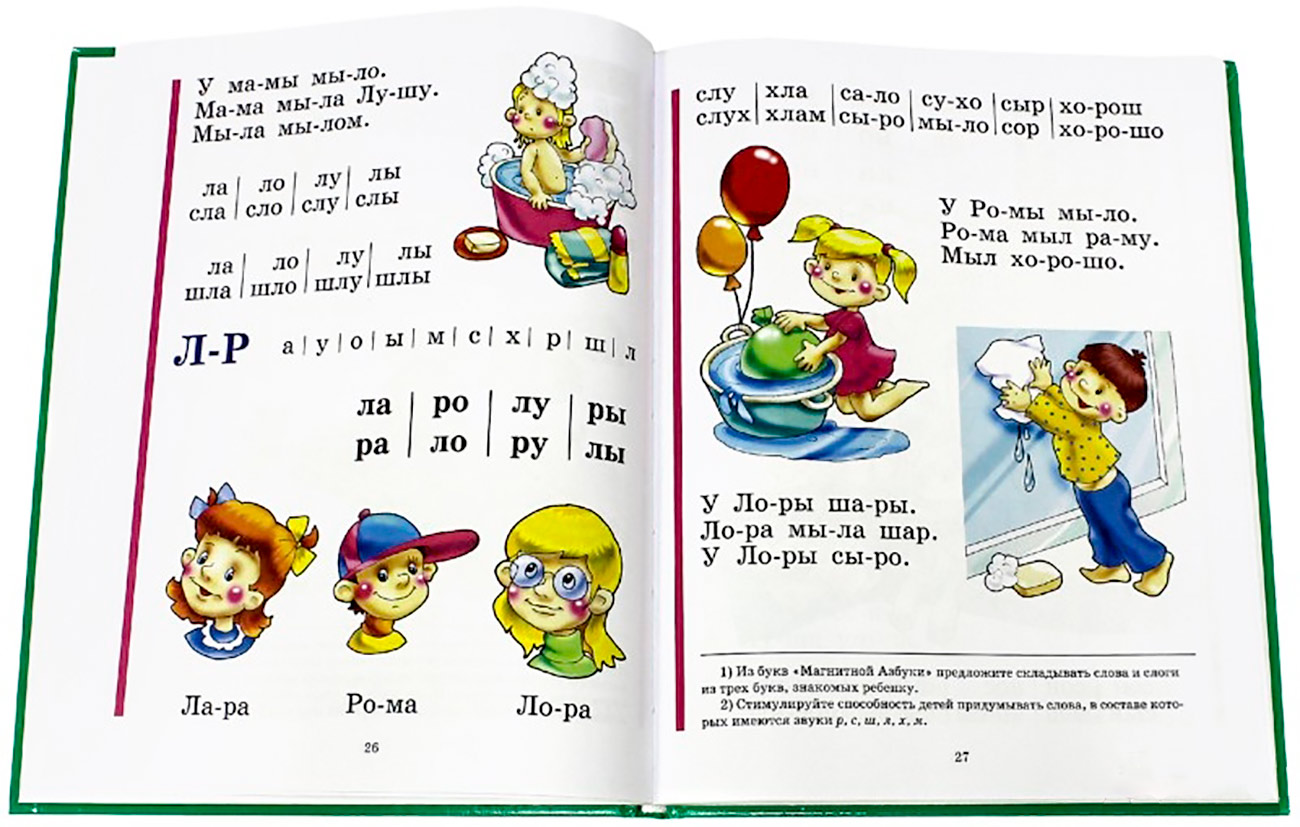 Nadezhda Zhukova's ABC / EKSMO publishing house
Currently the best-selling ABC book is Nadezhda Zhukova's one, first published in 1999. The author is a logopedist with 30 years experience. The book teaches children how to read in a fun way. It also warms kids about making grammatical mistakes.
Read more:
If using any of Russia Beyond's content, partly or in full, always provide an active hyperlink to the original material.