112 years ago: Emperor Nicholas II issued the October Manifesto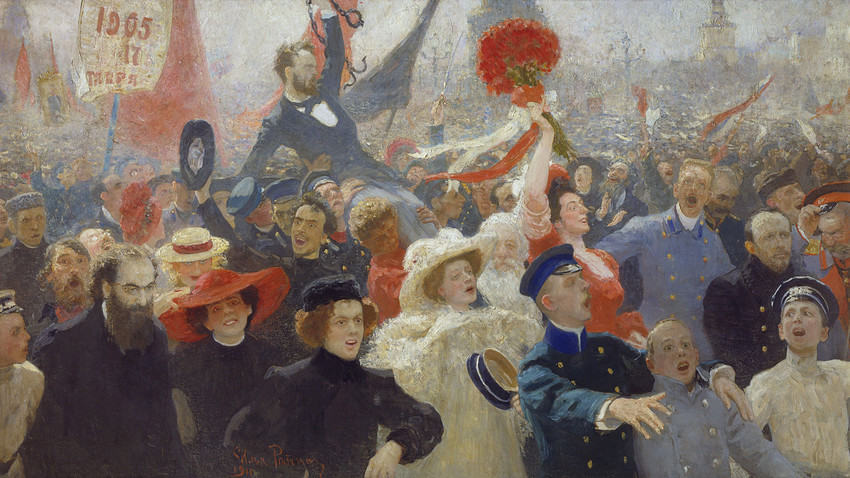 Demonstration on October 30 (17), 1905, by Ilya Repin.
The State Russian Museum
The manifesto ended the revolutionary activities of 1905 and effectively made Russia a constitutional monarchy.
In 1905, the first Russian labor strike began with a liberal opposition movement that gained momentum after the Russo-Japanese War, which turned public opinion against the government. During one week in the beginning of January, 120,000 workers went on strike in St. Petersburg. On Jan. 9, 100,000 people marched with icons and portraits of the tsar onto Palace Square, (the courtyard of the Winter Palace). But the tsar's troops fired upon the crowd, killing 130 and wounding several hundred more. This fateful day came to be known as "Bloody Sunday."
In reaction to the massacre, more than 400,000 workers of all social classes protested (in January alone). Across the country, unions were formed, including the Women's Union for Equality. The Emperor's obstinate response was met with a general strike in September, and by October practically the entire railway network had come to a halt. At this point, the emperor's advisers urged Nicholas II to make concessions, fearing that he would lose the throne.
On Oct. 30 (Old Style - Oct. 17) Nicholas II issued the October Manifesto, which granted civil liberties and created a parliament.
If using any of Russia Beyond's content, partly or in full, always provide an active hyperlink to the original material.