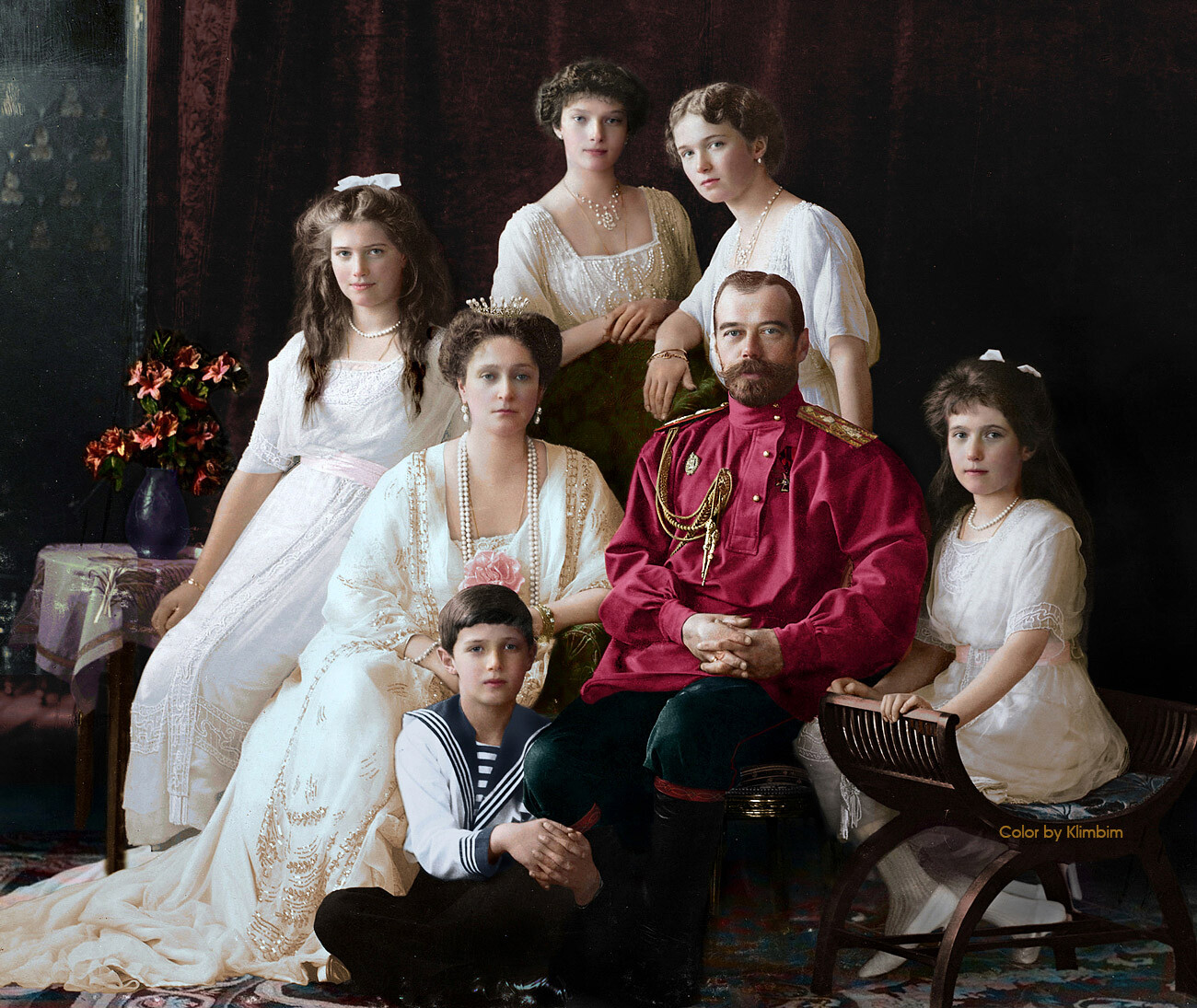 In November 1894, Nicholas II married the granddaughter of British Queen Victoria – German Princess Alix of Hesse and by Rhine. She converted to Orthodoxy and became Alexandra Feodorovna, but everyone in the family called her Alix.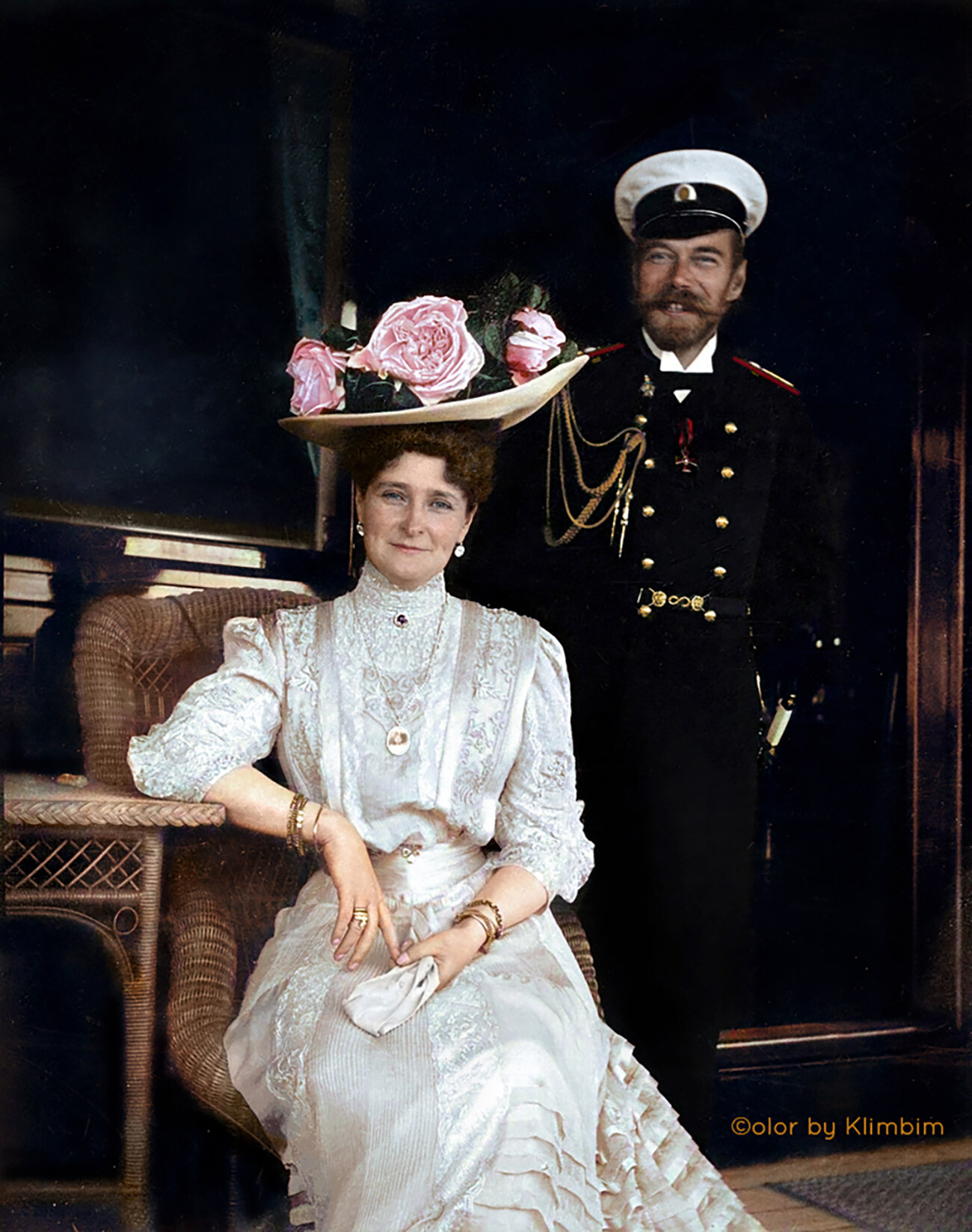 Nicholas II and Alix
Public domain, color by Klimbim
The wedding went without any pompous celebrations, since the new tsar married less than a month after the death of his father, Emperor Alexander III. But, in May 1896, a grand coronation of Nicholas and Alexandra was held that was widely celebrated in Moscow.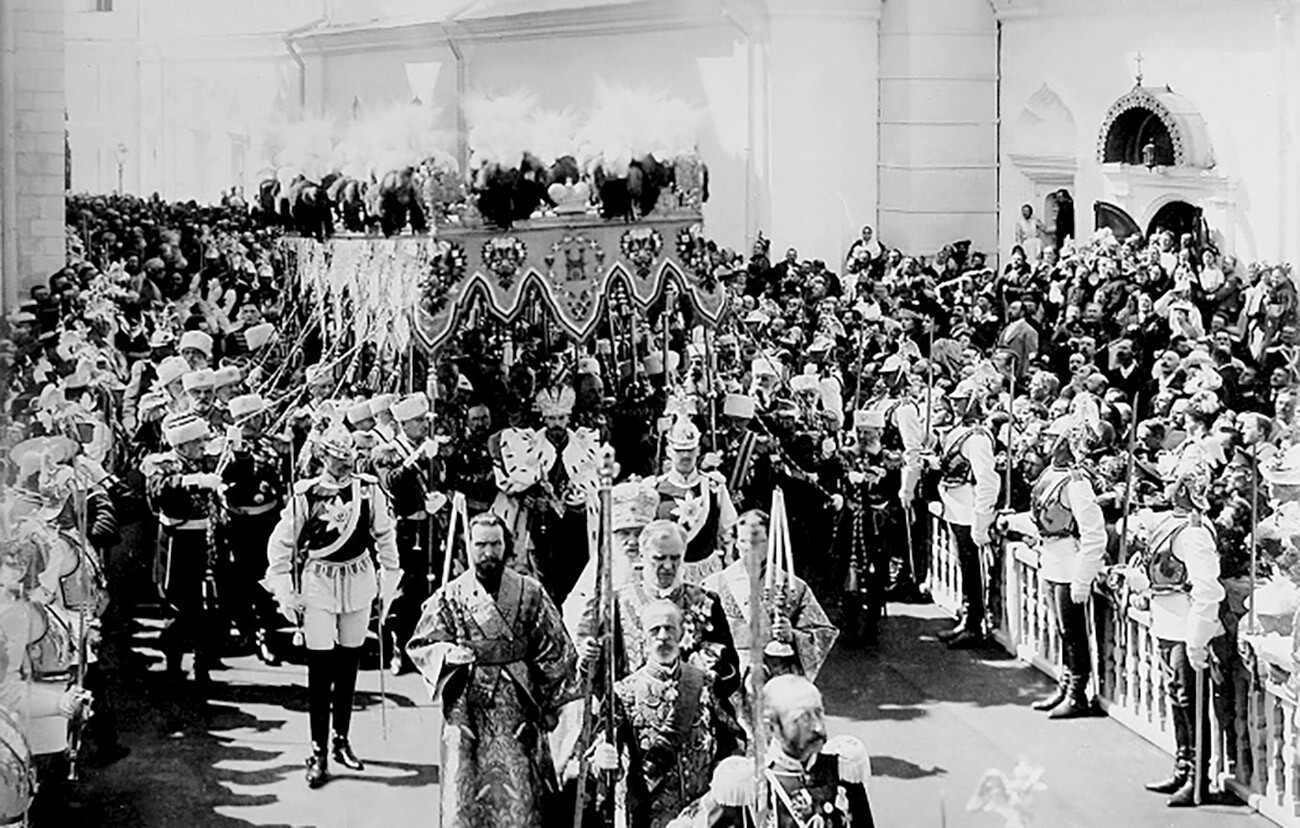 The coronation of Nicholas II
Public domain
It became infamous for a crowd crush on Khodynka Field, where the poor were handed free souvenirs. More than 1,000 people died that day and many took it as a bad omen.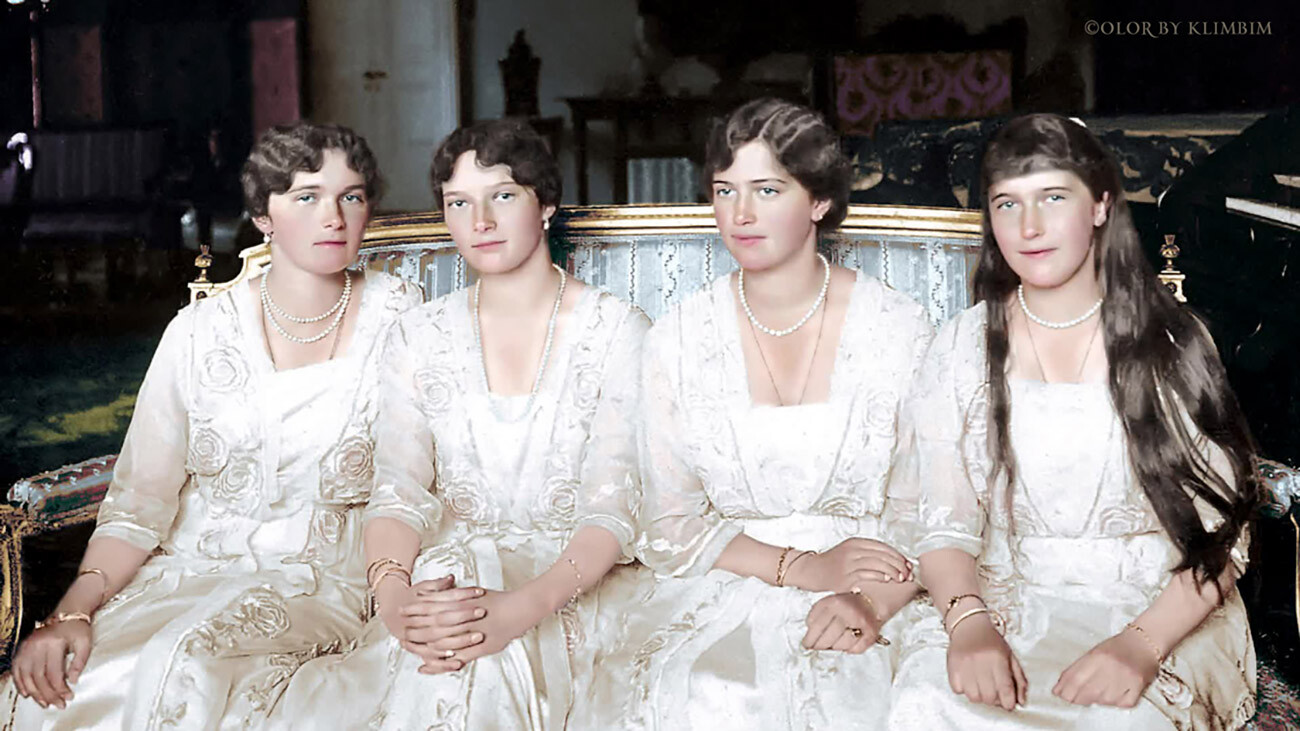 Olga, Tatiana, Maria and Anastasia
Public domain, color by Klimbim
The couple had four daughters – "OTMA", as they called themselves: Olga, Tatiana, Maria, Anastasia - and also the long-awaited heir, tsarevich Alexei.
It's known that the imperial family raised their daughters in quite ascetic conditions; they didn't want to spoil them and their characters with wealth. They ate simple food, slept on folding army beds and knew how to sew clothes. They even carried the water they used to bathe themselves.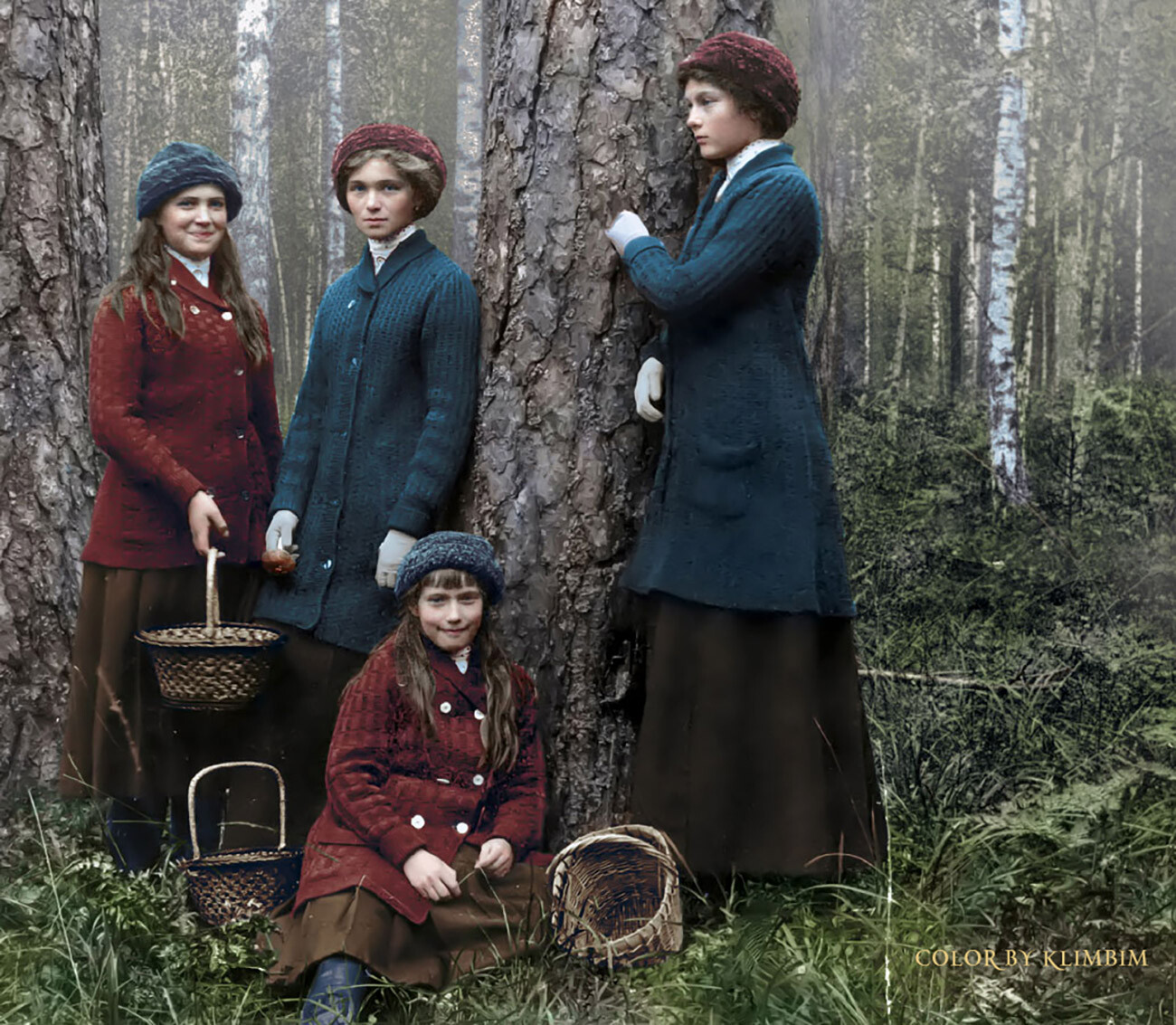 The Grand Duchesses hunting for mushrooms in a forest
Public domain, color by Klimbim
The younger girls could well wear the clothes of their older sisters. And all this bore fruit – all the daughters were modest and never shunned away from talking to commoners. Tsarevich Alexei was also modest and gentle.
With that, the daughters were quite straightforward with their mother and father; they didn't hide their sympathy towards young men from them and shared their other girly secrets.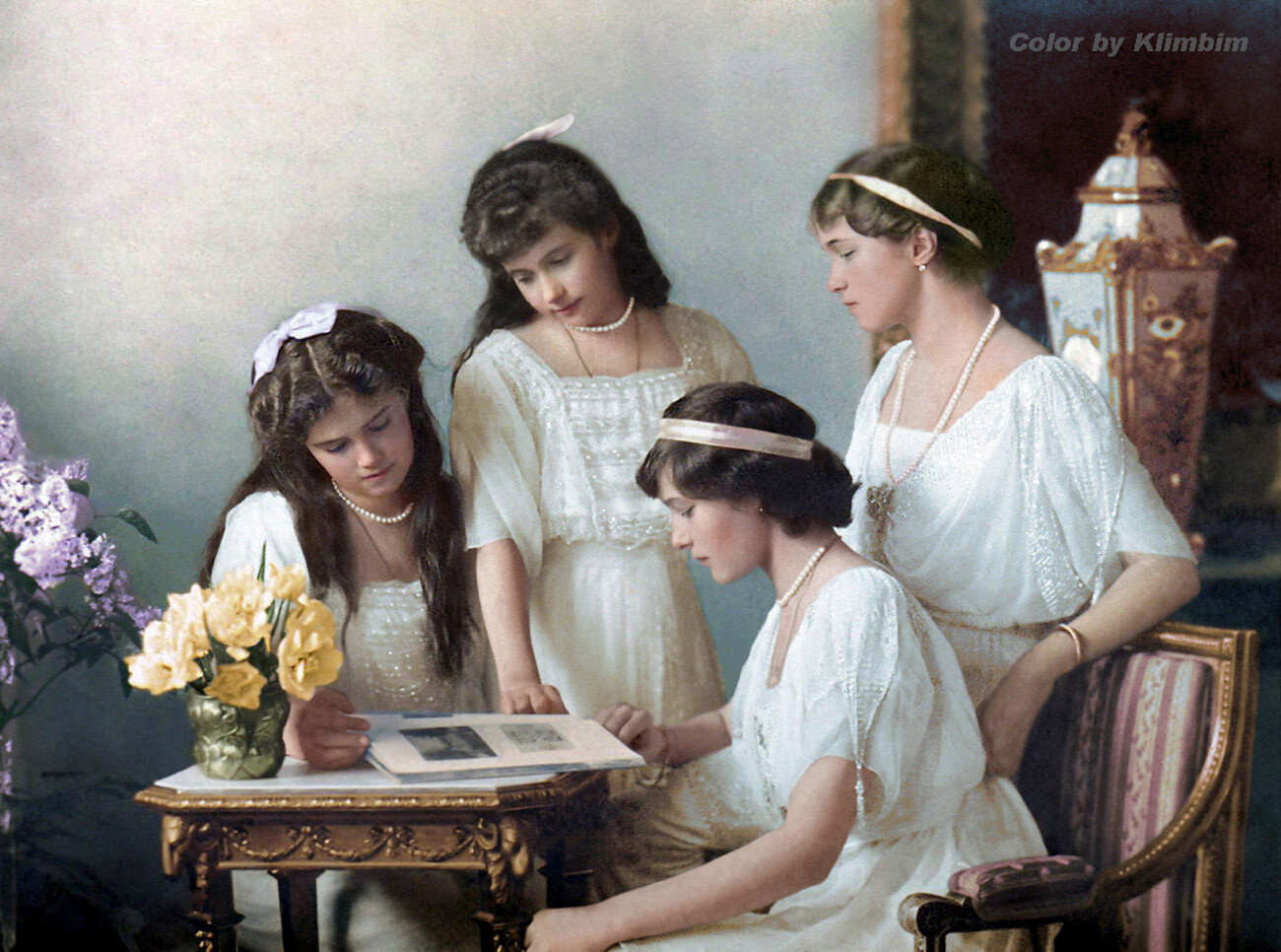 Maria, Anastasia, Tatiana and Olga
Public domain, color by Klimbim
After the February Revolution of 1917, the tsar with his family was put under house arrest in their country palace in Tsarskoye Selo. In Summer, they were exiled to the Siberian town of Tobolsk and, in Spring 1918, they were moved to Yekaterinburg.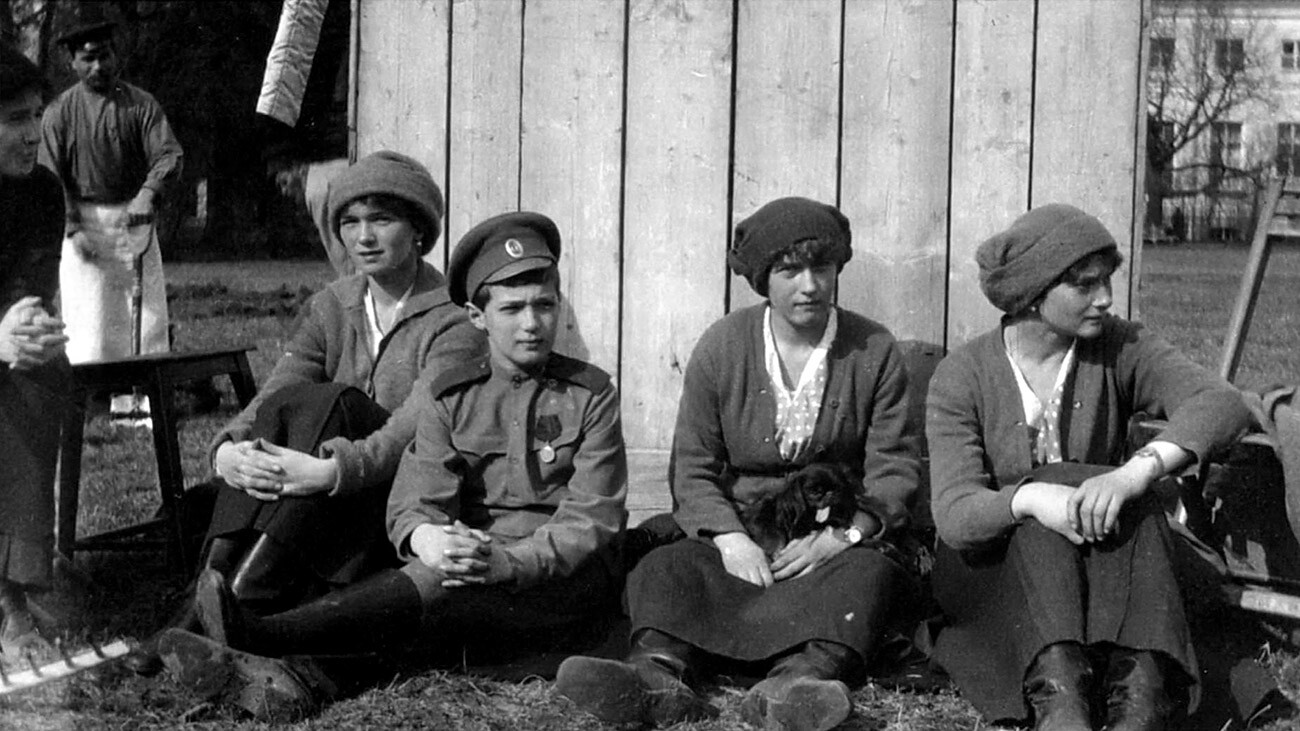 Olga, Alexei, Anastasia and Tatiana under guard in Tsarskoye Selo, Spring 1917
Public domain
On the night of July 17, 1918, the entire family, along with four members of their entourage, was shot.
None of the children married or left any descendants. In 2000, the Russian Orthodox Church canonized them as passion bearers.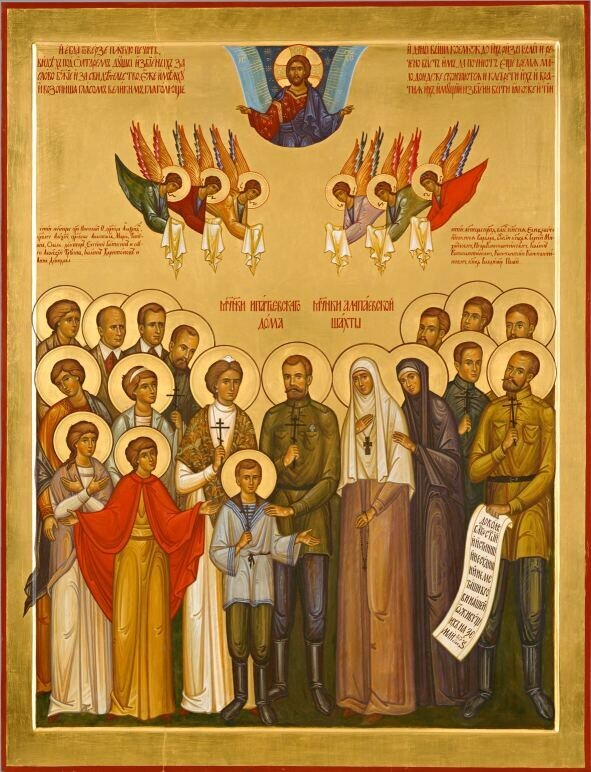 Royal Martyrs, canonized by the Russian Orthodox Church Abroad (including Dr. Evgeny Botkin, cook Ivan Kharitonov, servant Aloysius Troupe, maid Anna Demidova, and martyrs of the Alapaev mine)
Iconographer Anton Yarzombek / The Church of the Holy Trinity in Khokhla
The oldest daughter was 22 at the moment of her death, while the youngest son was about to turn 14. So, what's known about their short lives?
Olga (1895-1918)
"Beautiful blond hair, large blue eyes and a marvelous complexion; a slightly turned up nose similar to that of the Sovereign," one of the ladies-in-waiting described the look of the oldest daughter of Nicholas and Alexandra.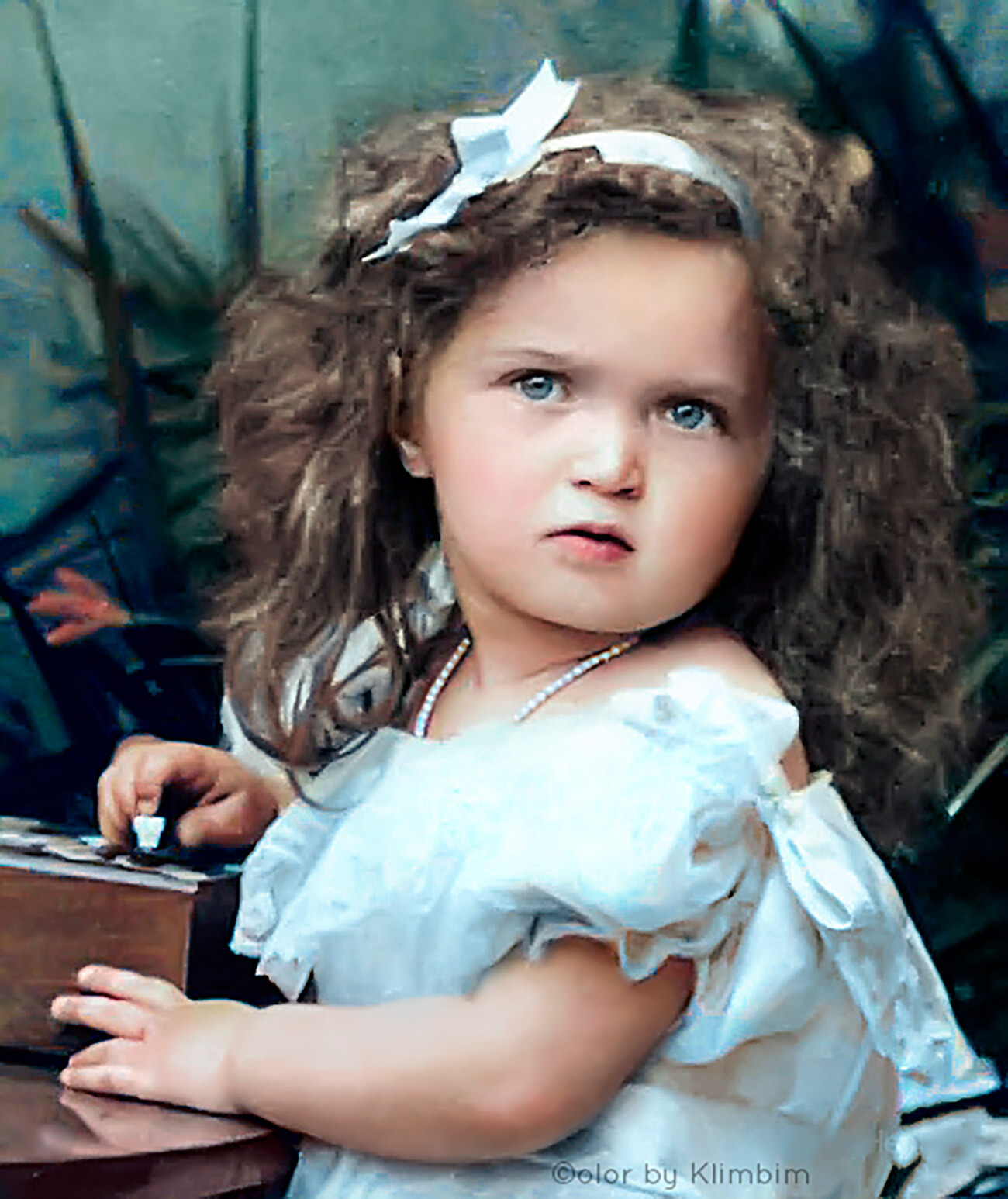 Olga Romanova
Public domain, color by Klimbim
Olga was born a year after the marriage. The tsar wrote in his diary that the birth was difficult, "All day, she [Alexandra] spent in bed in great torment – poor thing!"
The name Olga was considered traditional for the Romanovs and honored the memory of Olga of Kiev, the first Russian ruler who adopted Orthodoxy.
The teachers and the courtiers described Olga as a young lady with a big Russian soul. She was kind, but sometimes (especially in her childhood) could flare up. In her soft character, as in her look, the Grand Duchess was more similar to her father.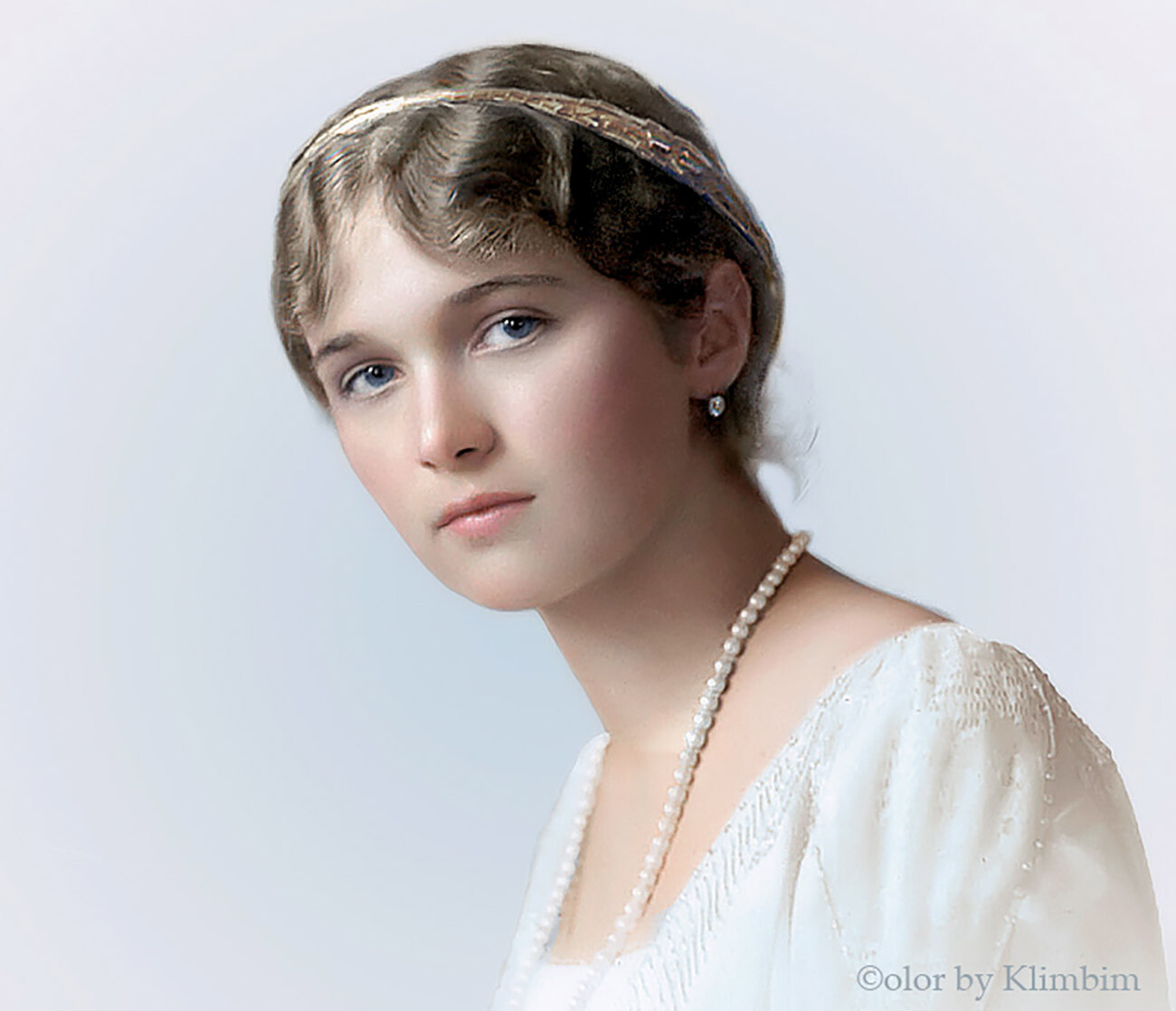 Grand Duchess Olga Nikolaevna of Russia
Public domain, color by Klimbim
At the same time, she had qualities like "a strong will and an incorruptible honesty and straightforwardness". The oldest daughter was the most reasonable one and, at the same time, very independent, even headstrong. She was the only one of the children who could say something against the will of her parents.
Olga loved to read and spend time alone with a book; she drew well and was interested in the sciences, especially history. It was believed that the tsar was especially close with her. When, for a long time, a male heir had not been born, Nicholas II, according to the account of Prime Minister Sergei Witte, even contemplated transferring his throne to Olga.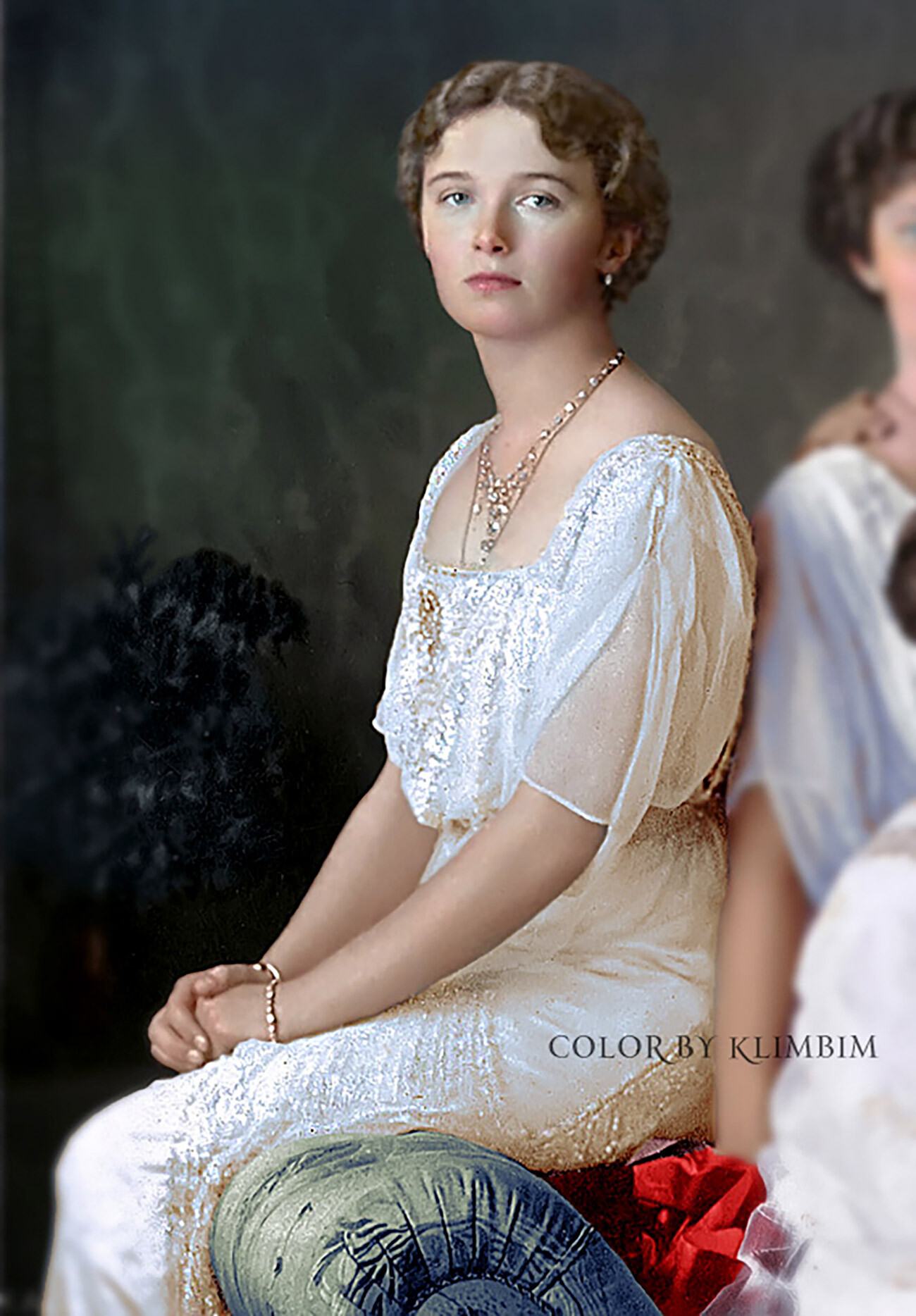 Olga Nikolaevna
Public domain, color by Klimbim
In the fateful year of 1918, Olga was already 22, but she was still unmarried. In 1912, her betrothal with Grand Duke Dmitri Pavlovich was supposed to happen, with whom she shared mutual sympathy. However, at the last moment, the empress canceled the agreement because of her daughter's chosen man's disagreements with a "friend of the family", Grigori Rasputin. Several years later, Grand Duke Dmitri would be the one taking part in Rasputin's murder.
Later, Empress Alexandra rejected several more men who sought the hand of her daughter. When World War I started, the matter of marriage faded into the background. According to some data, there were talks about Olga's marriage to future Romanian King Carol II, but allegedly Olga herself didn't want to leave her family in Russia at such a difficult time.
During World War I, Olga served in the Tsarskoye Selo hospital as a nurse along with her mother and sisters. They said she had a secret romance with officer Dmitri Chakh-Bagov (in her diary she called him a "terrific darling"). However, her parents would never agree to such a marriage of a royal Grand Duchess.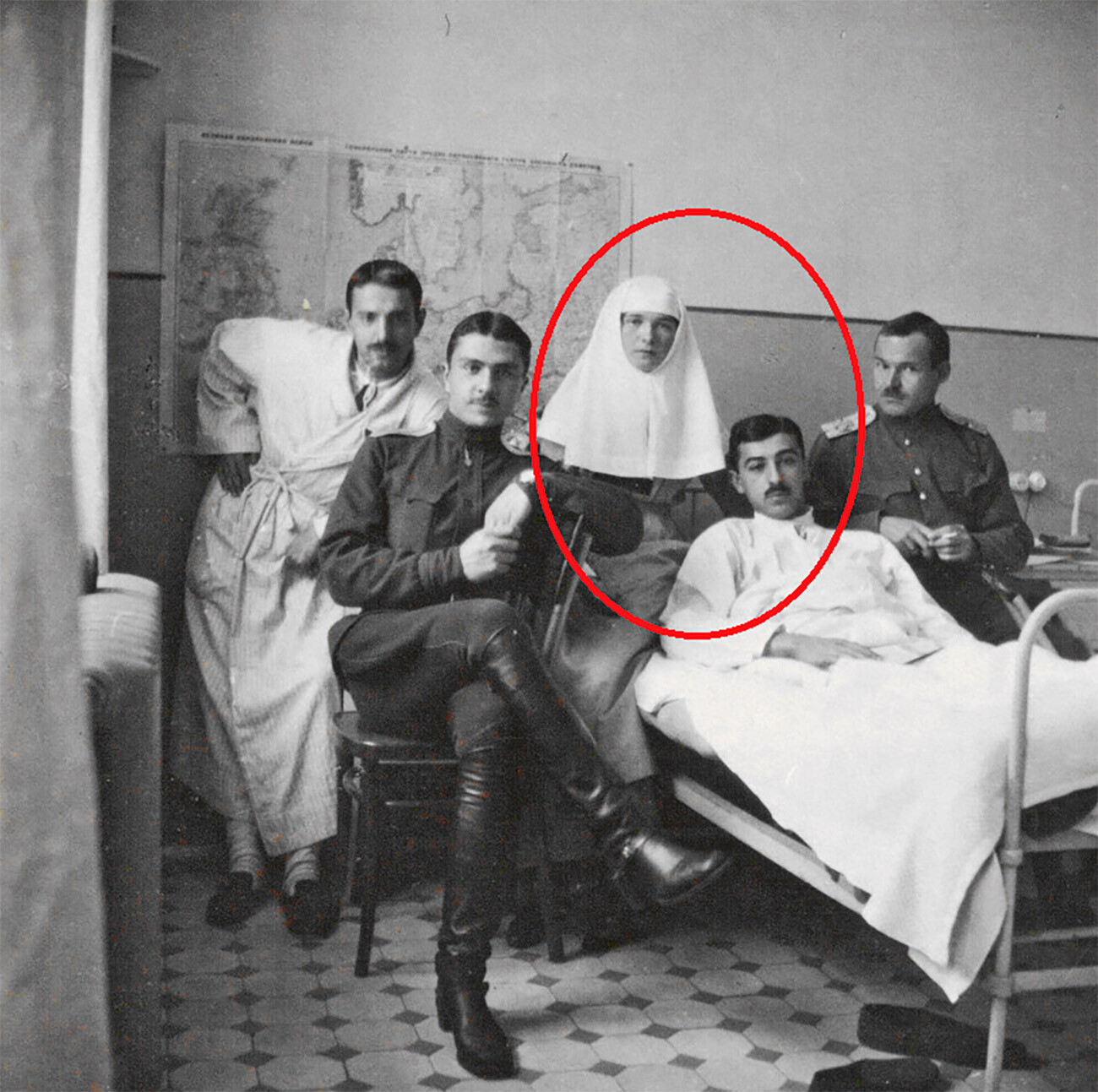 Olga and Dmitri Chakh-Bagov in a hospital
Public domain
Olga really wanted a woman's happiness and her mother worried that there wasn't a worthy match for her. When the Bolsheviks assassinated the imperial family, Olga's teacher Pierre Gilliard lamented that she rejected the Romanian prince, for then she could have survived.
Tatiana (1897-1918)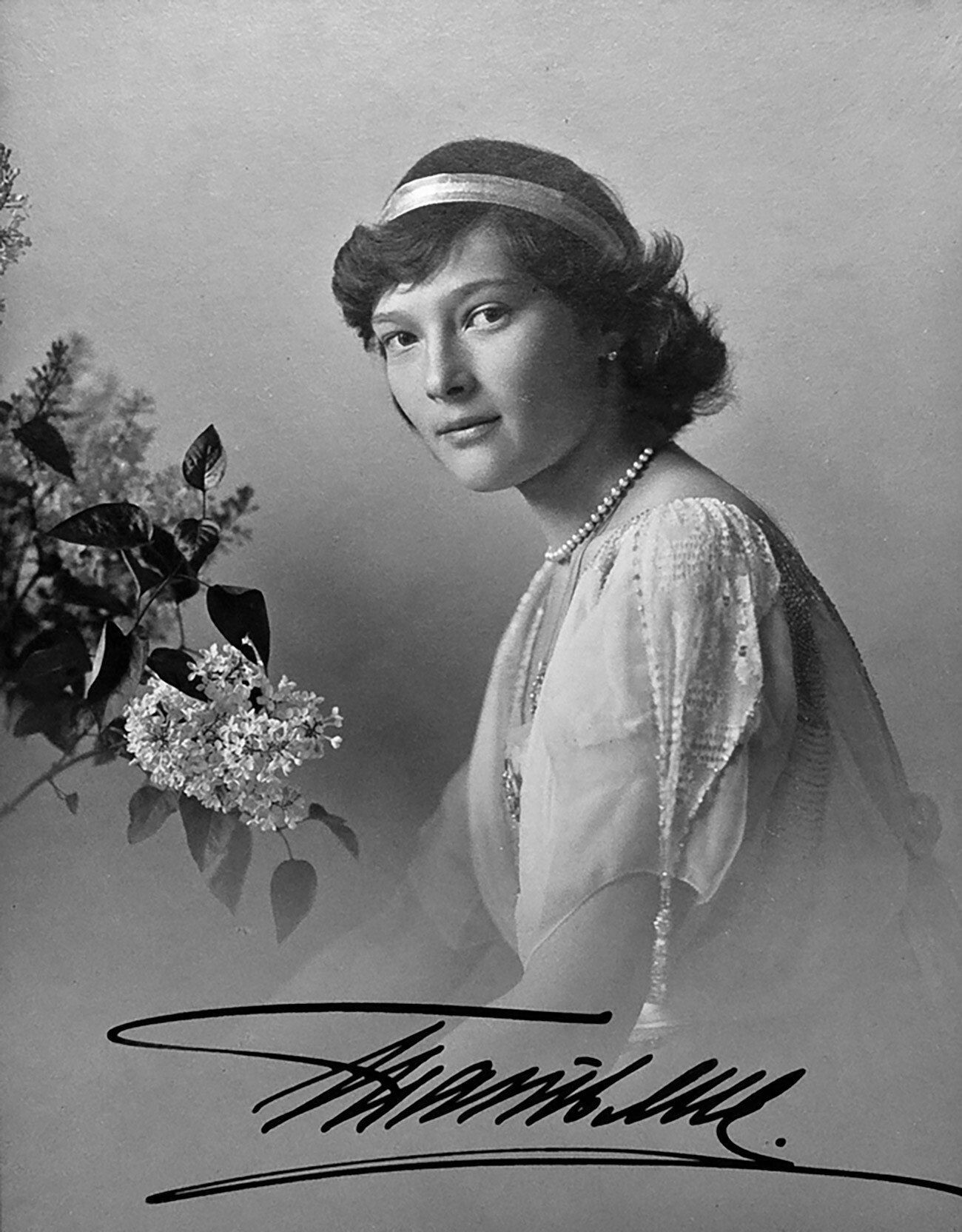 Grand Duchess Tatiana Nikolaevna of Russia
Public domain
Two years after Olga, the second daughter was born. The imperial parents were disappointed – they were awaiting an heir, a son. The daughter was called Tatiana, a rare name for the Romanovs. Grand Duke Konstantin Konstantinovich wrote in his diary – allegedly from the words of the tsar himself – that they called their daughters Olga and Tatiana, so it would be just like in "Eugene Onegin" by Pushkin.
"Dark-haired, pale-faced, with wide-set eyes," Tatiana looked more like her mother – as thin and tall (with a height of about 175 centimeters).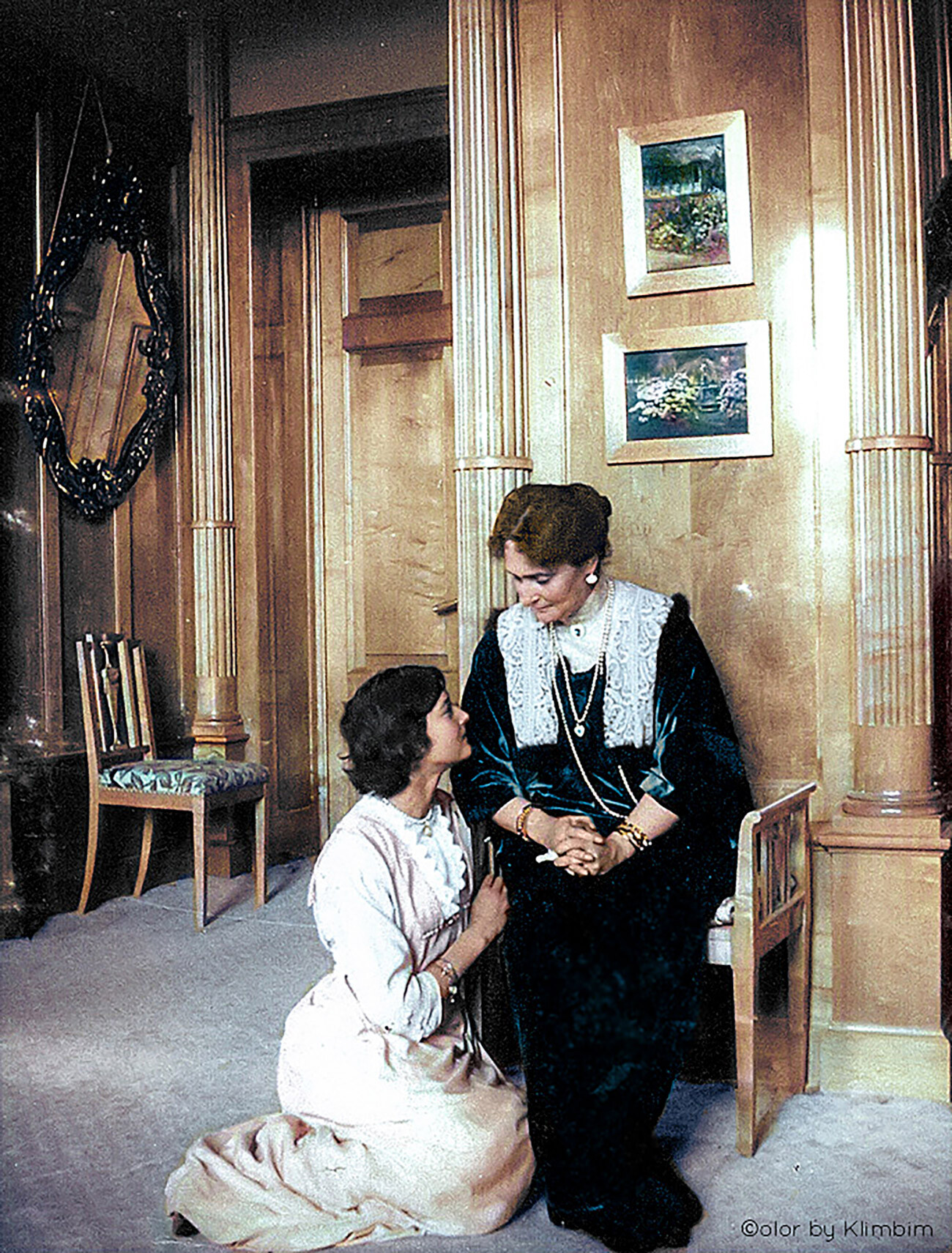 Tatiana with her mother, the empress
Public domain, color by Klimbim
She had an extremely gentle character, and she was even flustered when addressed as "Your Imperial Majesty". She didn't have the short temper that Olga sometimes exhibited, she was less frank and direct than her older sister. She didn't have Olga's talents in studies and arts, either; nonetheless, she was very diligent. With all their differences, the sisters were very close and often spent time together.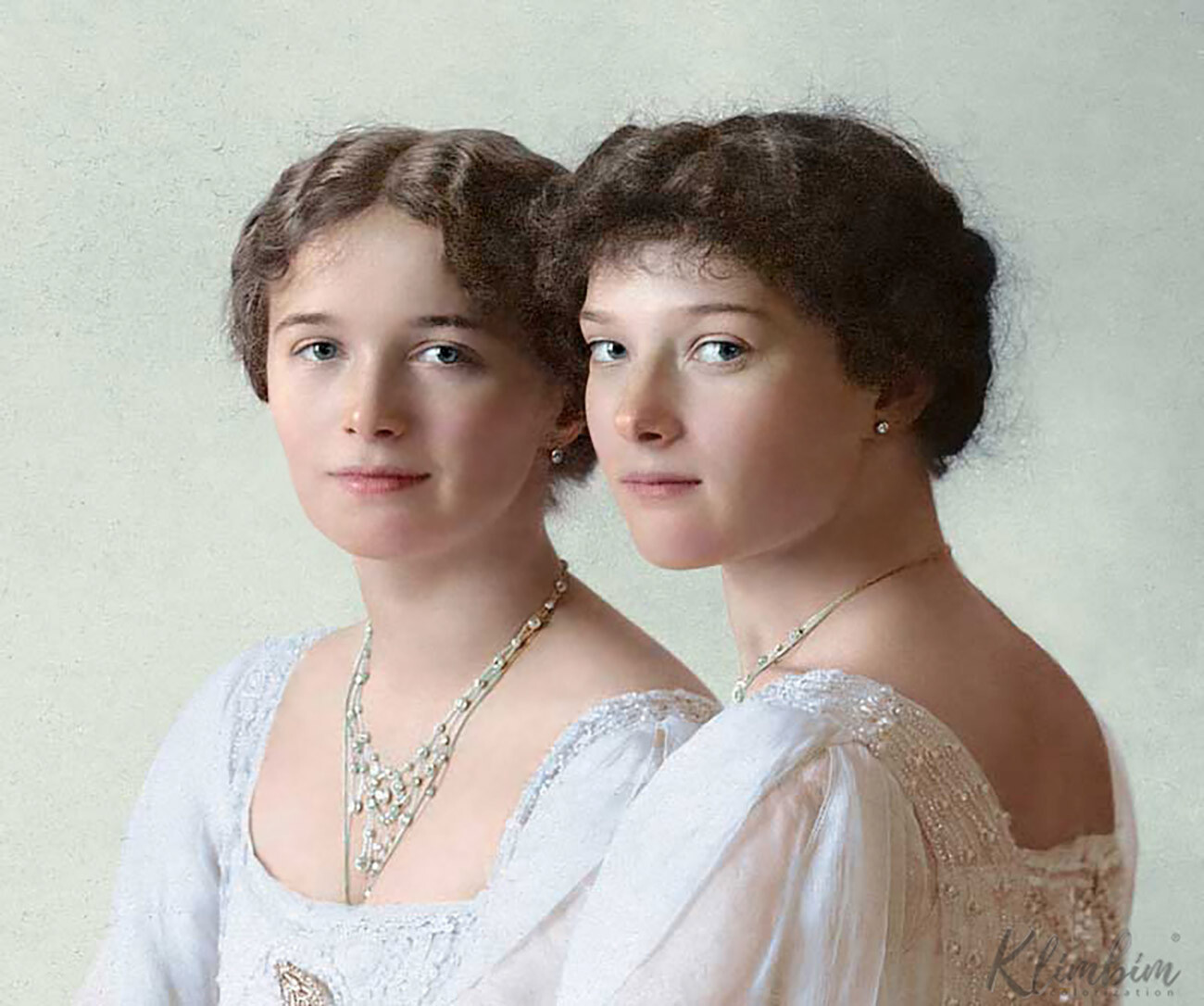 Olga and Tatiana (right)
Public domain, color by Klimbim
In Summer 1913, Tatiana had a short romance with Nikolay Rodionov, an officer of the imperial yacht. There's a legend that the photo below was taken by Nicholas II himself when he tried to reconcile them.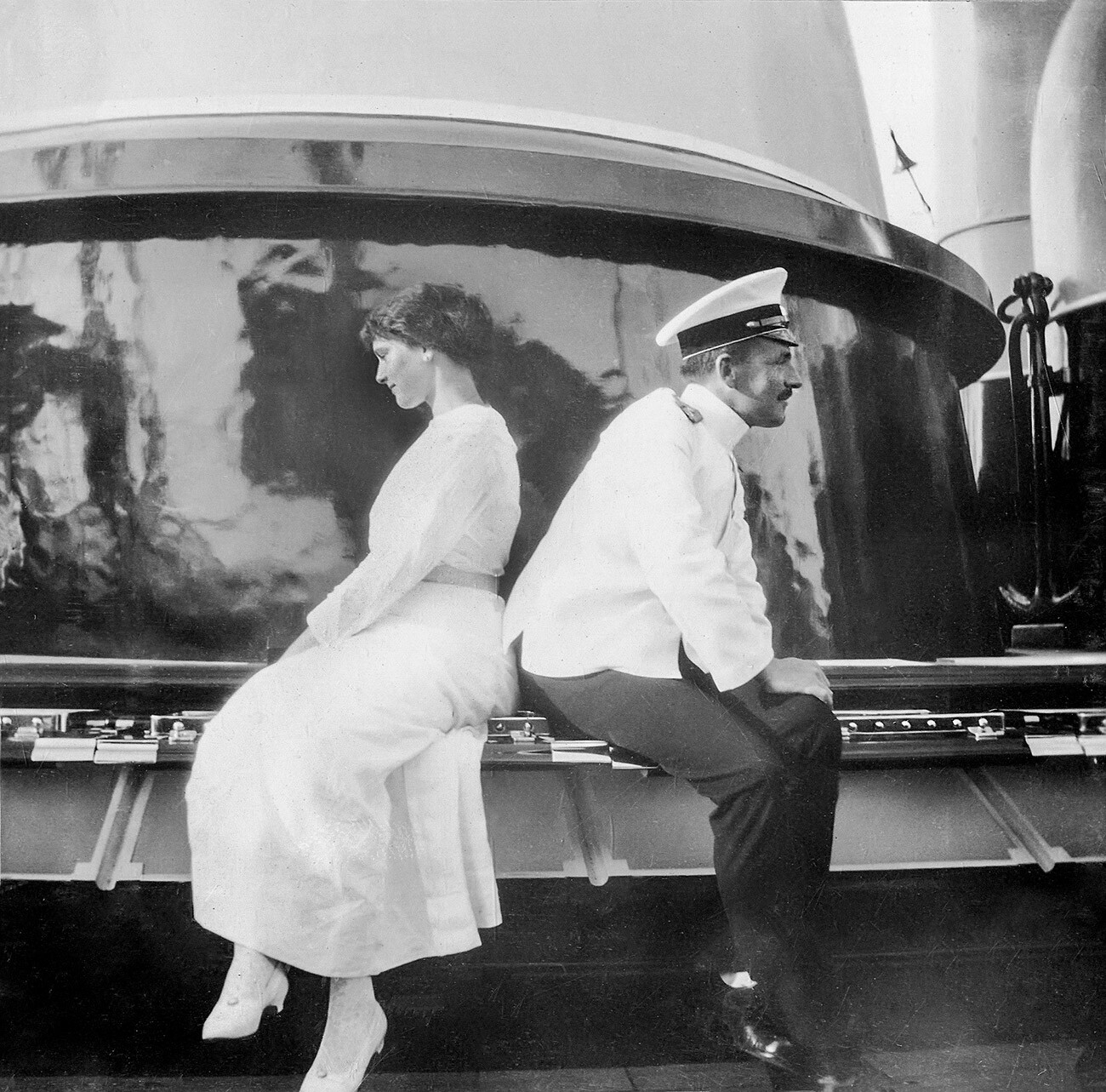 Tatiana and lieutenant Nikolay Rodionov 
Public domain
At the beginning of 1914, Serbian King Peter I expressed his desire for his son Alexander to marry one of the daughters of Nicholas II – and the prince was even introduced to Tatiana. However, the marriage negotiations were interrupted by the beginning of World War I.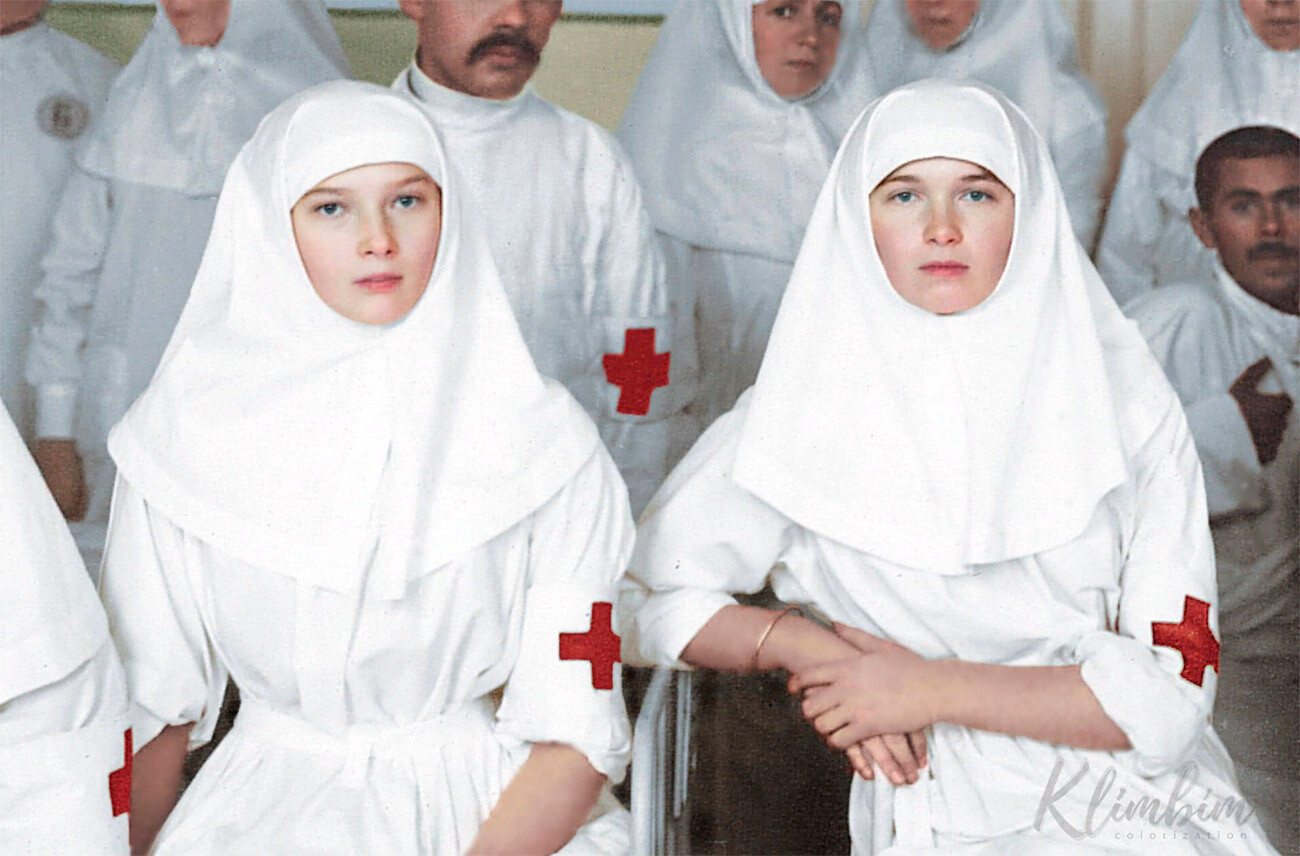 Nurses Tatiana (left) and Olga
Public domain, color by Klimbim
Just as Olga, Tatiana worked as a nurse and tended to the wounded officers. And of course, the Grand Duchess had a lot of admirers among them. They said she had special relations with young officer Vladimir Kiknadze.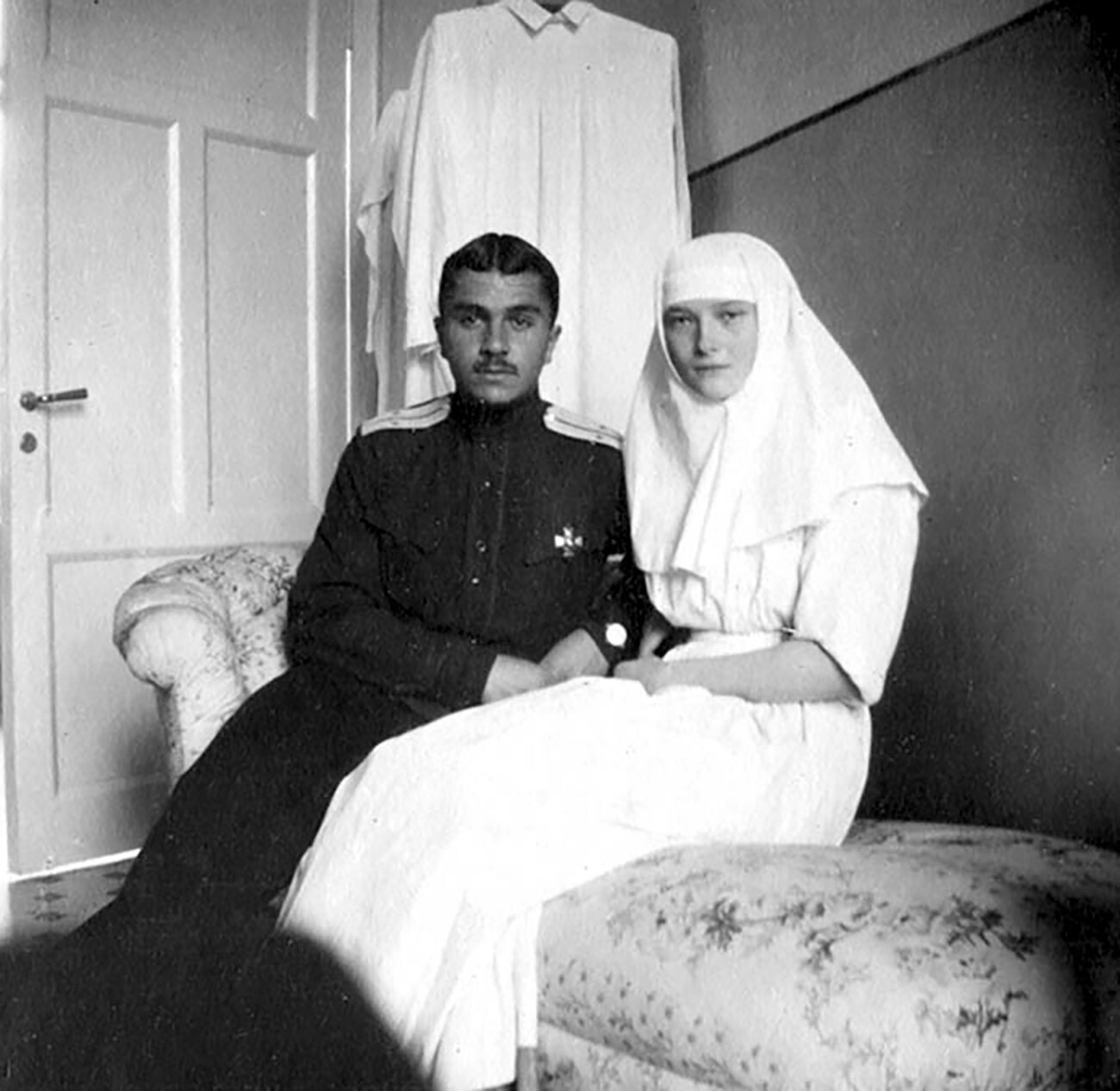 Tatiana and Vladimir Kiknadze
Public domain, color by Klimbim
However, it's obvious from her diaries and letters that she was in love with another officer – guardsman of the Uhlan regiment Dmitri Malama. Even the empress liked him: she wrote to Nicholas II that he could make a great son-in-law and complained that foreign princes are not like him.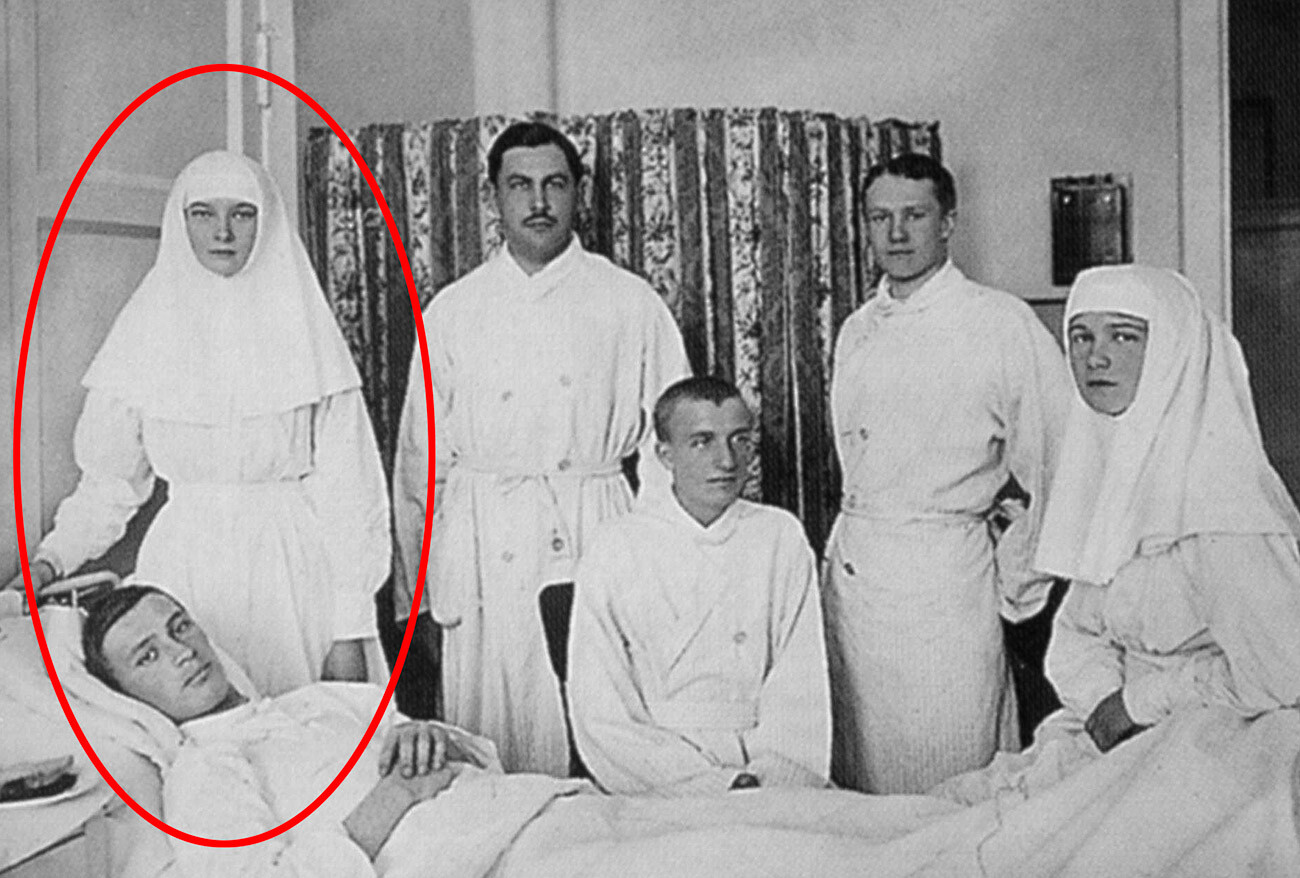 Tatiana and Dmitri Malama
Public domain
Malama took part in the Civil War, as well – against the Bolsheviks. Having learned about the assassination of the imperial family, he desperately sought death and was killed by the Reds in 1919.
Maria (1899-1918)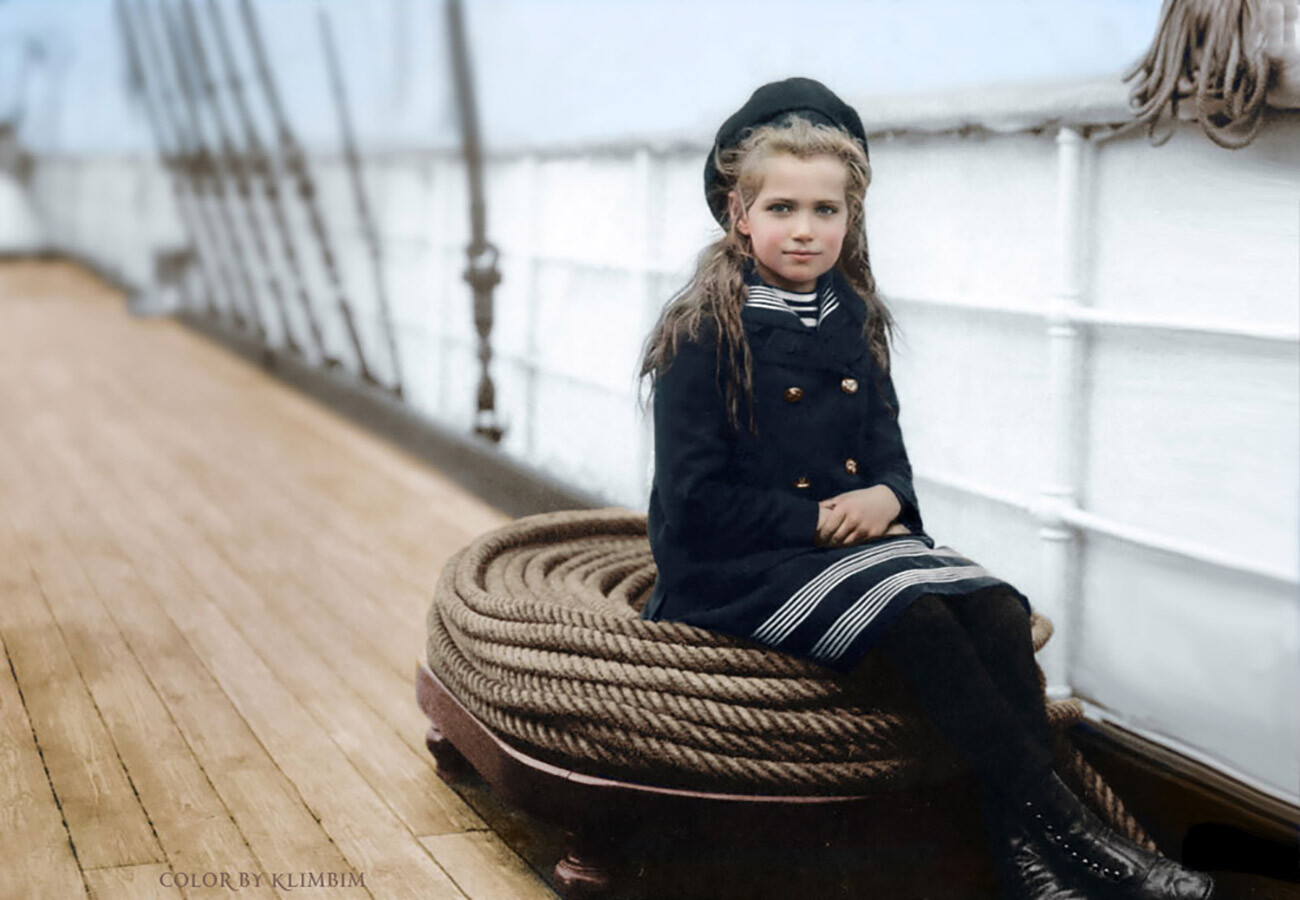 Maria on board the imperial yacht 'The Standart'
Public domain, color by Klimbim
Alexandra's third pregnancy was complicated and, later, she got upset that she gave birth to another daughter. "Too bad it wasn't a son. Poor Alix!" Nicholas II's sister Xenia wrote.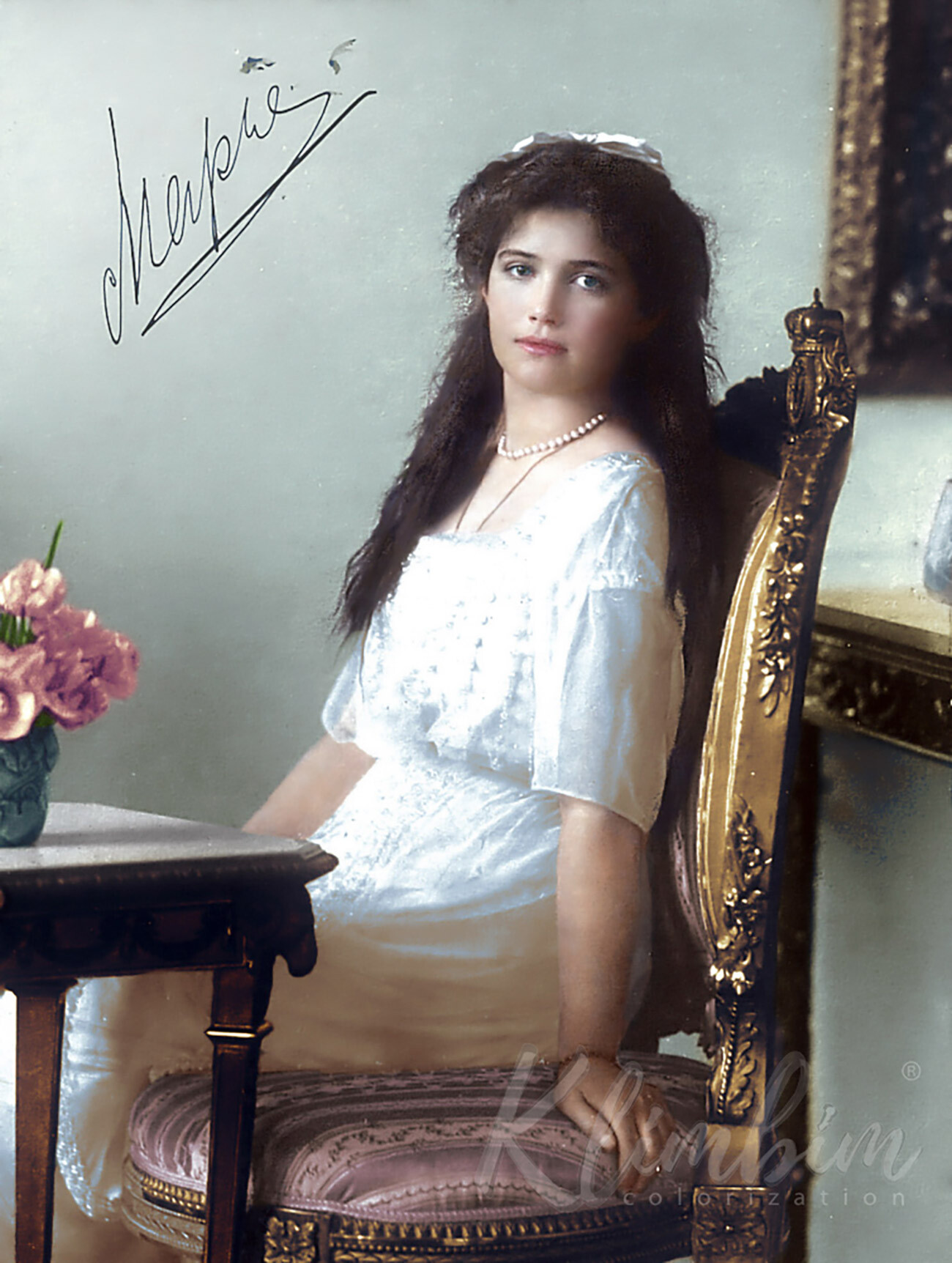 Grand Duchess Maria Nikolaevna of Russia
Public domain, color by Klimbim
"Tall, plump, with thick eyebrows and a bright blush on an open Russian face," as one of the empress' ladies-in-waiting wrote about her, Maria was a true Russian beauty. She was always lively, cheerful and friendly. Many considered her the most beautiful among the sisters. She easily talked to the most common people, knew all the guard's soldiers by name and took interest in their lives.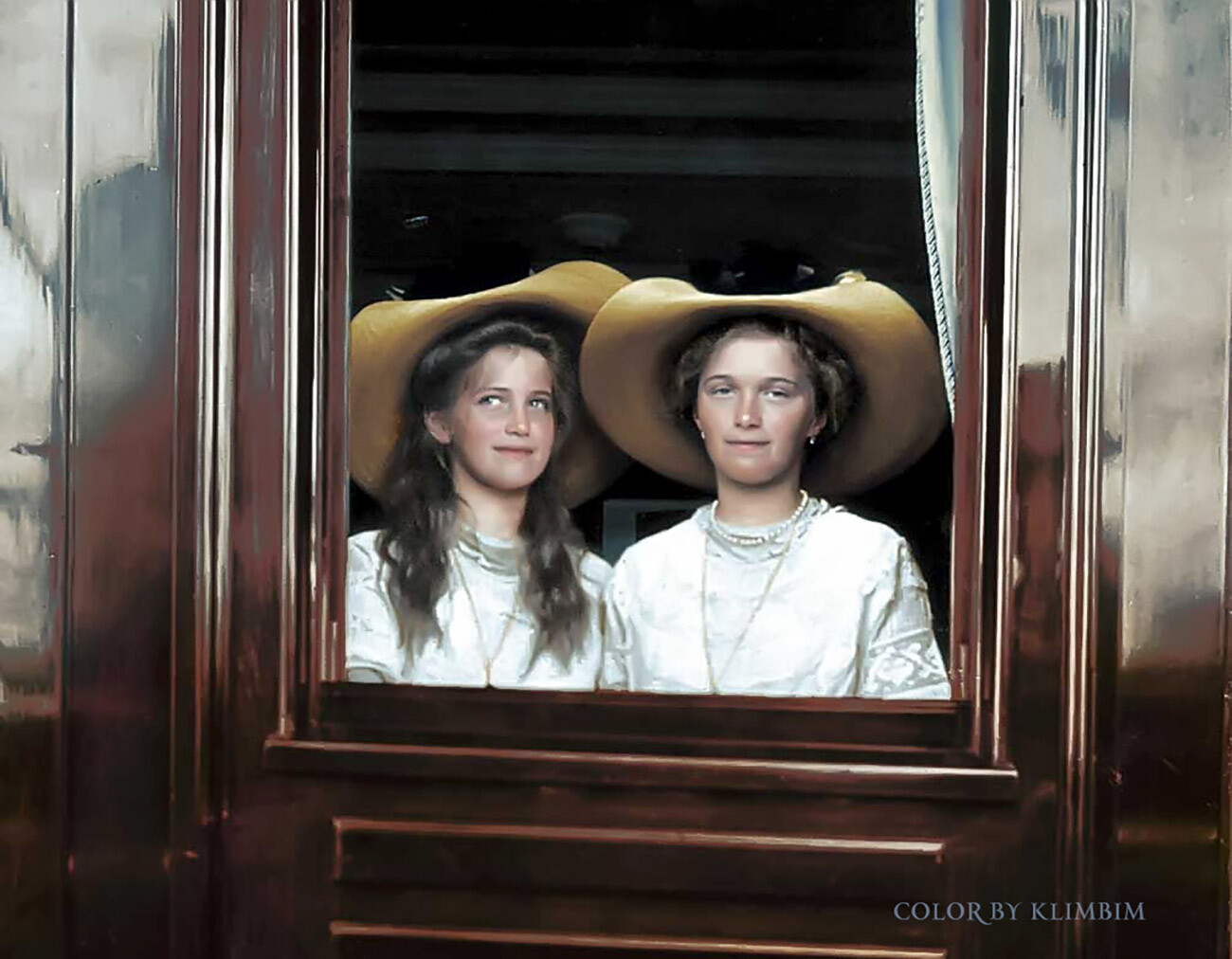 Maria (left) and Olga
Public domain, color by Klimbim
It's known that the older sisters would tease Maria and even bring her to tears claiming that she was adopted.
When the youngest sister Anastasia grew up, they got really friendly and were dubbed "The Little Pair" (while Olga and Tatiana were called "The Big Pair"). Maria in it was under the full authority of mischievous Anastasia and obediently took part in her mischief. Together, they played tennis and danced to a gramophone.
From left to right: Tatiana, officer Nikolay Rodionov, Maria, and Olga
Public domain, color by Klimbim
Maria's simpleness and blush contrasted with her tallness (170 centimeters) and physical strength – she often carried her sick brother in her hands (and even lifted up her English teacher as a joke).
Maria showed no particular interest towards study and exhibited very average results and from languages she could only grasp English well.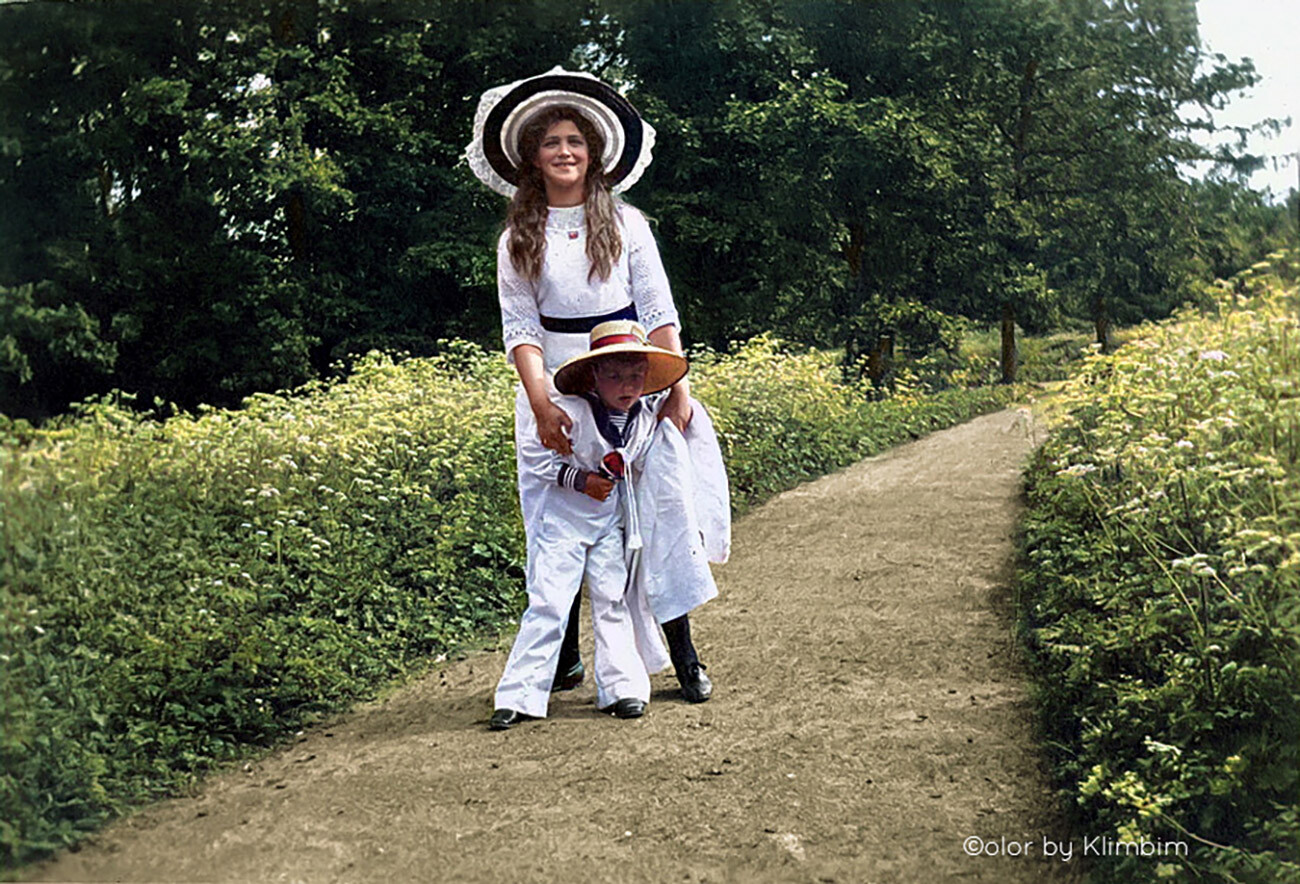 Maria and Alexei
Public domain, color by Klimbim
After Olga's refusal, Romanian prince Carol sought the hand of Maria, but Nicholas rejected him – his daughter was still just a child.
At the age of 14, Maria fell in love with an officer on a torpedo boat that guarded the imperial yacht and even asked her father for permission to have a relationship with him. And, when the officer was sent to the front of World War I, she sewed him a shirt.
Anastasia (1901-1918)
"What a disappointment! The fourth daughter!" the relatives of the imperial family wrote when Anastasia was born. The tensions indeed rose – the question of succession was acute and the empress was ready for any mystical rites to give birth to a son.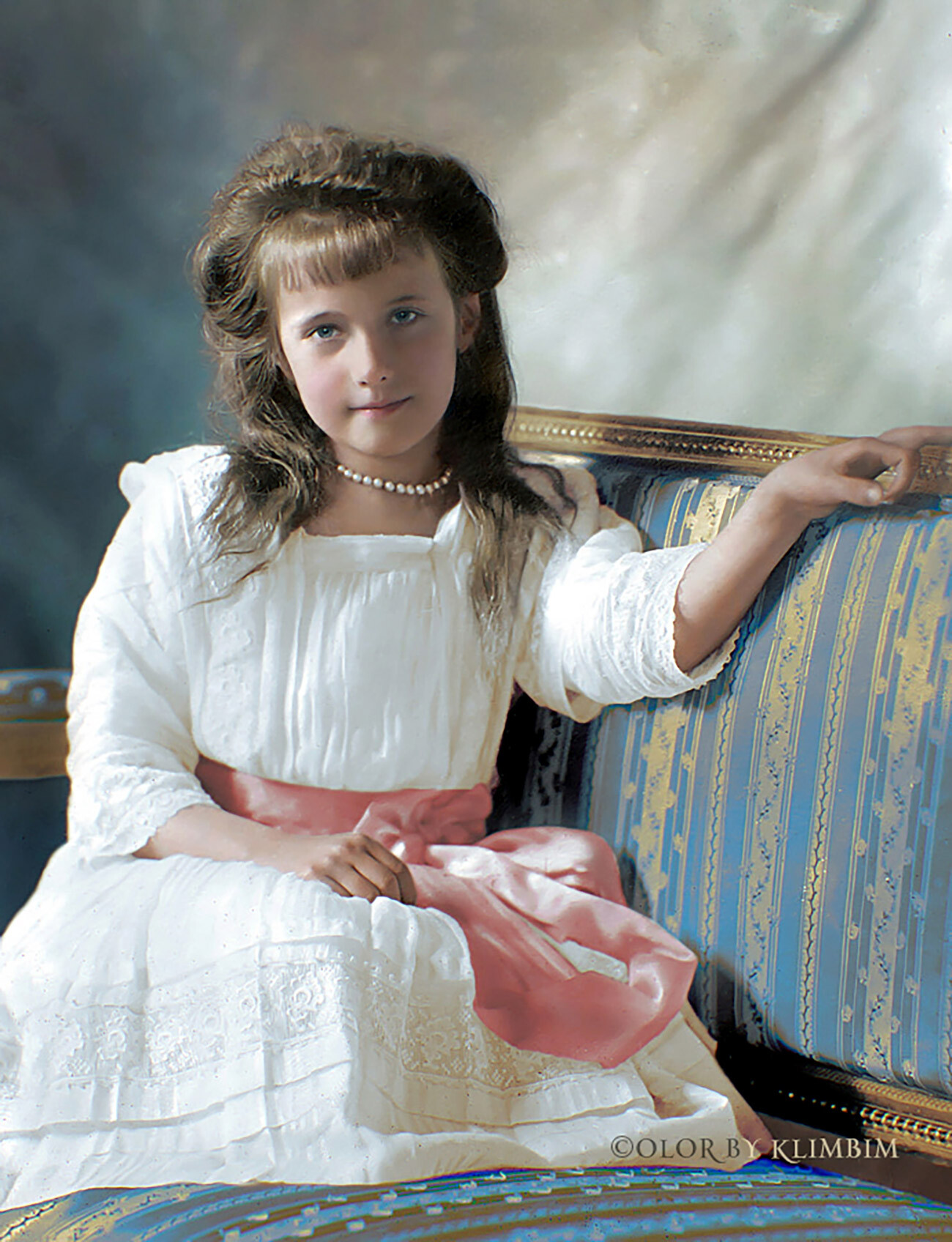 Grand Duchess Anastasia Nikolaevna of Russia
Public domain, color by Klimbim
By her appearance, Anastasia was a copy of her mother, but she was only 156 centimeters tall. She was very mischievous and obstinate, she monkeyed around a lot and made mischief (into which she always dragged her naive older sister Maria), climbed trees and teased everyone around. Anastasia loved music and dancing, as well as different games, for example charades.
During World War I, the younger girls didn't work at the hospital – they were too young; but they still visited wounded officers, read for them out loud, played cards with them and even sewed linens for them.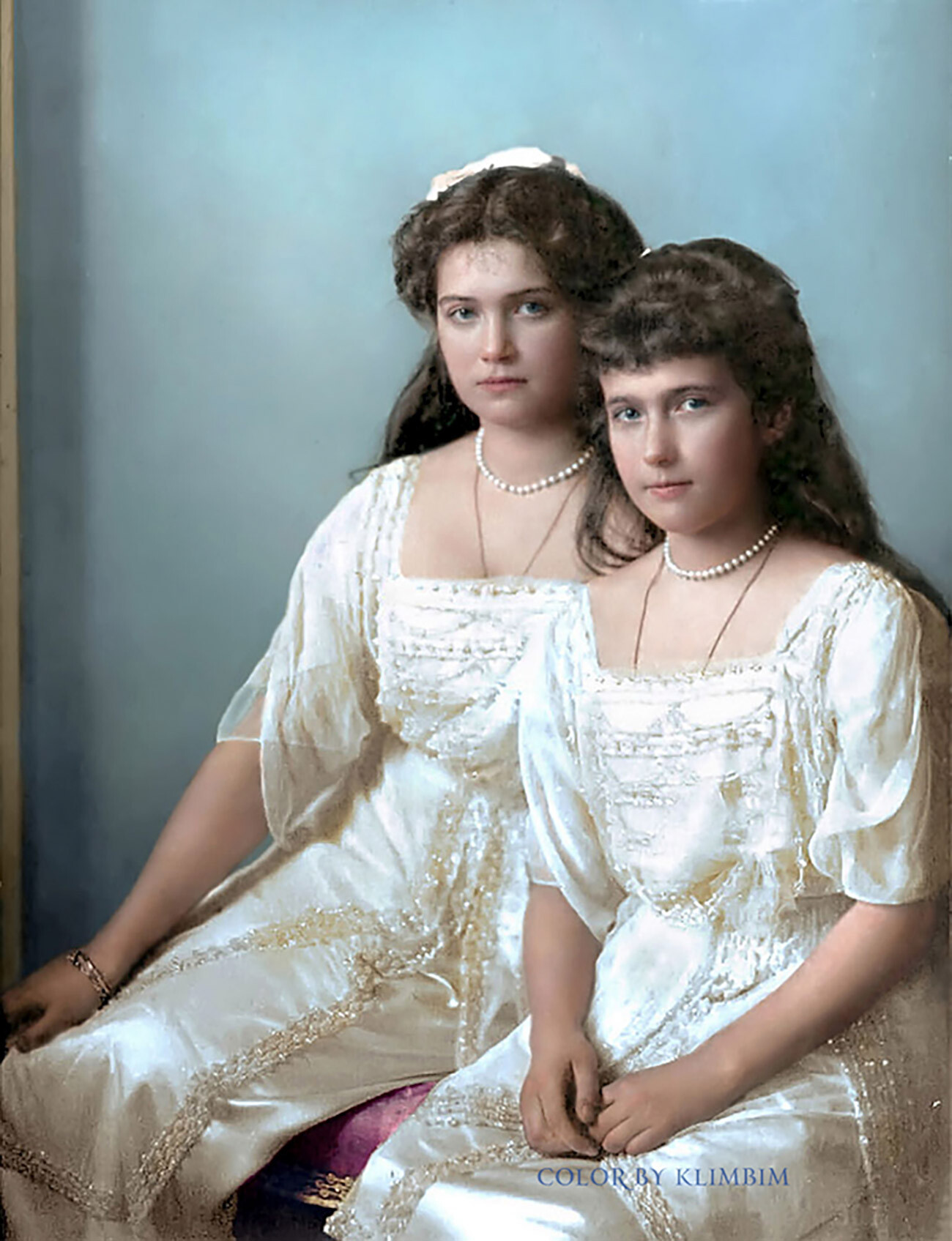 Maria and Anastasia (right)
Public domain, color by Klimbim
After the Revolution, all the imperial children had measles – they were quickly losing their hair and it was decided to shave them bald. That's why in the last photos they are often portrayed with headdresses on, under which they hid their growing-out hair.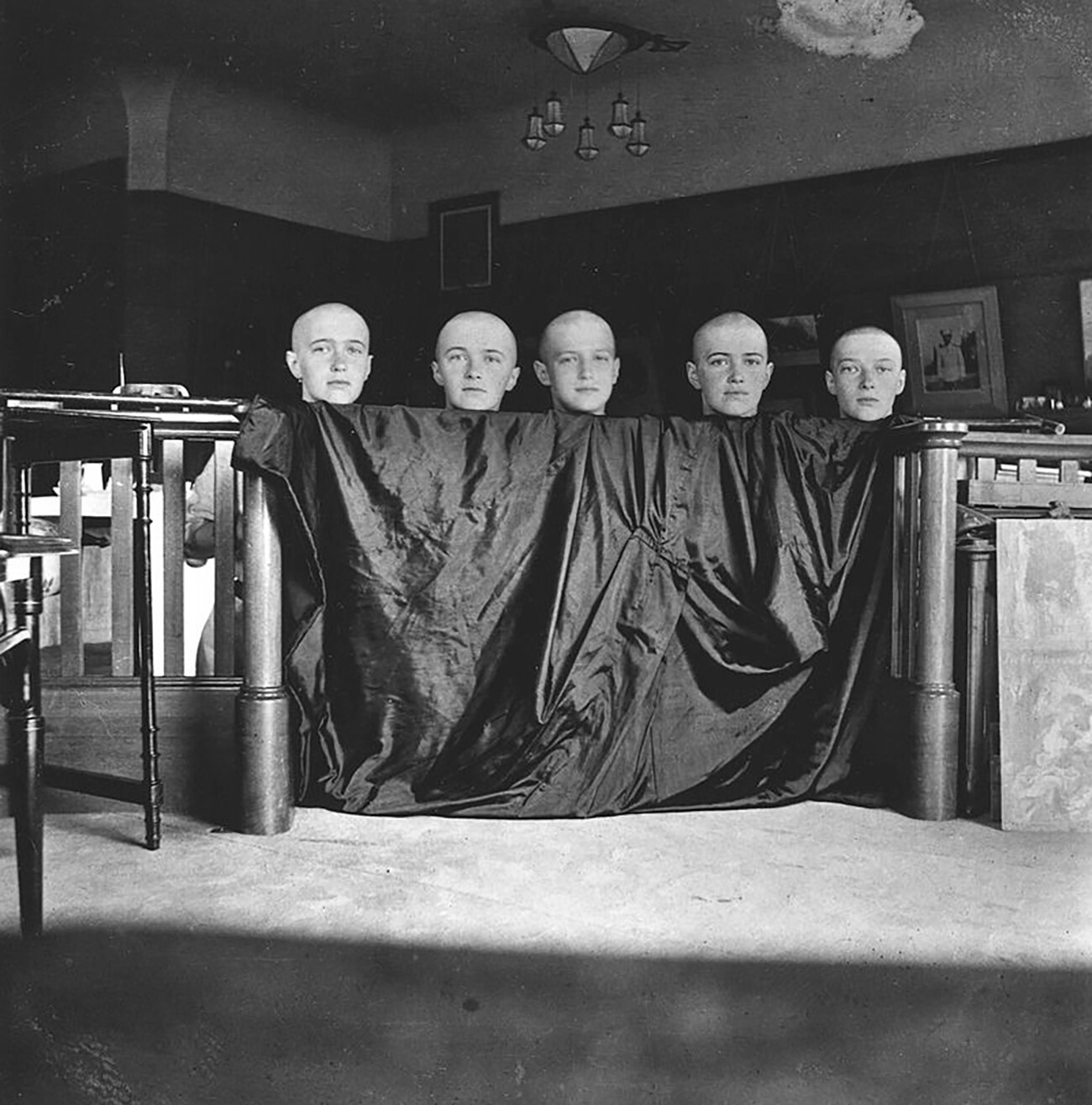 Anastasia, Olga, Alexei, Maria and Tatiana after they had measles
Public domain
When the family arrived at their exile, Anastasia began gaining weight, which worried the empress a lot and she hoped that "it'll pass with age…".
Until her last days, the youngest daughter entertained the entire family and didn't let them despair. A month before her tragic death, Anastasia turned 17. The Grand Duchesses in exile baked bread themselves and the family celebrated her birthday together. Anastasia went to her execution accompanied by her favorite dog, thinking that they would just be moved to another place.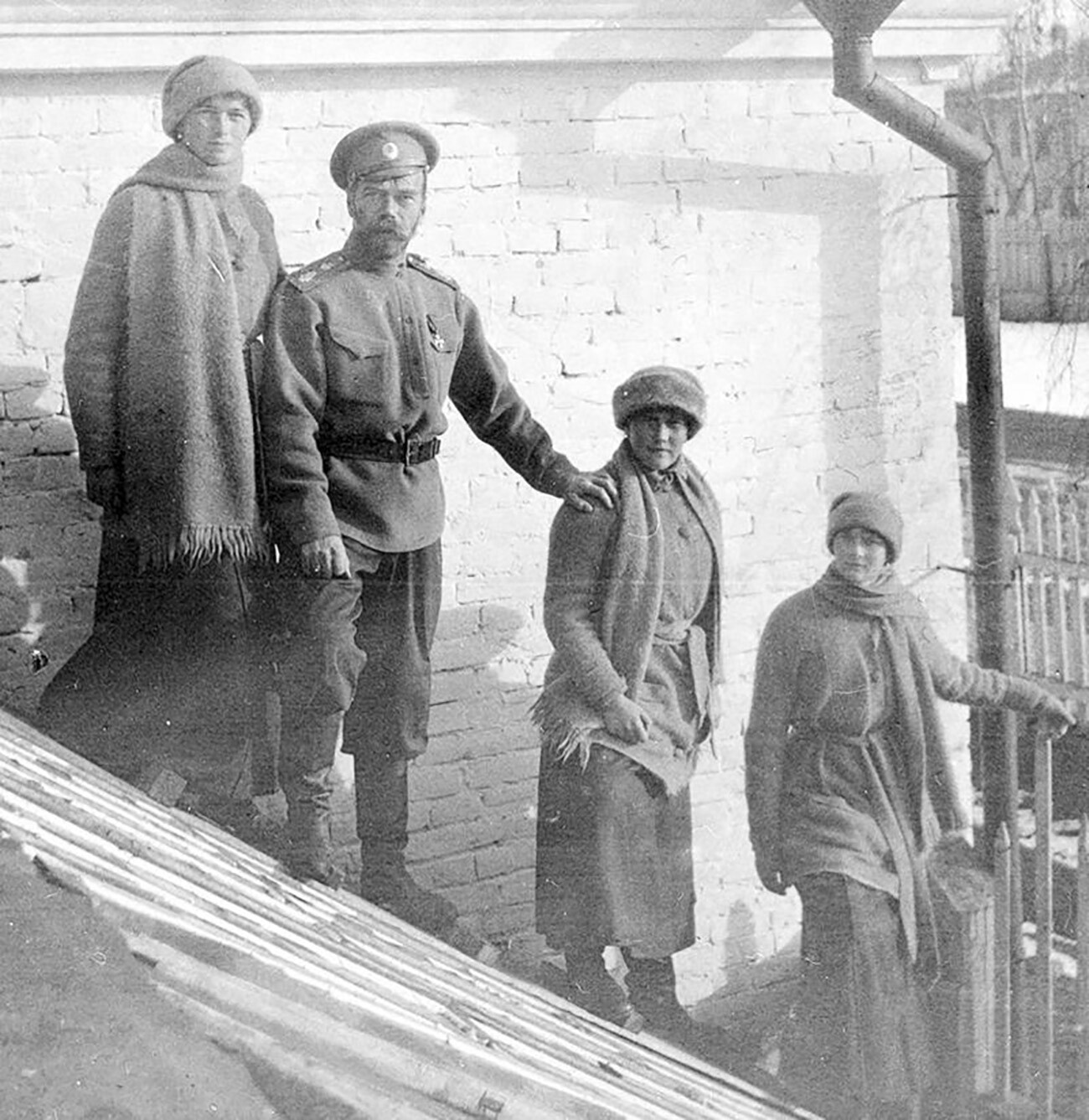 Olga, Nicholas, Anastasia, Tatiana in Tobolsk, Winter of 1918
Public domain
Anastasia became, perhaps, the most famous of the imperial children, thanks to a large number of impostors who claimed to be the "miraculously escaped" Grand Duchess Anastasia. According to legend, when the imperial family was shot, bullets ricocheted off gems that were sewn into Anastasia's dress – and she allegedly didn't die immediately from the shots (and, perchance, escaped?). In reality, however, the Bolsheviks finished everyone off with bayonets, so the Grand Duchess had no chance of survival. The fact that her remains were not precisely identified gave rise to the legend of her escape.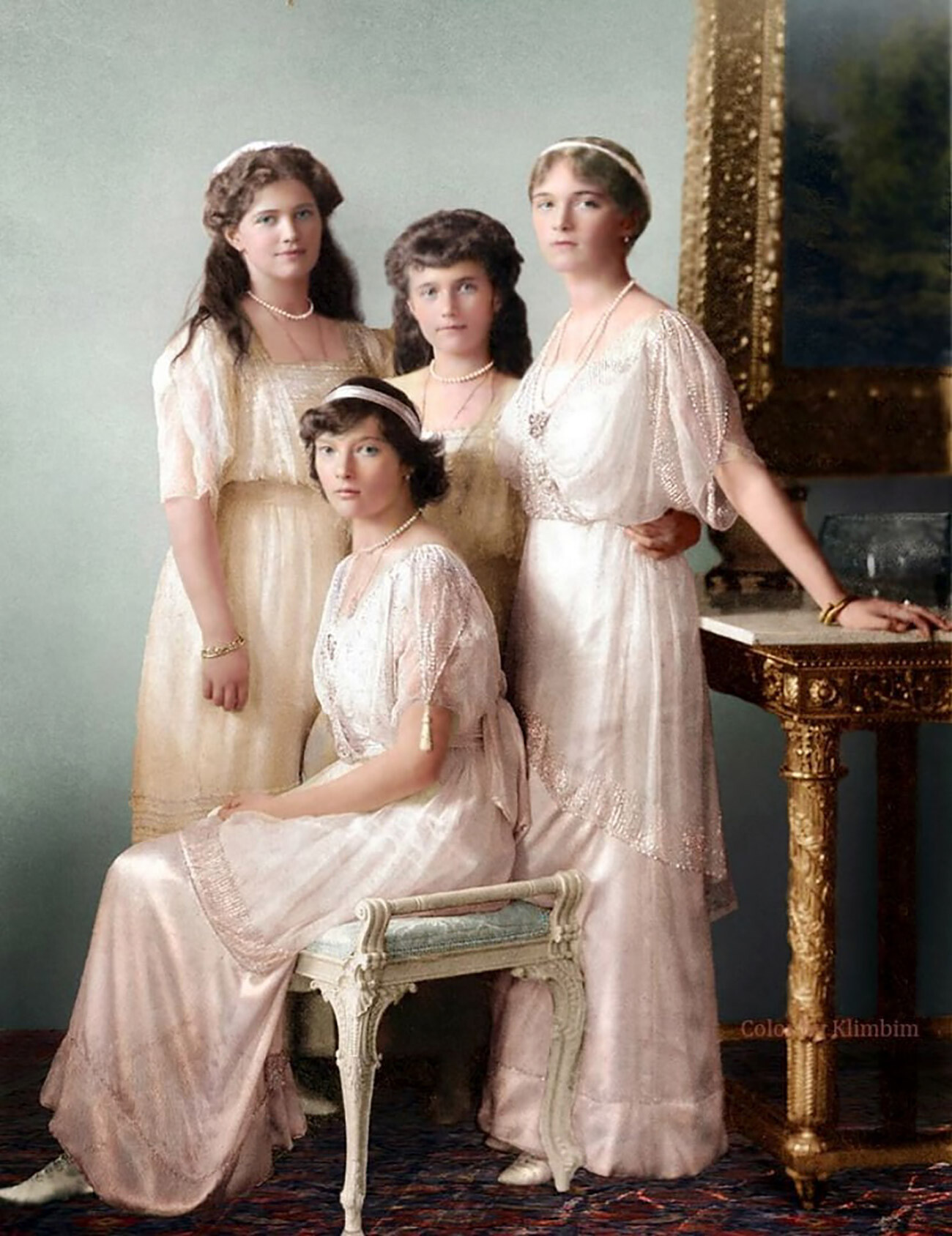 Standing: Maria, Anastasia, Olga; sitting - Tatiana
Public domain, color by Klimbim
In mass culture, the myth about Anastasia was widespread (also many of those who sympathized with the imperial family's fate wanted to believe that at least someone survived). The most striking example was the animated movie 'Anastasia' (1997), which also features the evil spirit of Rasputin.
Alexei (1904-1918)
The fifth pregnancy of Alexandra turned out to be false. At the end of 1901, she decided that she was carrying a child, but, out of superstition, she didn't allow the doctors to examine her – and only in August 1902 after an examination, a doctor concluded that there was no pregnancy. That delivered a significant blow to the already compromised nervous condition of the empress, who desperately wished for a son.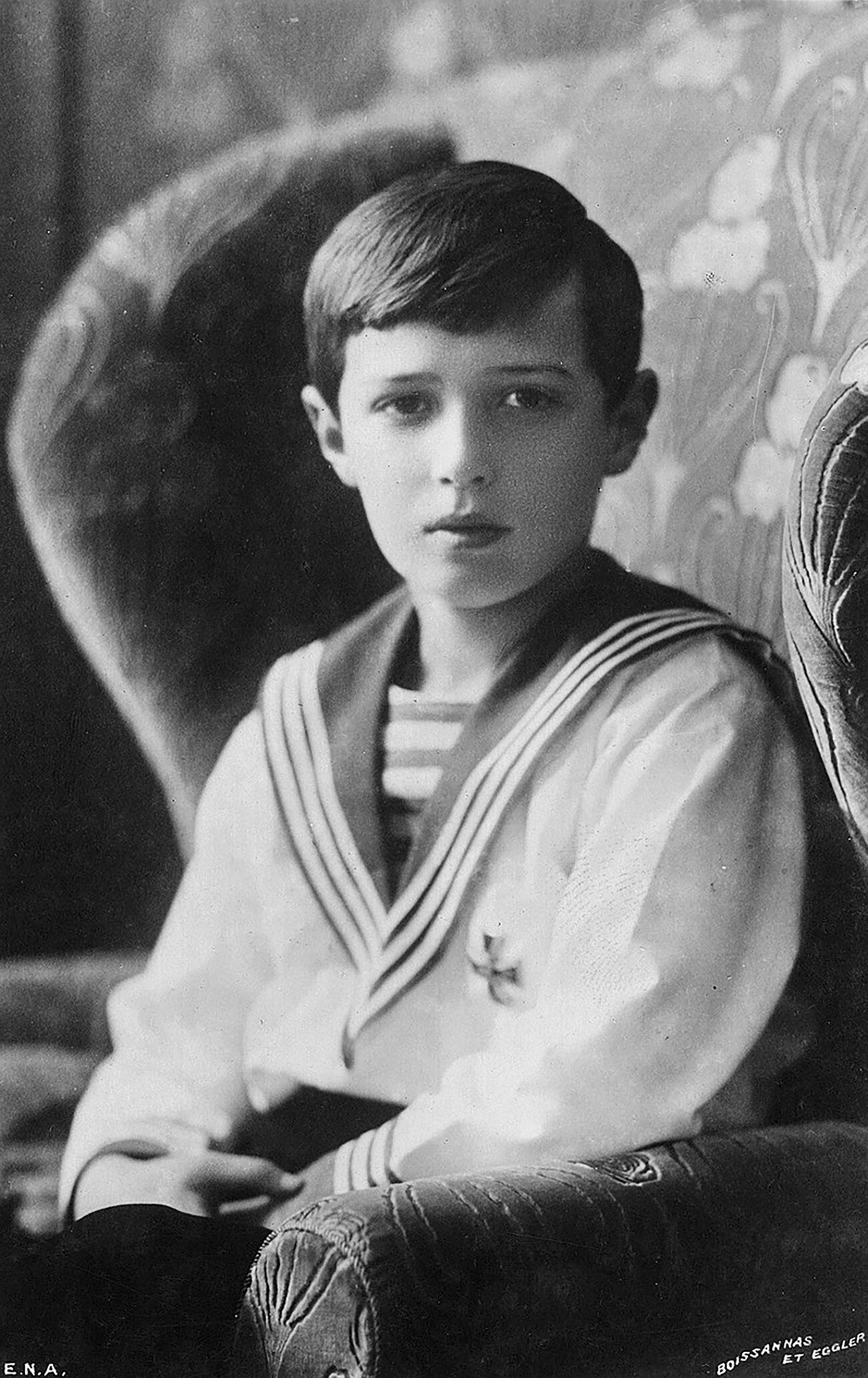 Alexei Nikolaevich, Tsarevich of Russia
Public domain
In 1904, the then 32-year-old Alexandra finally gave birth to the long-awaited heir. But her happiness was soured with a hereditary royal disease – hemophilia, the impairment of the blood's ability to form clots. Alexandra was the carrier of the disease, inheriting it from her grandmother, Queen Victoria.
A year after their son's birth, Nicholas and Alexandra met a "holy man" named Grigory Rasputin. The religious empress became close with him, since only he could handle Alexei's disease attacks (as well as Alexandra's own tantrums). Soon, Rasputin became a very close friend of the family and enjoyed a strong influence over the empress, which meant over the emperor, too.
There were incredible rumors that Alexandra and Rasputin were in fact lovers or that he could easily enter the bedrooms of the imperial daughters. All of this was not backed by anything at all, but all the family members, indeed, trusted him very much and were deeply affected by his death.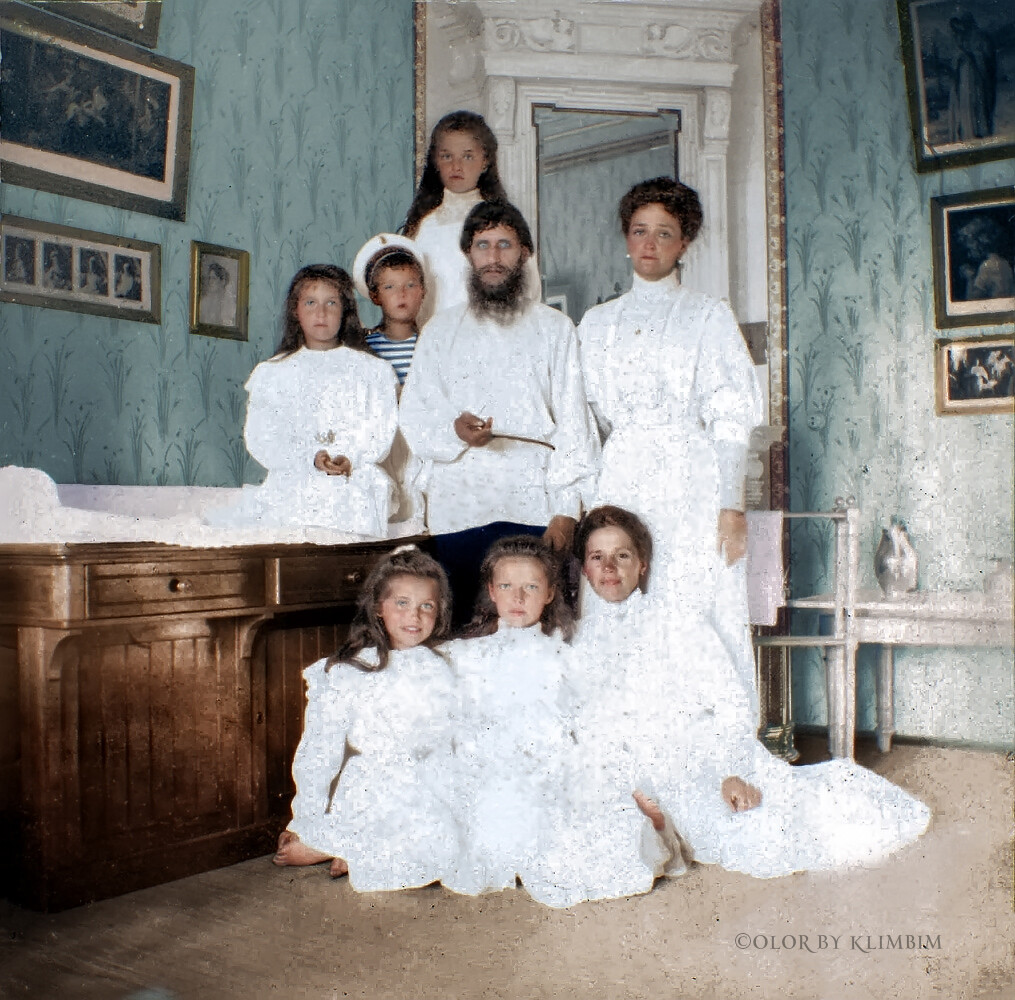 Rasputin with the empress, the imperial children and a governess. Tsarskoye Selo, 1908.
Public domain, color by Klimbim
Alexei's illness was severe. Any, even the most insignificant, bruises caused internal bleeding and a bleeding nose once almost put the tsarevich into his grave. Because of his illness, the boy's joints ached and, at times, he couldn't walk by himself. A "nanny" was assigned to him – an officer who carried him around and rode with him.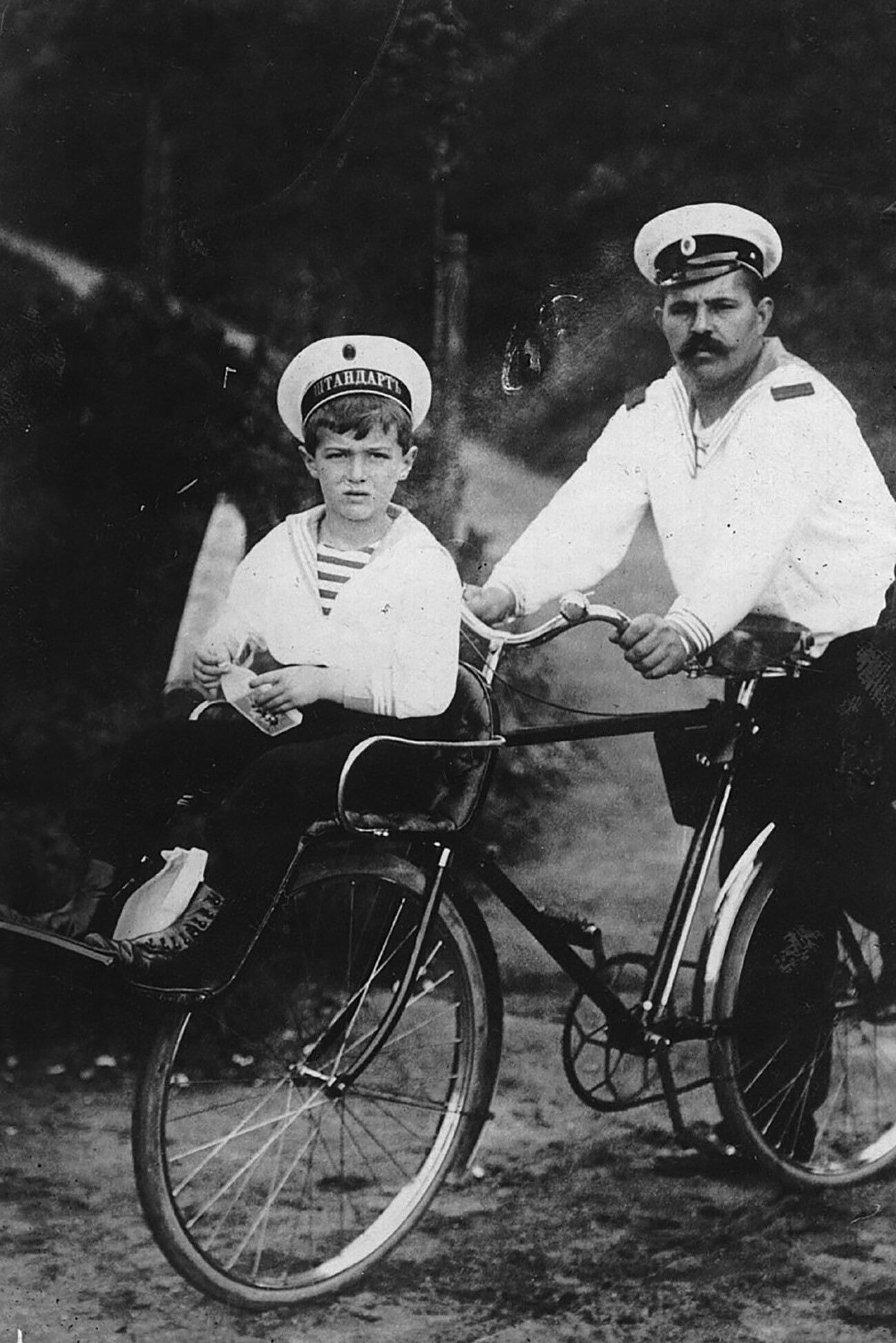 Alexei and his "nanny" officer Andrei Derevenko
Public domain
Because of his illness, Alexei was quite an introverted child. He inherited simplicity from his parents, he liked to put on a uniform – and asked for "shchi and porridge" for lunch like the soldiers had. During World War I, Alexei (being an officer and having the official status of a hetman of the Cossack forces) visited the front several times with his father.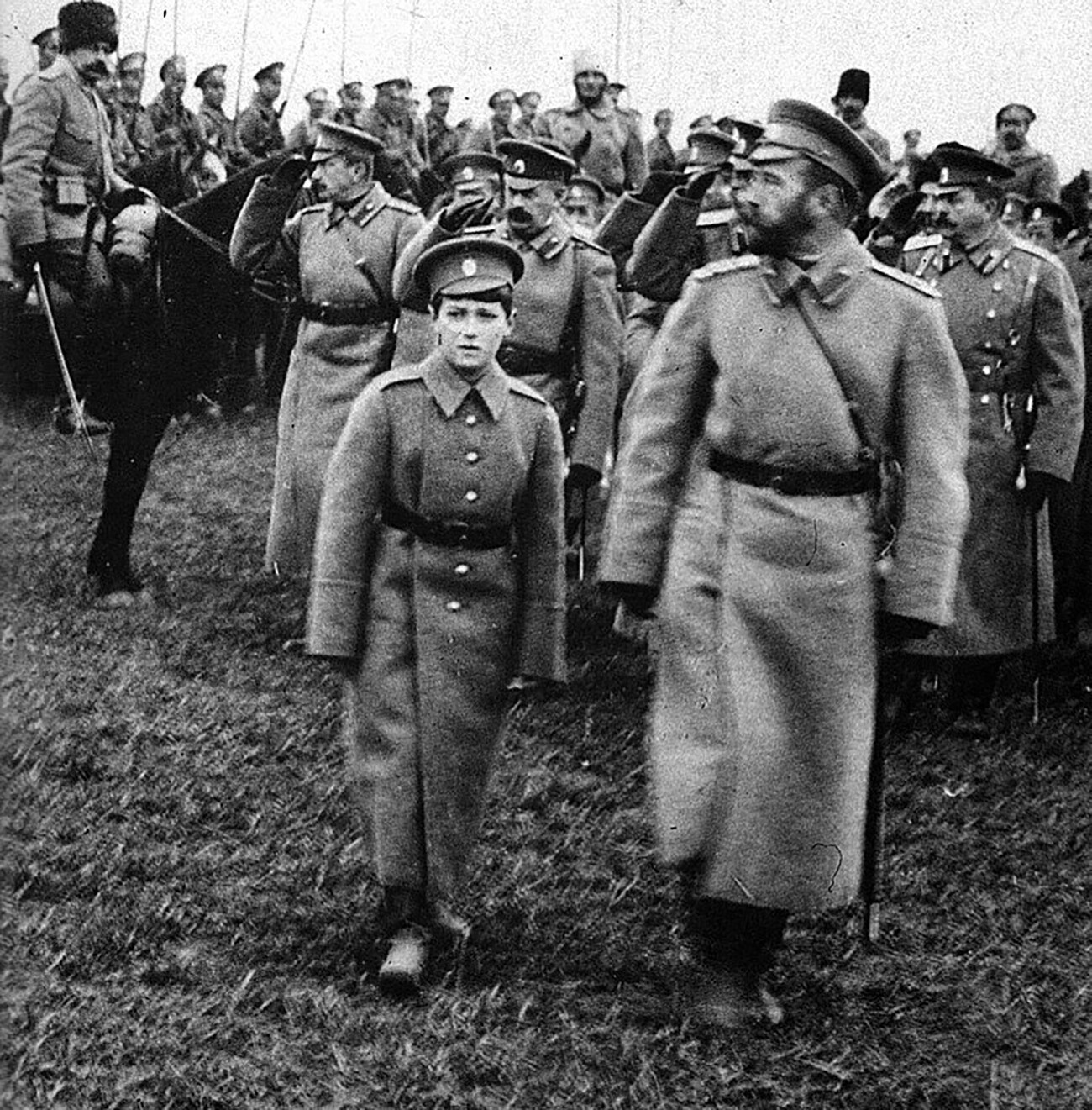 Nicholas II and tsesarevich Alexei at the location of the military units, 1916
Public domain
The mother and sisters (especially Maria) adored the young boy. Being weak physically, Nicholas' entourage and the tsar himself saw will and strength of character in him, necessary for a future monarch.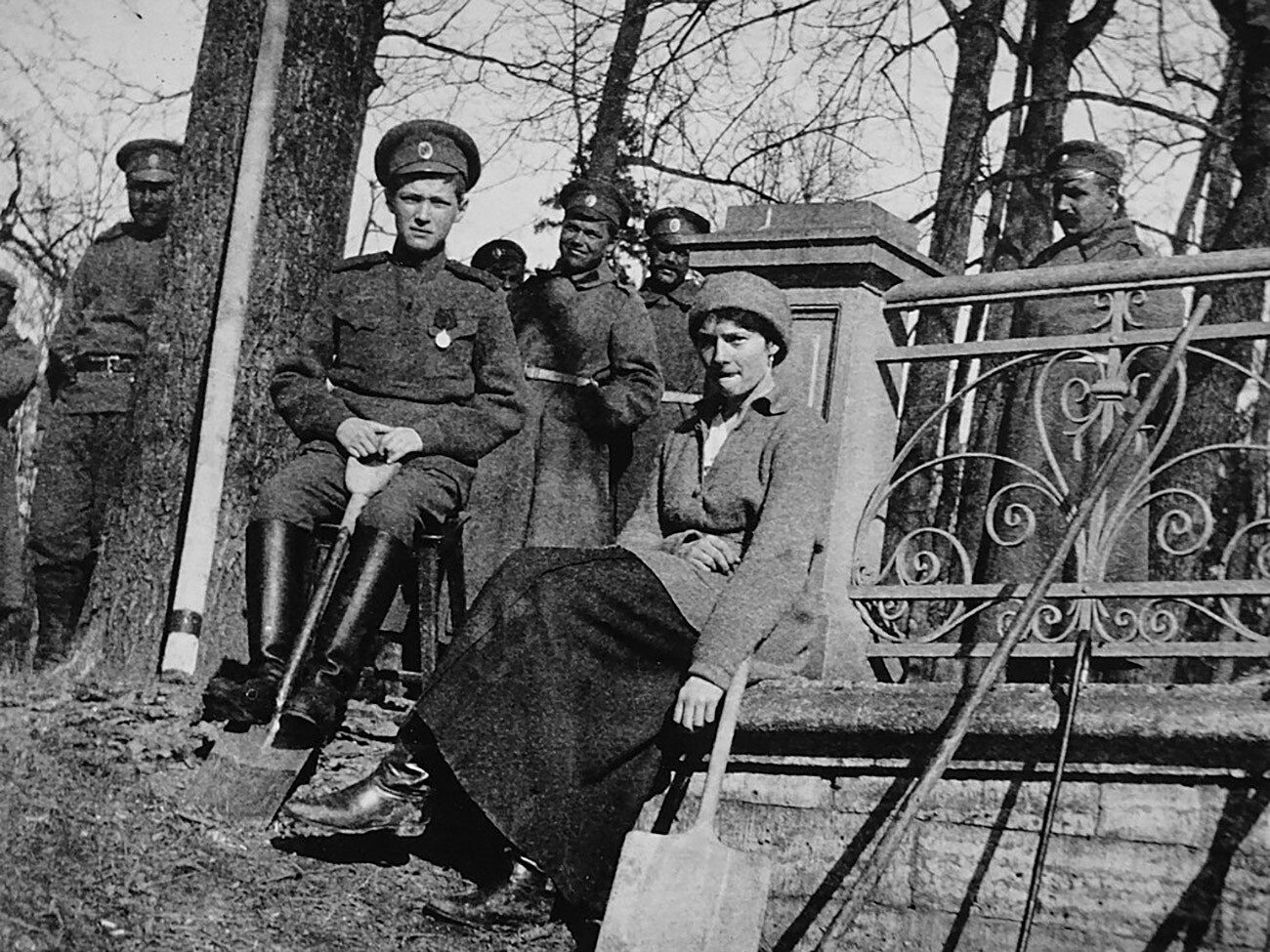 Tatiana and Alexei under guard in Tsarskoye Selo
Public domain
Dear readers,
Our website and social media accounts are under threat of being restricted or banned, due to the current circumstances. So, to keep up with our latest content, simply do the following:
Subscribe to our Telegram channel
Subscribe to our weekly email newsletter
Enable push notifications on our website
Install a VPN service on your computer and/or phone to have access to our website, even if it is blocked in your country
If using any of Russia Beyond's content, partly or in full, always provide an active hyperlink to the original material.