North Korean statement directly attacks US, threatens entire Korean peninsula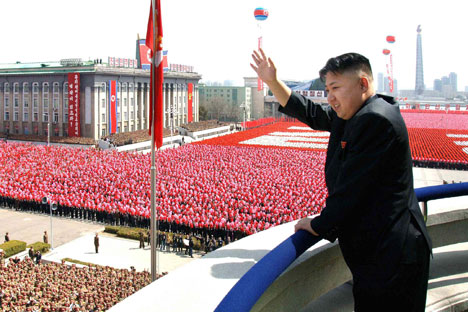 China, which is widely regarded as North Korea's patron, may have been another target audience of North Korea's statement. Source: AP.
North Korea plans to continue with its nuclear tests, the country's National Defense Commission confirmed in a statement made on Jan. 24. In the long term, these plans may deal another deadly blow to nuclear non-proliferation and set a poor example for other rogue states. The move has been challenged in the U.N. Security Council.
This time, the North Korean authorities, headed by the young new leader Kim Jong-un, are trying to take on the whole world. "We don't deny that our satellites and long-range missiles — which we will continue to launch — as well as our future high level nuclear tests, will be used against our arch enemy, the United States," the country's National Defense Commission announced in a statement distributed by the Korean Central News Agency on Jan. 24.
The statement from Pyongyang came in response to the U.N. Security Council's resolution condemning the launch of North Korean satellite Kwangmyongsong-3 in December 2012, as well as the strengthening of international sanctions against the country. Chinese diplomats tried to soften the stance adopted by the UNSC by proposing to present it in the form of a UNSC President's statement, but the attempt failed.
"The resolution has been adopted unanimously. Actually, it speaks for itself: such launches, as well as nuclear explosions, have been banned in resolutions passed by the Security Council previously," Russian Foreign Minister Sergey Lavrov said, commenting on the document.
It is easy to see through the brinkmanship of North Korea's statement. It does not mention any dates, nor does it specify what the so-called high level tests denote. Do they mean an underground nuclear explosion, subcritical tests, or other types of simulation well known to nuclear powers?
Vyacheslav Amirov, an expert with the Institute of World Economy and International Affairs' Center for Asia-Pacific Studies, argues there are at least three reasons behind Pyongyang's harsh stance. First of all, the people of North Korea needed reassurance that their leaders remain united and strong. Second, these claims are a bargaining chip in the talks on the provision of economic aid. "Finally, this is a message to South Korean authorities," says Amirov.
"The new president will be sworn into office in late February, and Seoul is currently discussing the prospects for mending its relationship with North Korea. Pyongyang is trying to exert pressure on its neighboring country through such threats," he added.
China, which is widely regarded as North Korea's patron, may have been another target audience of North Korea's statement. It is true that China has called for moderation in response to Pyongyang's protest. However, at the meeting with South Korean delegates in late January, General Secretary Xi Jinping of the Communist Party of China highlighted that his country did not approve of North Korea's plans to further increase its stock of nuclear arms and other weapons of mass destruction.
Furthermore, according to a statement released by the North Korean Ministry of Foreign Affairs, alongside the declaration of the country's military, North Korea refuses to resume the talks on its nuclear program. The talks had been mildly successful in the last 10 years, before the negotiations stalled in 2009. The adoption of UNSC's latest resolution makes the denuclearization of the Korean peninsula impossible, North Korea's foreign agency warned.
"Pyongyang has made it clear that denuclearization is out of the question — that North Korea is a nuclear power, and will remain one until the whole world is denuclearized... which is not likely to happen any time soon. This is the reality that we have to take in," says Georgy Toloraya, research supervisor on Korea at the Russian Academy of Sciences' Economics Institute.
North Korea sets a bad example for Iran in the run-up to a new round of talks with the six intermediaries representing the permanent members of the U.N. and the EU. This kind of attitude also serves as a kind of excuse for those states that have built up their nuclear capabilities in defiance of the Treaty on the Non-Proliferation of Nuclear Weapons — namely India, Pakistan and Israel.
At the same time, there is no doubt North Korea remembers the fates of Gadhafi and Hussein, who abandoned their attempts to create nuclear weapons; North Korea also remembers efforts pursued by the United States and South Korea to topple its regime through external pressure and economic sanctions. In any case, the latest statements from North Korea not only oppose the U.S. before the whole world, but they also question the authority of the UNSC — in particular, of those of its members who disagree with the policy of suffocating renegade regimes with political and economic sanctions.
Russia certainly has no need of another nuclear power at its borders — especially if such a state attempts to use nuclear tests to resolve both its external and internal issues, which are highly complex.
There is no doubt that the international community will be unanimous in its reaction to North Korea's declarations. Yet whether or not this response will be effective is yet to be seen.
All rights reserved by Rossiyskaya Gazeta.