Barack Obama unlikely to visit Russia before G-20 Summit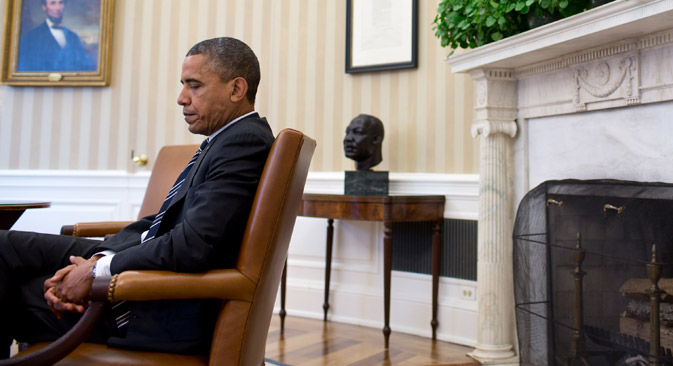 The U.S. Department of State admits that specific agreements on arms control are unlikely to be achieved by the summer. Source: Official White House Photo by Pete Souza
President Barack Obama's visit to Russia, which was agreed upon last summer, will not take place after all. The two sides are unlikely to reach an agreement on arms reductions by that time, according to sources at the U.S. Department of State. Still, Washington has not given up on attempts to break the deadlock in its relations with Moscow.
Moscow would like President Obama's visit to take place in June or July, ahead of the G-20 September summit in St. Petersburg. The United States, however, has put forward an important condition. According to Samuel Charap, senior fellow with the Washington branch of the International Institute for Strategic Studies, Obama might visit Russia before the G-20 only if there is a breakthrough on arms control and non-proliferation. As the expert said, "the nuclear basket" is Obama's "personal priority in the relations with Moscow."
The U.S. Department of State admits that specific agreements on arms control are unlikely to be achieved by the summer. Thus, a source at the Department of State has said that a stand-alone Obama visit to Moscow is improbable. So far, all indicate that Obama will only come to the G-20 in September, another U.S. diplomatic source confirms.
Kommersant'ssources admit that talks about the visit are complicated by the current negative background to relations between the two countries, as well as Russia's firm stand linking arms cuts to progress on anti-ballistic missiles (ABMs).
"President Obama, who at one time pledged adherence to the 'global zero' concept envisaging a non-nuclear world, would like to demonstrate a breakthrough in the talks with Moscow," says retired Lt. Gen. Evgeny Buzhinsky, who is now senior vice president of the PIR Center think-tank.
"The U.S. is interested in further reducing the Russian nuclear potential, be it deployed strategic warheads or tactical nuclear weapons, in which Moscow still has the edge," Buzhinsky says. "But it would be folly to expect any progress on these issues without a compromise on the [ABM] problem, which is the chief irritant for Moscow."
The expert points out that, after the signing of START-3, Moscow is not interested in bringing down the number of warheads in the foreseeable future; besides, tactical weapons play a much more important role in Russia's defense doctrine than in U.S. strategy. "America is surrounded by allies – Canada and Mexico – and two oceans, so nuclear weapons are of minimal importance for defending its territory. For Russia, which has nuclear and threshold countries next door, this weapon is an effective deterrent," says Buzhinsky. "The question arises whether the two sides will be able to reach a compromise on [ABMs], which calls for a lot of political will on the part of both presidents."
Nonetheless, Buzhinsky believes that there are compromise options. "One might be a political declaration on [ABMs], similar to the Russia-NATO Rome Declaration of 2002, which would not need to be endorsed by the U.S. Congress as a legally binding document. The declaration would reaffirm non-targeting of the [ABMs] against Russia. Besides, Obama would have to address one of Russia's main concerns by renouncing deployment of intercept and warning assets in Poland and the Baltic Sea," the expert says.
Fears have already been expressed in Congress that the Obama administration might make excessive concessions to Russia in the hope of reversing the negative trend in bilateral relations. Such fears were voiced by congressman Mike Rogers (a Republican member of the House Armed Services Committee) in a letter to Vice President Joe Biden, dated Jan. 30 and published in Foreign Policy magazine.
The congressman wrote his letter on the eve of Joseph Biden's meeting with Russian Foreign Minister Sergey Lavrov, which was held on Feb. 2 on the fringes of an international security conference in Munich. In the letter, Rogers asked the vice president what exactly he would discuss at these talks with Lavrov and what message would the U.S. president's national security adviser, Tom Donilon, take to Moscow in February to give to Russian President Putin. Donilon was to visit Moscow as a presidential envoy in late January, but the visit was postponed.
"I understand that Mr. Donilon is going to convey to President Putin a personal letter from President Obama setting out the U.S. president's plans for further American arms reductions and perhaps for agreements on [ABMs], in order to bring Russia to the negotiating table," Mike Rogers wrote.
He and other congressmen are afraid that Barack Obama might negotiate a deal with Vladimir Putin that would not require approval from Congress and perhaps even agree to unilateral cuts in nuclear arsenals. The position of the U.S. Congress might constitute another obstacle to Barack Obama's visit to Russia.
First published in Russian in Kommersant.
All rights reserved by Rossiyskaya Gazeta.