New Czech president to cooperate pragmatically with Russia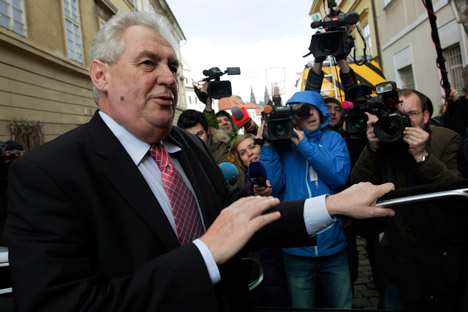 Miloš Zeman will aim to promote closer ties with Russia by using economic cooperation mechanisms. Source: Reuters
Former Prime Minister Miloš Zeman's presidential win will help the Czech Republic integrate deeper into the EU, while relations with Russia will become more pragmatic, experts believe. Zeman's opponent most likely would have taken a tough, inflexible stance on Russia, but Zeman is expected to cooperate with Russia on the basis of mutual economic interest.
The first Czech president elected by direct popular vote, Miloš Zeman will aim to promote closer ties with Russia by using economic cooperation mechanisms. He will also help the Czech Republic to integrate deeper into the European Union, experts questioned by RBTH believe.
On Jan. 26, Social Democrat Zeman won nearly 55 percent of the votes in the second-round poll, compared to 45 percent polled by his conservative-centrist competitor, Foreign Minister Karel Schwarzenberg.
Russian politicians can now breathe a sigh of relief, says Fyodor Lukyanov, chairman of Russia's Presidium of the Council on Foreign and Defense Policy.
"If Karel Schwarzenberg had been elected president, one might have expected a tougher stance by the Czech Republic not only toward Russia but also Ukraine. Schwarzenberg has proved himself to be a man with a definite attitude toward these two countries. His presidency might have looked like that of Václav Klaus," Lukyanov told RBTH.
"Miloš Zeman obviously has a more pragmatic position on Russia than Karel Schwarzenberg, a 'pro-Western' politician. Czech left-wing politicians are normally open to cooperation with Russia," Kai-Olaf Lang, expert at the Stiftung Wissenschaft und Politik (German Institute for International and Security Affairs), told RBTH. "Furthermore, Zeman has many close contacts with Russian businesses in his circle. For Russia, President Miloš Zeman is likely to pursue a policy of change through cooperation."
Lobbyist Miroslav Šlouf, who worked with Russian privately-owned oil company Lukoil, has been one of Zeman's closest associates for years. Zeman also received a grant to finance his election campaign from Martin Nejedlý, head of the Czech Lukoil office. Although the candidate explained that it was a private donation, his opponents accused him of having Russian business finance his election campaign.
Lang says: "Naturally, economic and energy policies are implemented by the government, not the president; and economic ties are established by firms and businessmen, not the president. Yet Zeman can promote certain interests and cooperation models."
Political experts agree that, after the election of Miloš Zeman, relations between Russia and the Czech Republic will become more pragmatic, based primarily on mutual economic interests. An important component in these relations may be based on the Czech Republic's efforts to achieve an energy balance between imported hydrocarbons and development of its own nuclear power engineering.
Lukyanov argues that the Czech Republic remains a country that is treated differently by both Russian business and politicians. Since the 1990s, many Russian businessmen have acquired property in the Czech Republic, hoping to profit from the country's accession to the European Union and the Schengen area. "Many Russian citizens reside in the Czech Republic either temporarily or permanently," Lukyanov said. Big Russian businesses — from oil company Lukoil to Novolipetsk Steel — and many small and medium-sized ones have been investing heavily in the Czech Republic.
Now that the Czech Republic has a new president, not only Russia but also the entire European Union will see a "reset" of its relations with that country. Werner Bühler, head of the Czech Republic Office of Konrad-Adenauer-Stiftung, told RBTH: "The newly elected President Miloš Zeman will pursue a pragmatic policy on the country's relations with Europe."
"Zeman has been talking about his country's engagement in a financial pact and demanded a unified defense policy for Europe. Overall, the Czech Republic is expected to be more actively engaged in the EU's affairs," Bühler said.
All rights reserved by Rossiyskaya Gazeta.