Digital diplomacy: Threat or opportunity?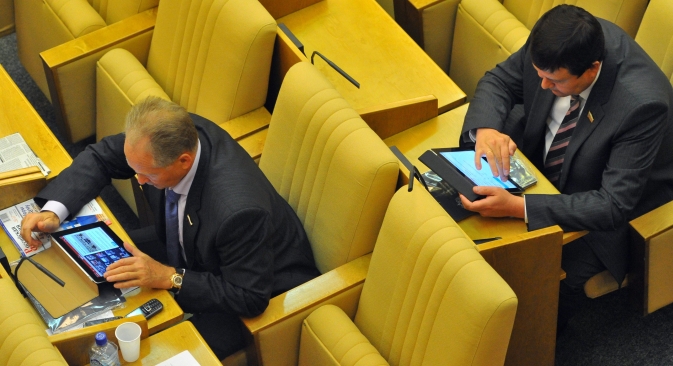 Digital diplomacy is becoming popular among Russia's officials. The Russian Foreign Ministry currently has around 70 official accounts on Twitter. Source: Kommersant
Digital diplomacy emerged during Barack Obama's first term, and now the phenomenon is considered "smart power," alongside traditional hard power and soft power. Experts say the spread of digital diplomacy — also called "Twitter diplomacy" or "online diplomacy" — presents governments with both opportunities and challenges.
According to political analysts, one of the most notable innovations in U.S. foreign policy during Barack Obama's first term was the emergence of so-called digital diplomacy. In the hands of officials, social networks became a tool that allowed authorities to communicate directly with millions of citizens.
Former U.S. Secretary of State Hillary Clinton once described digital diplomacy as "smart power," emphasizing the difference between it and the traditional diplomatic concepts "hard power" (i.e., military) and "soft power" (i.e., ideological).
When she headed the Department of State, Clinton had only one official webpage. By the time John Kerry took office, the department had more than 200 Twitter accounts and more than 300 Facebook pages to its name, as well as virtual missions on YouTube, Tumblr, and Flickr — in not one, but 11 languages.
The system is coordinated by 150 Department of State employees in Washington and 900 specialists abroad. Nearly 20 million people are subscribed to its myriad accounts and blogs.
The example proved contagious for foreign ministries worldwide, particularly in Europe. The best practitioners of the new art are Swedish Foreign Minister Carl Bildt (more than 190,000 Twitter followers) and British Foreign Secretary William Hague (more than 130,000).
The Russian Foreign Ministry has also partaken in a bit of digital diplomacy. To describe the new phenomenon, the department came up with its own term — "innovative diplomacy" — which it deciphers as a "tool of Russian foreign policy to exert influence on public opinion through the use of information and communication technologies."
The Russian Foreign Ministry currently has around 70 official accounts on Twitter. The most popular (@MID_RF) is read by about 65,000 people.
All speeches delivered by Foreign Minister Sergei Lavrov can be found on the department's official page on YouTube and (since February) Facebook, which also presents his statements and media comments. The Foreign Ministry's own site is also due to be updated in the near future.
Digital Diplomacy Rating
In 2012, French news agency AFP released the first-ever "digital diplomacy effectiveness" rating, based on the activity of top officials and diplomats in social networks, the number of subscribers to their accounts, and the citation index. In first place (out of 151 countries) was, unsurprisingly, the United States. The current top 10 also features Turkey, Egypt, Saudi Arabia, Venezuela, Mexico, India, Britain, Colombia, and Japan. Russia came in 13th place.
Moscow seems to be placing high hopes on the new tool. The new draft of the Foreign Policy Concept of the Russian Federation, signed by Vladimir Putin in February, states that "new information and communication technologies will be widely utilized" in order to "create an objective perception of Russia in the world" and "develop effective domestic means to exert informational influence on public opinion abroad."
Moreover, it clearly follows from the remaining fragments of the Foreign Policy Concept that Moscow considers the Internet and social media primarily as a potential source of threats to its stability and sovereignty.
According to some experts, such fears may well be grounded. In the words of Brian Fung, editor of the U.S. publication, The Atlantic, "digital diplomacy is good for at least two not widely publicized purposes: gathering intelligence from open sources and influencing public opinion in foreign countries to set the scene for future diplomatic clashes."
Fung believes that social networks presently do diplomats more harm than good. "In the first hours of the Egyptian protests against the release of the anti-Islamic film, 'The Innocence of Muslims,' the U.S. embassy in Cairo published tweet after tweet in support of the picture. The messages were not coordinated with Washington and created a major headache for the U.S.," says Fung.
At a recent roundtable on digital diplomacy in Washington, the vice president of the Carnegie Endowment, Tom Carver, recalled two more examples of unfortunate tweets by State Department representatives:
"We all remember the difficulties that U.S. Ambassador to Russia Michael McFaul encountered with the Putin administration when he tweeted about the actions and speeches of the Russian opposition [at the beginning of his mission in Moscow — Ed.]. And U.S. Ambassador to Syria Robert Ford's tweets got him expelled from the country. Digital diplomacy is a double-edged sword."
The article is first published in Russian in Kommersant Daily.
All rights reserved by Rossiyskaya Gazeta.