In early April, Russian President Vladimir Putin wrapped up his trip to Amsterdam, where he opened the program for the Russian-Dutch Bilateral Year. Crowds in the Netherlands greeted Putin with mixed reactions, but protests did not stop the Russian delegation from signing 15 agreements for cooperation in various areas with the Netherlands.
The Russian president's visit to the Netherlands in early April was accompanied by mass protests. Amsterdam seemed to be split in two: on the one hand, Putin's opponents protested alongside human rights groups, who believe that gay rights are violated in Russia; on the other hand, Putin's supporters cheered for the Russian president. These supporters included Syrians, who were grateful for Russia's stance on military non-interference in their internal affairs.
The protesters did not prevent Putin from accomplishing one of the main objectives of his visit, as, together with Queen Beatrix, he opened a bilateral year between Russia and the Netherlands. Hermitage-Amsterdam, a branch of the Hermitage Museum in St. Petersburg, officially launched the first events of the exchange program.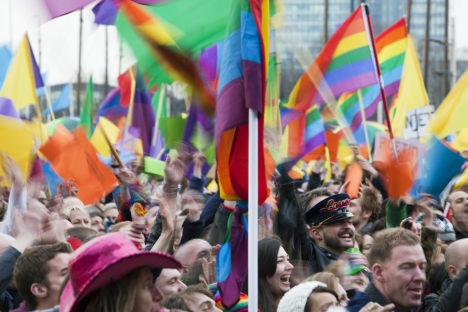 While Russian President Vladimir Putin and Queen Beatrix of the Netherlands discussed the the Russian-Dutch Bilateral Year, anti-Putin protesters took to the streets. Source: Reuter
The bilateral program consists of 350 cultural and economic projects, including displays of icons and art from the 19th and 20th centuries, as well as performances by the Mariinsky Theatre and The Virtuosos of Moscow chamber orchestra.
"The common goal of all bilateral years is to present the engagement between our nations in all its diversity," Arkady Dvorkovich, deputy prime minister and co-chairman of the intergovernmental commission of Russia and the Netherlands, said during the opening ceremony.
Valery Khomyakov, general director of the National Strategy Council, believes that bilateral years with EU member-states aim to facilitate a more liberal visa regime in the long run.
During the visit, Putin also met with Dutch Prime Minister Mark Rutte, and the two leaders focused on energy issues.
Russia supplies more than 141.2 billion cubic feet of natural gas to the Netherlands every year. Last year's supplies of crude oil and petroleum products amounted to 27.7 million tons. On the other end, Dutch investors are engaged in big energy projects in Russia, including Sakhalin-2 and Nord Stream.
Following the talks between Putin and Rutte, Russian oil giant Gazprom and the Anglo-Dutch oil and gas company Royal Dutch Shell signed a memorandum on joint exploration of hydrocarbons in Russia's Arctic shelf and the South African shelf. Along with their Dutch counterparts, the ministers accompanying Putin on his visit signed a memoranda of cooperation in higher education, healthcare and administrative personnel training.
All in all, 15 documents regulating engagement in various domains were signed.
During the concluding press conference, reporters mostly asked about the human rights situation in Russia. Dutch journalists wondered why there is a predisposition against gay rights in Russia, but Putin objected: "As the president, I believe it is my duty to protect their rights. They build careers, they get certificates of merit and awards, if they deserve them."
However, according to Putin, bans on propaganda for homosexuality were initiated in the Russian regions; they do not come from the federal center. Thus, if same-sex marriages were allowed in Russia, Putin believes that the move could stir up outrage and even cause violence in Russia's regions.
"I can hardly fancy them authorizing same-sex marriages in Chechnya. There would be blood," said Putin.
Dutch reporters also asked Putin about the previous day's incident, which was staged by the Ukrainian women's rights group Femen in Hanover, Germany. A Femen activist bared her chest and ran through the crowd up to Putin, who was walking with German Chancellor Angela Merkel.
The Netherlands has increased investments in the Russian economy more than 10-fold over the last decade. In 2012, two-way trade between Russia and the Netherlands expanded by 20 percent to reach $82.7 billion. The Netherlands is Russia's biggest foreign trade partner in Europe in terms of the volume of trade, and it is Russia's second-biggest trade partner in the world.
Commenting on the incident, Putin said jokingly that he had not had time for breakfast that day and would have been happier to see a sausage than the partially nude activist.
Valery Khomyakov believes that Putin's visit to the Netherlands was a matter of reputation.
"It is no secret that the relationship between Russia and Europe has deteriorated since Russia passed the law on NGOs. The Russian authorities have launched probes into German foundations and other foreign NGOs. This has provoked displeasure throughout Europe. So Putin decided to show that he is not an alien in Europe and is ready to hear its opinion on some matters," the expert told RBTH.
Meanwhile, when it comes to gay rights, Sergei Markov, director of the Institute of Political Studies, believes Putin made it clear that Russia has a different attitude toward homosexuality than Europe does.
"While in Amsterdam, Putin let Europe know that these methods don't work in Russia and won't ever work here. Russia won't pretend that homosexuality is normal, whatever posters and actions they prepare for our delegations," the political expert said.
All rights reserved by Rossiyskaya Gazeta.