Russian tourists warned about bird flu in China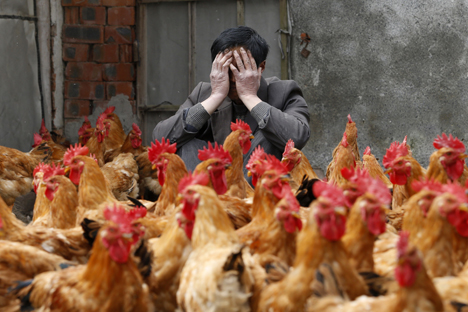 There are over 60 people have alredy contracted the "bird flu" in China. Source: Reuters / Vostock Photo
Russian authorities have started introducing medical checkups for passengers returning from China, as an outbreak of the bird flu has spread in that country. No travel ban to China has been announced, though Russian authorities say they will take necessary measure if the disease continues to spread.
Russian medics are taking temperatures and conducting medical checkups of tourist groups returning from China. So far, no cases have been registered, said Dmitry Maslov, a representative of the Federal Service for Supervision of Consumer Protection and Welfare (Rospotrebnadzor).
According to Maslov, prevention of the disease is made more difficult by the fact that China is not sharing any information about bird flu incidences with Russian sanitary doctors.
Chinese media report that a total of over 60 people have contracted the H7N9 bird flu strain, and 13 of them have died. The largest number of cases has been registered in Shanghai, where out of 24 victims, nine have died. So far, no cases have been recorded of the virus being transmitted between humans.
"We are stepping up information work among tourists, asking them to refrain from traveling to China," a Rospotrebnadzor spokesperson told RIA Novosti news agency.
Chief Russian Sanitary Doctor Gennady Onishchenko said the Russian authorities are not yet planning to impose any bans but, if the disease spreads, they will act "appropriately to the situation."
Onishchenko told journalists that, on transport routes to China, mandatory temperature checks have been introduced, and passengers and train/flight crews with experience in identifying the sick are surveyed.
"So far, we do not understand the mechanism of the disease, because humans hardly have any contact with birds in big cities. Because H7N9 has always been transmitted from birds to humans, the matter needs to be looked into. The most vulnerable point is when people travel by air, and the disease may be brought to Moscow within hours," said Onishchenko.
He noted that the Chinese authorities were taking strong measures to block the disease – shutting down markets, introducing quarantines and confiscating poultry meat – but the disease was still spreading.
This article is based on material from RIA Novosti.
All rights reserved by Rossiyskaya Gazeta.