Presidents of Russia, Egypt meet for second time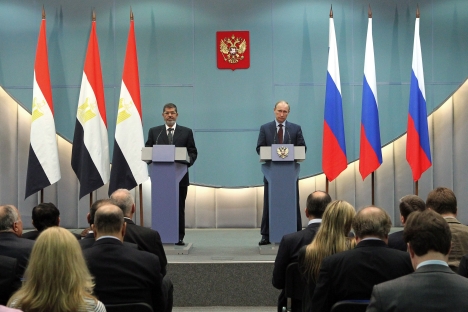 Last week Egyptian President Mohamed Morsi met with his Russian counterpart Vladimir Putin in Sochi to discuss the bilateral collaboration between two countries. Source: RIA Novosti / Mikhail Klementyev
Russian President Vladimir Putin sat down for talks with his Egyptian counterpart, Mohamed Morsi, on April 19 at the Black Sea resort of Sochi. The talks focused on issues of bilateral trade, cooperation and tourism, as well as a number of international political issues. Morsi also invited Putin to pay a return visit to Egypt.
"We have agreed to gradually proceed toward diversifying our trade and economic ties. New joint projects in the areas of industrial cooperation, energy, or, say, agriculture could increase the mutual investment flows," Putin said following the talks.
The situation in Syria held a significant place in the negotiations.
"There should be a political and legal solution of the Syrian crisis, without external meddling. We are for an early ceasefire to start intra-Syrian negotiations," Putin said in a press conference following the talks, stressing that Moscow's and Cairo's positions are close.
"I highly appreciate the Russian point of view and position regarding settlement of the Syrian crisis," said Morsi.
However, the approaches of the countries are very different, as Morsi repeatedly insisted on changing the Assad regime, while the regime continues to be recognized as legitimate by Russia.
Regarding settlement of the Syrian crisis, Russian presidential aide Yury Ushakov told the media after the talks that "the Egyptian president voiced very new, fresh and interesting ideas."
"Russia and Egypt agree on the necessity that parties of the Syrian conflict sit down for negotiations. However, as the Syrian Muslim Brotherhood members constitute a considerable part of the Syrian opposition, it is natural that Morsi sympathizes with them," Vladimir Belyakov, a professor at the Institute of Oriental Studies of the Russian Academy of Sciences, told RBTH.
In 2012, President-elect Mohamed Morsi left the Muslim Brotherhood, which is included on Russia's list of terrorist organizations for actions acted out on its behalf in Russia's North Caucasus region. However, critics accuse Morsi of betraying his election campaign promises by consolidating the rule of the Muslim Brotherhood.
According to Belyakov, although the Muslim Brotherhood's rise to power in Egypt was backed by the U.S. against guarantees for American national interests in the region, Morsi now seeks to diversify Egypt's international political and economic ties.
"It is not by accident that Morsi went to the BRICS summit in Durban three weeks ago. This organization unites emerging economies and also opposes economic dictation by the West," said Belyakov, pointing out that Morsi expressed interest in joining BRICS as soon as the economic situation in Egypt improves.
Morsi visited Russia amidst serious political and economic crisis at home. Since the Revolution on Jan. 25, Egypt has been facing decline in foreign investments and international reserves, as well as increasing unemployment. For this reason, the two presidents also discussed the possibility of Russia giving a loan to Egypt and increasing grain supplies.
However, Egypt's trade and industry minister, Hatem Saleh, said that no agreement on a Russian loan has yet been reached. Russian officials said only that Moscow would consider the loan request, which a Moscow-based source earlier put at about $2 billion. Russia might also increase grain supplies if its harvest reaches the target level this year.
"These are obviously local, economically and politically difficult conditions that made Morsi show interest in developing ties with Russia, despite ideological considerations and the constant criticism of Russian position regarding Syria by the Muslim Brotherhood and the government," Mohamed Farrag Abul Nour, a political analyst and author based in Cairo, told RBTH.
The analyst noted that Egypt is becoming short on its wheat stocks and international reserves, while Russia's reserves amount to more than $500 billion – thus, Moscow could provide a loan to Egypt.
Egypt is Russia's key economic partner in the Middle East. The trade turnover between the two countries increased by almost 70 percent in the past two years and amounted to $3.5 billion in 2012. Last year, Russia provided Egypt with 5.2 billion tons of wheat against $1.5 billion, which comes up to 40 percent of the Egyptian needs.
After a decline in 2011 after the uprising, the flow of Russian tourists to Egypt increased by 35 percent in 2012 and amounted to more than 2 million people. Tourism plays a key role in the Egyptian economy, providing billions of U.S. dollars in income and millions of jobs around the country.
All rights reserved by Rossiyskaya Gazeta.