Lavrov: Russian peacekeepers aim at ensuring security in Golan Heights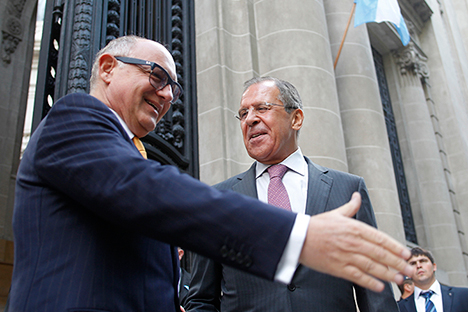 Russian Foreign Minister Sergei Lavrov (left) meeting with his Argentinian counterpart Héctor Timerman. Source: Reuters
At a press conference in Brazil's Rio de Janeiro the Russian Foreign Minister tries to persuade the West that sending the Russian peacekeepers to the Golan Heights aims at bringing stability and security in the region.
Russia's initiative to send its peacekeepers to the Golan Heights is not an attempt to increase its influence in the region, but is aimed at maintaining security in the Middle East, Russian Foreign Minister Sergei Lavrov told a press conference in Rio de Janeiro.
"Some people are also saying Russia will be trying to increase its influence in the region. I want to say right away that the purposes of our initiative are different from that," Lavrov said."Its sole purpose is to ensure security in this very fragile area of the Middle East."
"The Golan Heights are part of the territory of the region, which was probably the calmest and safest in the past few decades. There were never any aggravations there," Lavrov said.
In Lavrov's opinion, a decision on the issue of sending Russian peacekeepers to the Golan Heights should be made only by Israel and Syria and the UN Security Council is not authorized to make formal decisions on this matter.
"According to the rules existing in the UN, the Security Council does not make formal decisions on what national contingents are involved in a specific peacekeeping operation. It's a prerogative of the UN secretary-general," Lavrov said.
"In this situation, taking into account these rules, everything depends on the position of Israel and Syria," the minister added.
"If Israel and Syria agree and if the UN secretary-general makes an appropriate decision, our peacekeepers will fulfill the task of stabilizing the situation in this region in an honest, decent and reliable manner," Lavrov said.
On Friday, Austria announced its decision to withdraw its peacekeepers from the Golan Heights. On the same day, Russian President Vladimir Putin said Russia would be ready to replace the Austrian peacekeepers if the regional powers do not object to that.
UN official Marin Nesirky said on Friday the peacekeepers' mandate in the division zone between Israel and Syria on the Golan Heights does not allow Russia to send its peacekeepers to the region.
Israeli Deputy Interior Minister Faina Kirshenbaum, said on Monday Israel has no objections to the possible deployment of Russian peacekeepers in the Golan Heights.
In the meantime, Israeli Deputy Foreign Minister Zeev Elkin said on Tuesday that Israel is discussing the replacement of peacekeepers at the Golan Heights with Russia and hopes to find a country that would send its peacekeepers there instead of the Austrian forces.
The information in this section is provided by the Interfax news agency and is intended for personal use only. It may not be reproduced or distributed in any form without express permission from Interfax. To request permission to republish, email: ifaxru@interfax.ru
All rights reserved by Rossiyskaya Gazeta.