Can granting political refuge to Snowden be Cold War act?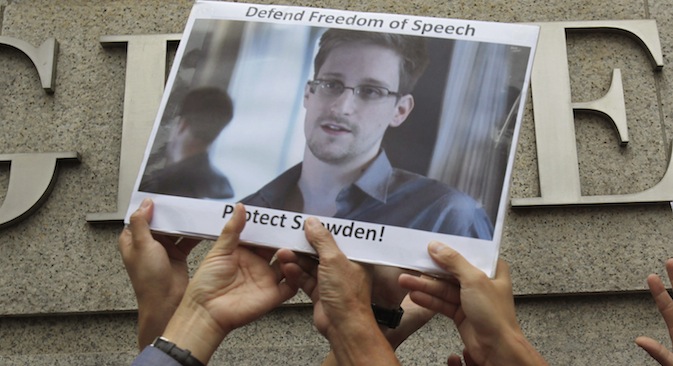 It remains to be seen where ex-CIA officer Edward Snowden intends to apply for political refuge in Russia. Source: Reuters
Russian officials are puzzled in what country former CIA officer Edward Snowden is going to apply for political asylum.
Amid media reports about former CIA officer Edward Snowden's arrival to Moscow, some Russian officials comment on the consequences of granting political asylum to him.
Chairman of the State Duma's International Affairs Committee Alexei Pushkov said no reliable information is available on whether ex-CIA officer Edward Snowden intends to apply for political refuge in Russia.
"We have no verified information on this score so far," Pushkov told Interfax on Sunday in remarks about reports that Snowden has arrived in Moscow from Hong Kong and plans to fly to Cuba and then to Venezuela.
Speculations on political refuge arose in connection with media reports claiming that Snowden's stop-over in Moscow is not accidental and that he could apply for political refuge in Russia.
"We need to get exact information about where he would seek political refuge," Pushkov said. But he added that this issue may not arise at all, if reports are confirmed that he wants to apply for political refuge in Cuba, or Venezuela.
On whether a conflict situation may emerge if Snowden does apply for political asylum in Russia after all, Pushkov said that the West was not overly concerned about the possible negative consequences of monitoring the then president Dmitry Medvedev's conversations during the G20's summit in London in 2009.
"They did not particularly worry about possible conflicts when their spy wearing a wig was recruiting a Russian special service officer and was caught red handed," Pushkov said.
"I think we should be guided by our own understanding of what we should do. We do not see any special restraint on the part of U.S. special services with regards to Russia," he said.
At the same time, Pushkov does not think Moscow's readiness to consider granting political refuge to Snowden would be a bounce back to the Cold War.
"It was strange to hear that Snowden is flying to Moscow from Hong Kong as an ordinary passenger. The U.S,. wants him very much, but China did not surrender him," Pushkov wrote on Twitter on Sunday.
"Speculations have got round that Russia's possible consent to grant political refugee to Snowden would be an act of Cold War. If spying wearing a wig is a norm, the granting of political refuge is not an act, either," Pushkov said.
The daily Kommersant earlier reported that if Snowden, who leaked data about American special services' surveillance on the Internet, applies for political refuge in Russia, the request would be considered.
Meanwhile, a source close to Snowden told Interfax that he would travel to Venezuela via Moscow and Havana.
He has chosen this complicated route hoping that he would not be detained and quietly reach the point of destination - Venezuela. So he will have to make two stopovers, flying from Hong Kong to Moscow, from Moscow to Havana and from Havana to Caracas, he said.
The BBC in turn reported that the White House wants Hong Kong to extradite Snowden, who is accused in the United States of spying and misappropriating state property.
Officials with the Barack Obama administration confirmed to the BBC that the relevant request has been sent to Hong Kong, given that Washington and Hong Kong have signed an agreement on the extradition of criminals.
Snowden fled to Hong Kong in May and then he disclosed information about special services' secret surveillance operations on the Internet.
Snowden's leak suggests that the U.S. special services have gained access to millions of telephone calls, and to the servers of major Internet companies.
Earlier, the Federal Security Service's counterintelligence agencies detained a CIS officer, Ryan Christopher Fogle, on May 14 2013. Fogle held the post of third secretary of the U.S. embassy's political department in Moscow, the Federal Security Service's Public Relations Center earlier reported.
A map of Moscow, a compass, glasses, two wigs and a cheap mobile phone were seized from Fogle during the detention. The telephone had been used to call the candidate for a meeting. It was to be thrown away.
The story is a combined report based on materials from Interfax.
All rights reserved by Rossiyskaya Gazeta.