U.S. forces Snowden to remain in Moscow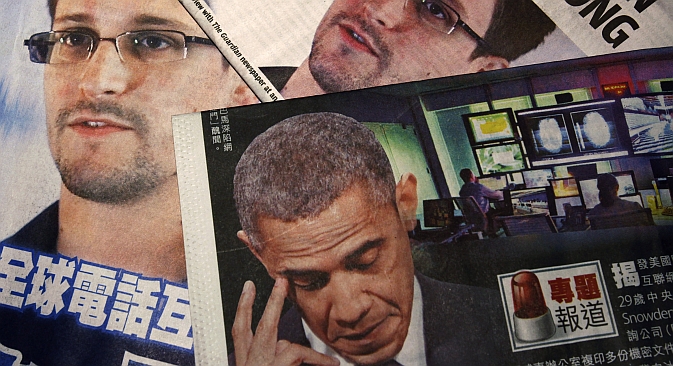 According to recent report, former CIA agent Edward Snowden can't leave Russia for Latin America because the U.S. revoked his passport. Source: Reuters
With no documents, the former CIA employee cannot leave the Russian capital.
An Aeroflot flight is due to leave Moscow for Havana on Thursday, June 27, but will former CIA employee Edward Snowden be on board?
According to one Internet rumor, Snowden received a Russian transit visa and has left Sheremetyevo Airport. Another rumor has it that the fugitive with the canceled passport cannot buy a ticket and must wait until he can obtain a document from Ecuador granting him refugee status. The only certainty now is that the scandal is creating tension in Russian–American relations.
According to RIA Novosti, Snowden has managed to obtain a Russian transit visa valid for three days. "Transit passengers who have a ticket to continue their flight and documents entitling them to enter a third country can obtain a Russian transit visa. If Snowden has these documents, he is entitled to apply for a transit visa in the airport itself, in the consular office, and there was nothing to stop him doing this," an insider told the agency.
The American twice booked tickets for Moscow to Havana, on June 24 and June 25.
On the first day, he was not found on board the plane; his booking for the flight on Tuesday was canceled a few hours before take-off. A refugee document granting entry to Ecuador and issued to him by the authorities of the Latin American country could serve to allow Snowden entry into a third country, as was stated earlier by a representative of WikiLeaks, which is providing legal support for Snowden.
Yet it is still not clear whether the former CIA employee has received a refugee document. It could take Ecuador several months to decide whether to grant political asylum, said the country's foreign minister, Ricardo Patiño, on Wednesday, June 26. "It took us two months to make a decision on the Assange case, so don't expect us to reach a decision faster than that," Associated Press quotes Patiño as saying.
"Canceling Snowden's passport and bullying intermediary countries [who could help him find sanctuary] may keep Snowden permanently in Russia," WikiLeaks said on its Twitter feed. "Not the brightest idea at State," added the WikiLeaks representatives, referring to the U.S. State Department.
Fyodor Lukyanov, chairman of the presidium of the Council on Foreign and Defense Policy, thinks the situation around former CIA employee Edward Snowden could have a negative influence on Russian–American relations, if Snowden becomes stuck in Moscow.
"I would not rule out the possibility of him being stuck here for political reasons. If that happens, it will of course be a thorn in the side of Russian–American relations, because this whole story is an unpleasant embarrassment for the Americans," said Lukyanov in his column at the RIA novosti website.
"At the same time, we shouldn't provide him political asylum because it may severely affect U.S.-Russia relations. For Moscow it would be reasonable if another country provided him political refuge," he told Russia Direct, a respectful international media outlet.
Alexei Pushkov, the head of the State Duma International Affairs Committee, believes the only effect of the United States' threats to Russia and China over the case Edward Snowden will be to bring Moscow and Beijing closer together.
On June 25, Russia's President Vladimir Putin stated that Snowden had arrived in Moscow as a transit passenger and had not crossed the Russian border; Putin claimed that his arrival had been completely unexpected in Moscow. The head of state noted that the Russian security services were not working with the Americans: The sooner Snowden chose his final destination the better it would be "for Russia and for himself."
Putin also noted that Russia could only hand over foreigners to countries with which it had an appropriate agreement – and no such agreement with the U.S. exists.
Washington nevertheless continues to insist on extradition, citing the fact that the U.S. has handed hundreds of criminals over to Russia without such an agreement. While the State Department is so far expressing itself in quite a restrained way, some American politicians – in particular, Sen. John McCain, are bluntly stating that the future of the reset in American–Russian relations is in doubt.
Some experts, however, are not so pessimistic. Melor Sturua of the Carnegie Center, writing in an article for Moskovsky Komsomolets, says plainly that the U.S. has an interest in Russia and is therefore avoiding harsh criticism of Moscow.
"One only has to say three words to realise this: 'Syria,' 'Iran' and 'Afghanistan'. As my Carnegie Endowment colleague Matthew Rojansky says, 'We need Russia's cooperation far more and in more areas than the Russians need ours,'" Sturua wrote.
Combined report based on material from RIA Novosti, Kommersant, Moskovsky Komsomolets and Russia Direct.

All rights reserved by Rossiyskaya Gazeta.