Moscow to rearm Tajikistan's army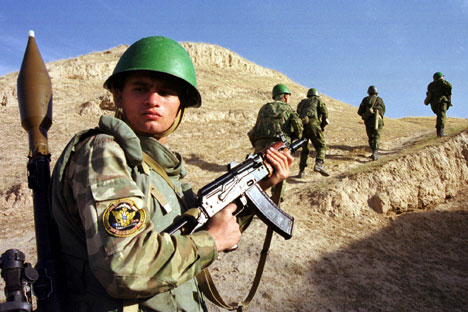 Russia has committed to equip Tajikistan's army with modern weapons and to modernize it in general. Source: Reuters
President Rakhmon promises Putin ratification of a Russian military base agreement.
Russia plans to help Tajikistan's army rearm, in exchange for maintaining a military base in the country. Up to $200 million will be spent on modernizing Tajikistan's armed forces by 2025. In turn, Tajikistan has promised to ratify an agreement to extend the terms of a Russian military base there. Dushanbe had been dragging its feet over the ratification, in the hopes of receiving help with re-equipping its army prior to the coalition forces' pullout from neighboring Afghanistan, according to one expert.
Russia will assist Tajikistan with the rearmament of Tajikistan's army, Presidents Vladimir Putin and Emomali Rakhmon agreed in Moscow on Aug. 1. According to Russian Defense Minister Sergei Shoigu, up to $200 million will be spent on modernizing Tajikistan's army by 2025.
Russia's president has also asked Sergei Shoigu to assess the risks stemming from the coalition forces' pullout from Afghanistan (scheduled for late 2014) when developing the program for re-equipping Tajikistan's army. The program is to be expanded accordingly in the very near future, Shoigu said.
In turn, Rakhmon has promised that Tajikistan's parliament will ratify agreements signed in 2012 on the status and terms of stay of a Russian military base. "Our attitude toward this matter is very serious, and we are decidedly committed to fulfilling our obligations," Tajikistan's president said. His Russian counterpart added that implementation of the base agreement would be launched soon. "Russia has completed all the requisite procedures in this regard," Putin said, following the negotiations.
Last October, the presidents reached an agreement to extend the stay of the 201st military base (Russia's biggest outside its own territory) during Putin's visit to Dushanbe. The agreement provided for a 49-year extension (up to 2042), automatically renewable for five-year terms. Under a previous agreement, the base's term was to run out in 2014.
As before, the new agreement is rent-free.
In exchange, Russia has committed to equip Tajikistan's army with modern weapons and to modernize it in general. At the time, it was not reported how much this would cost Russian taxpayers. Putin signed a law on ratification of the agreement in May 2013.
Tajikistan, however, has procrastinated with ratification. Moscow met both conditions set by Dushanbe back in February, as it gave preferential status to Tajik immigrants and lifted export duties on petroleum products exported to Tajikistan.
"Tajikistan wanted to receive additional funds to modernize its army in exchange for ratifying the agreement," Vladimir Zharikhin, deputy director of the CIS Institute, told Gazeta.ru. "This is a substantial amount for Tajikistan, especially in view of the potential problems arising soon when NATO pulls out from Afghanistan."
Additionally, a verbal agreement was reached last October on investments in Tajikistan's hydropower generation. On Aug. 1, Tajikistan reiterated its interest in four, new, medium-capacity, hydro power plants to be built in the country by Russian companies.
In addition to military cooperation, both presidents again discussed immigration matters. "Remittances from Tajik citizens living and working in Russia play an important role in supporting and developing Tajikistan's economy. That's why we discussed cooperation on immigration and agreed to resolve any issues arising in this area quickly, by our combined efforts," Putin said after the meeting with Rakhmon. Last October, both countries agreed to extend the terms of registration and work permits for immigrant workers.
First published in Russian in Gazeta.ru.
All rights reserved by Rossiyskaya Gazeta.