The 'reset' button is broken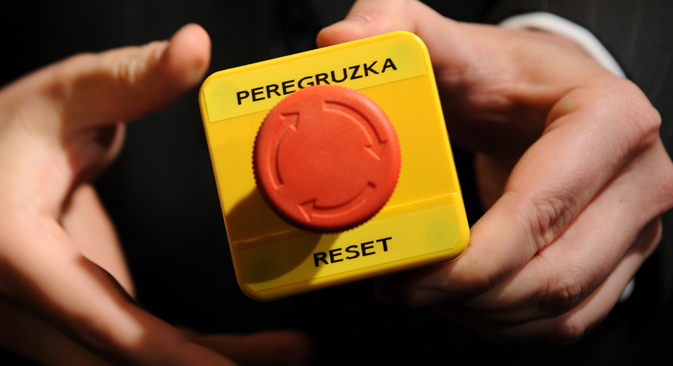 The broken reset: Barack Obama canceled his meeting with Vladimir Putin. Source: AP
In both Russia and the U.S., the Cold War mentality might be harder to change than originally thought.
U.S. President Barack Obama's decision to cancel the Moscow summit with his Russian counterpart Vladimir Putin is the clearest sign yet of a new stagnation in U.S.-Russia relations.
Russia's move to grant political asylum to former CIA agent and NSA contractor Edward Snowden appears to be the catalyst for Obama's decision. However, some experts believe that other reasons lie behind the controversial decision by the U.S. to cancel the summit.
Russia Direct interviewed several international experts to find out how bilateral relations between Moscow and Washington will develop in the near future and whether or not Obama's move will lead to a resumption of the old Cold War rhetoric.
Gregory Feifer, former Moscow correspondent, National Public Radio (NPR), and author of "The Great Gamble: The Soviet War in Afghanistan."
Cancelling the summit with Putin is the right decision for the White House. It's as close as we're likely to get to a long-delayed formal acknowledgement that the reset policy isn't working and requires tweaking at the very least.
Although Obama's decision will probably be taken as a serious snub in Moscow, it's very mild compared to Putin's outright hostile actions over the last couple of years.
The conventional wisdom is that Putin takes respect on the world stage very seriously –Washington was no doubt holding out over a decision on the summit as a way of pressuring the Kremlin over Snowden. However, it's more than clear that Putin sees his perceived role as a foil to America as paramount in foreign policy.
Although Obama's decision to cancel the summit will no doubt worsen relations in the short term, it's a good first step toward a more realistic Russia policy that does more for American interests and values – and indicates that Putin's Cold War-style of foreign policy will come at a cost.
Dmitry Suslov, deputy director of the Center for Comprehensive European and International Studies at the National Research University – Higher School of Economics
I don't think that Obama's cancellation [of the meeting with Putin] is related to Snowden. It's just a cover-up. The real reason is the stagnation in U.S.-Russia relations and, particularly, the failure to reach progress in the nonproliferation negotiations.
The crux of the matter is that the Obama Administration pinned its hopes on the new arms reduction treaty and when it saw no flexibility from the Russian side – even though it proposed some compromise on ABM, it was very disappointed.
As a result, Snowden has become a catalyst and a red herring, helping to disguise U.S.-Russia differences on more controversial issues.
From the beginning of [the Snowden Affair], it was pretty clear that Russia would not yield: The U.S. didn't expect Moscow to extradite Snowden. They had been waiting for a pause to figure out if they should expect progress in the talks on nonproliferation.
Despite these tensions, we can't see Obama's stance as the beginning of a new Cold War. We still have a huge potential for collaboration, for example, in the Asia-Pacific region. Yet I repeat that this crisis moves our relations into a stagnation phase.
Unfortunately, neither Moscow nor Washington has enough political will to tackle the standoff. There are too many unjustified expectations for the arms reduction agenda from the U.S. and a lack of flexibility from Russia.
To read more expert comments and opinions about Obama's decision please read the full version of this article at Russia Direct.
All rights reserved by Rossiyskaya Gazeta.