Lavrov and the UN push for international conference on Syria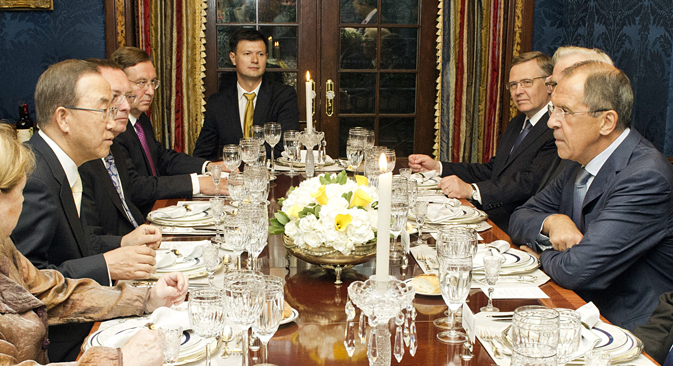 In the opinion of Sergei Lavrov and Ban Ki-moon, postponing the 'Geneva-2' is fraught with serious consequences for Syria and the entire region. Source: AP
A recent meeting between Russian Foreign Minister Sergei Lavrov and UN Secretary Ban Ki-moon was an occasion to reiterate that cooperation over issues in Syria and the Middle East is still a priority.
After a round of talks with UN Secretary-General Ban Ki-moon on August 8, Russian Foreign Minister Sergei Lavrov confirmed that the United Nations is still hoping to call a second international conference on Syria.
Lavrov is certain that bringing Al-Assad's representatives and the Syrian opposition at a negotiating table is extremely important, because terrorists have been gaining power in Syria, where the civil war continues.
Lavrov revealed that a wide range of issues - including the UN role in Afghanistan after 2014, the Middle East settlement and the situation in Egypt - were discussed over a business lunch with the Secretary-General.
"In principle, our positions coincide. For example, we support the Secretary-General's efforts on Syria and on the Palestinian-Israeli settlement. Besides, we are counting on the UN support to what the six powers are doing to solve the Iranian nuclear problem", the minister said.
In answering a question by Russian newspaper Kommersant on whether Ban Ki-moon had lost hope of calling an international conference on Syria, Sergei Lavrov said: "He hasn't, but there will only be a result if everybody plays the same game".
He went on to explain: "Russia has fulfilled its obligations – the Syrian regime is ready to send a delegation without preliminary conditions; the ball is on the opposition's side now". Moscow and Washington had agreed that the United States would be talking with Bashar Al-Assad's opponents. However, efforts to bring the Syrian opposition to the negotiation table have been unsuccessful so far.
In the opinion of Sergei Lavrov and Ban Ki-moon, postponing the 'Geneva-2' is fraught with serious consequences for Syria and the entire region. "The longer we procrastinate, the more evident the need to pay attention to the terrorist threat will be. Radicals are squeezing the so-called Free Syrian Army and engaging in skirmishes with it. So this is a common threat for both those who cling to the incumbent Syrian government and those who believe that the regime should go, but a secular, multi-faith state should be preserved", Lavrov said.
He added that last year's Geneva communiqué offered the only possible way out of the current situation: The government and the opposition should agree on how to achieve a national reconciliation and establish a transitional authority that would lay a groundwork for elections and be in charge of drafting a new constitution.
Fisrt published in Russian in Kommersant.
All rights reserved by Rossiyskaya Gazeta.