Russia, Georgia in no hurry to normalize relations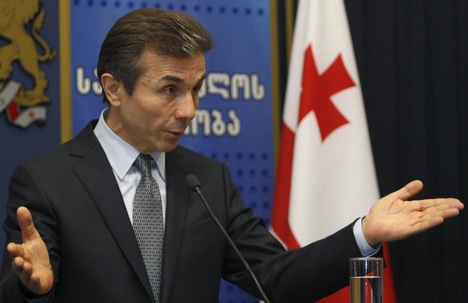 The government of Georgian Prime Minister Bidzina Ivanishvili blames the conflict personally on President Mikhail Saakashvili and his team. Source: Reuters
With economic ties mostly returned, there is no obvious reason to compromise on the status of South Ossetia.
It has been five years since Russia and Georgia went to war in South Ossetia, but the positions of the governments of both countries have changed little since 2008.
The government of Georgian Prime Minister Bidzina Ivanishvili blames the conflict personally on President Mikhail Saakashvili and his team, but he continues to refer to Russia as an occupier, and demand that Russia withdraw from Abkhazia and South Ossetia even as he talks about the need for a radical improvement in relations with Russia.
Meanwhile in Moscow, officials insist that Georgia recognize the sovereignty of its former autonomous regions before diplomatic relations can be fully restored.
South Ossetia five years after the war (part 2). Source: Vimeo / RBTH
These rigid, mutually exclusive demands do not give much hope that bilateral relations will improve any time soon.
Contacts between Moscow and Tbilisi are now being carried out in two ways: The Geneva multilateral consultations on the prevention of tension in Abkhazia and South Ossetia, held once every one to two months, and direct negotiations on economic and humanitarian issues between Deputy Minister of Foreign Affairs of the Russian Federation Grigori Karasin and Special Prime Minister of Georgia on Russian Relations Zurab Abashidze, which are held in Prague less often than the meetings in Geneva.
Although the situation is not normal, the issue of restoring diplomatic relations does not seem to be very pressing. There is no clear public mandate that would push the two countries towards addressing this issue.
For the Russian side, not having an embassy in Tbilisi is more of an image question. The Russians who live in Georgia don't have problems. They don't need a visa even to enter the country; Russian investments are welcome here as well as American or any other; the market is full of Russian products; Georgians still consider Dostoyevsky and Pushkin to be geniuses; Georgians can watch Russian TV channels; and speaking Russian in public doesn't elicit negative reactions.
But for the Georgian side, a lack of diplomatic relations causes some inconveniences, if only because there are Georgian citizens who, for a variety of reasons, continue to spend most of their time in the Russian Federation and any problems they have must be handled through the Swiss embassy. However, if Russia, as projected, rescinds, or at least eases visa requirements for Georgian citizens, the Georgian authorities can avoid restoring diplomatic relations with Moscow for as long as they want. From a practical point of view there is no visible loss.
Russia opened its markets to Georgian products; it is on the verge of starting regular charted flights; land and water routes have been opened. It would be hard to name a country with which Georgia had better economic relations.
There are few Georgian products in the markets of Azerbaijan and Turkey, named by Tbilisi as strategic partners, and even less trade with the West. The return of the Russian market for Georgian has proved to be significant for the Georgian economy.
However, it would be naive to believe that the trend of improving Russian-Georgian relations is irreversible. The change of power in Georgia has not changed its foreign policy goals. In any case, according to Ivanishvili, Georgia's priority remains joining NATO and other Western organizations.
Moscow remains categorically opposed to Georgia's entry into NATO. The latest proof of this was Prime Minister Dmitry Medvedev's interview on Georgian TV station Rustavi-2.
Although relations seem stable, there remains the fear that at any moment careful analysis will show harmful substances in the Georgian products allowed on the Russian market, and airplanes from Tbilisi show individuals that are unwanted in Russia. And this may, as experience of the past 10 years of Russian-Georgian relations shows, prove to be only a prelude to a new intergovernmental crisis.
All rights reserved by Rossiyskaya Gazeta.