NATO-Russia cooperation stalls at Ulyanovsk reverse transit hub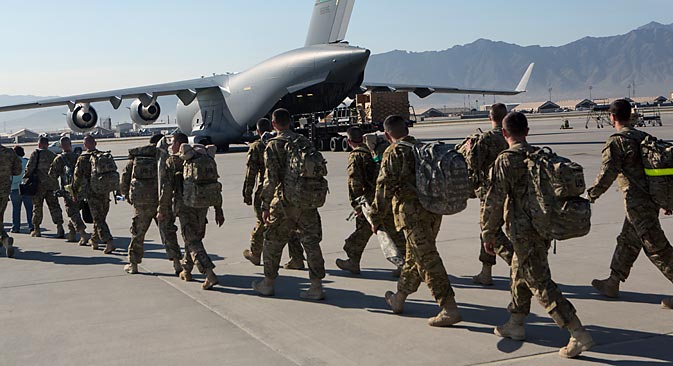 Both Russia and NATO expected the project of transit via Ulyanovsk to be one of the most successful examples of cooperation between the two parties. Source: Getty Images / Fotobank
The alliance points its finger at the high fees charged by Russian freight forwarders, yet the Russian government offers a different explanation to the lack of activity at the station.
The Ulyanovsk transshipment hub that Russia made available to NATO a year ago to pull out its cargo from Afghanistan has remained idle. NATO member countries have not signed a single contract with Russian freight companies authorised to service Ulyanovsk.
Sources at the NATO headquarters complained to Kommersant that Russian companies had quoted unreasonable prices, while a Russian government source insisted that the alliance was simply reluctant to end up being dependent on Moscow.
Both Russia and NATO expected the project of transit via Ulyanovsk, which was launched exactly a year ago, to be one of the most successful examples of cooperation between the two parties.
Moscow hoped that a considerable portion of the more than 100,000 containers and 60,000 vehicles that the International Security Assistance Force (ISAF) planned to pull out of Afghanistan would be sent to Europe via Ulyanovsk. Yet this route has so far been unused.
Sources at the NATO headquarters explained that this arrangement had proved to be too expensive. "When opening this route via Ulyanovsk, the Russian authorities insisted that only Russian shipping companies should be allowed to service it. The fees they set were so outrageous that none of the ISAF member countries found this route attractive," one of the sources told Kommersant.
It was NATO that asked Moscow, back in 2011, to consider allowing its pullout from Afghanistan to pass through Russian territory. After yet another conflict with the US, Pakistan had just closed its territory to any NATO convoys, while Uzbekistan and Kyrgyzstan had refused to let them through.
By that time, Russia had already become home to a portion of a route called the 'Northern Distribution Network', which is used to this day to ship more than 60% of the ISAF's non-military cargo to Afghanistan by air and by rail, but without transshipment.
In early 2012, Russia agreed to open a reverse transit route via the Vostochny airport in Ulyanovsk. The project kicked off last August.
According to another NATO source, many ISAF member countries initially expressed an interest in the Ulyanovsk-based transit hub. In December 2012, the British delivered ten containers with supplies to and from their Camp Bastion military base in Afghanistan as an experiment. A British government source described the test run as successful.
However, the British have yet to sign a single contract. The source told Kommersant that London preferred other transit options, primarily via Pakistan and Central Asian countries, which have recently lifted their objections to the reverse transit of NATO shipments.
"The availability of several transit options helps make the relocation more flexible and guarantees the best value for money", the source said.
A diplomatic source in a European ISAF member country that contemplated transit via Ulyanovsk added that, according to his government's calculations, shipping a container via Vostochny would cost €50,000, compared to €30,000 via Termez in Uzbekistan.
Moscow offers a completely different interpretation. A Russian government source explained that the Ulyanovsk transit hub had been conceived as a commercial project in the first place. While he admitted that the two-step transit via Ulyanovsk (by air to Vostochny and by rail from there) was more expensive than the alternative routes, he insisted it was "faster and safer."
According to the Russian side, NATO decided to bypass Ulyanovsk "for opportunistic considerations." "They'd rather not pay Russia any additional money," the official said. "Plus, they didn't want to put all their eggs in one basket – the Northern Distribution Network. NATO is worried that Russia might gain a transit leverage over them, just as Gazprom has a gas leverage over Europe. This doesn't make any sense".
Sources close to the commercial firms that were supposed to serve the Ulyanovsk transit hub cite different reasons for the project stalling. NATO representatives had insisted on an authorised foreign company being put in charge of the entire transit operation, including subcontracting with its direct participants.
The Russian side turned the proposal down for, among other things, national security reasons. Another source said that NATO representatives were in parallel talks with certain Central Asian states that, having realised that they might be left high and dry, had backtracked on their objections to reverse transit and quoted lower prices than Russia.
First published in Russian in Kommersant.
All rights reserved by Rossiyskaya Gazeta.